Simple Christmas DIY and Decor Ideas
Find the tips and tricks you need to make your Christmas DIY and decor look magazine worthy. Simple DIY projects and a few new items go a long way.
Decorating for Christmas is always a fun challenge for me. I don't like to let go off all our traditional decor but I also love the idea of making it look new and fresh each year.
After taking an assessment of everything I have and creating a decor plan in my head, I will allow myself to spend a little money for something new. Some years I dont' buy any
The painting of our fireplace black had me dreaming of cream colored knit stockings for Christmas morning.
Some people like to keep the same stockings as a tradition. I've changed mine a few times over the years.
The list below is everything I did this year to change up my Christmas decor.
Simple Christmas DIY projects and purchases

I loved adding the battery powered lights to my wreath. Such an easy way to get a little more twinkle for those cozy nights.
Growing up as a kid we always had our tree centered on the front window of the living room.
The house style Ray and I have always lived in, our living room is on the back of the house. So it's our tradition to put our tree up by the fireplace.
The house we are in now, and have been for 14 years, our Christmas tree is always in the same spot you see here in these photos.
The bells hanging from the stair garland were one of my DIY projects. I bought them from HomeGoods. They came to 5 bells on a strand for $9.99, I bought two of them.
The color was a mixture of gold and black. I wanted them more antique gold. I added some run n buff and they turned out perfect.
Then I put them back together in a set a 3 and sets of 2. You can see the others hanging on the stockings.
When it comes down to it, I'm a creative person who loves to decorate. Changing things around our home has been something I've always done. Christmas decor is no different.
I do however try to find the balance between being a creative and keeping traditions my kids and husband enjoy.
Look closely at the tree. I added sticks from the yard. I love the texture it adds to our faux tree.
The red plaid ribbon is a table cloth I bought years ago and cut up for garland. I cut it this year and created these handmade fabric strip ribbon.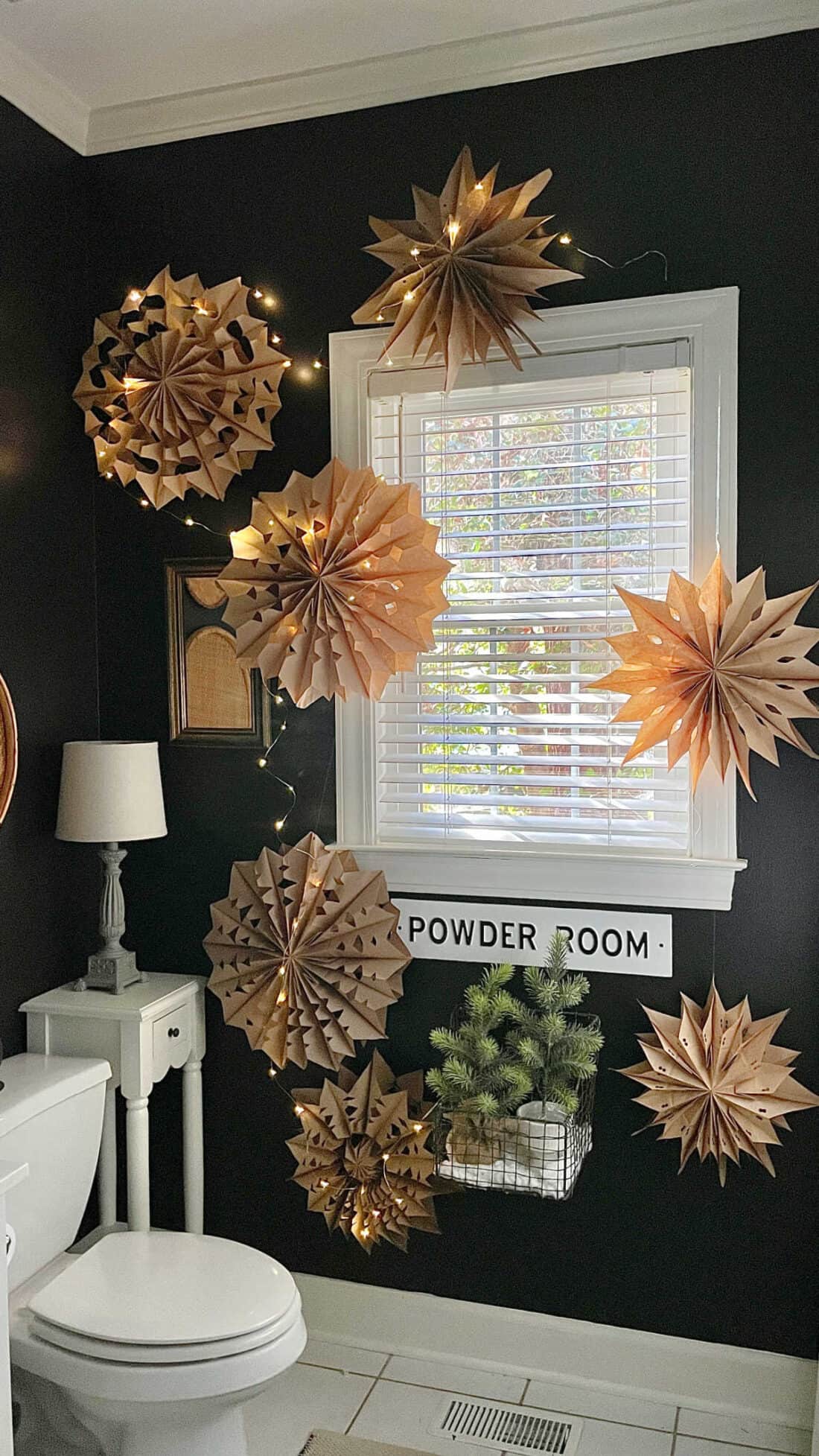 I've also shared our home tour at night as well. Head over there to see all of this at night.
Here's to a new year of beautiful homes and spaces we love to live in!