Painted Tile Fireplace Makeover
Get all of the steps for this painted tile fireplace makeover in the post. A painted stone fireplace can add a simple elegance to a home.
It's an easy DIY that packs a big punch.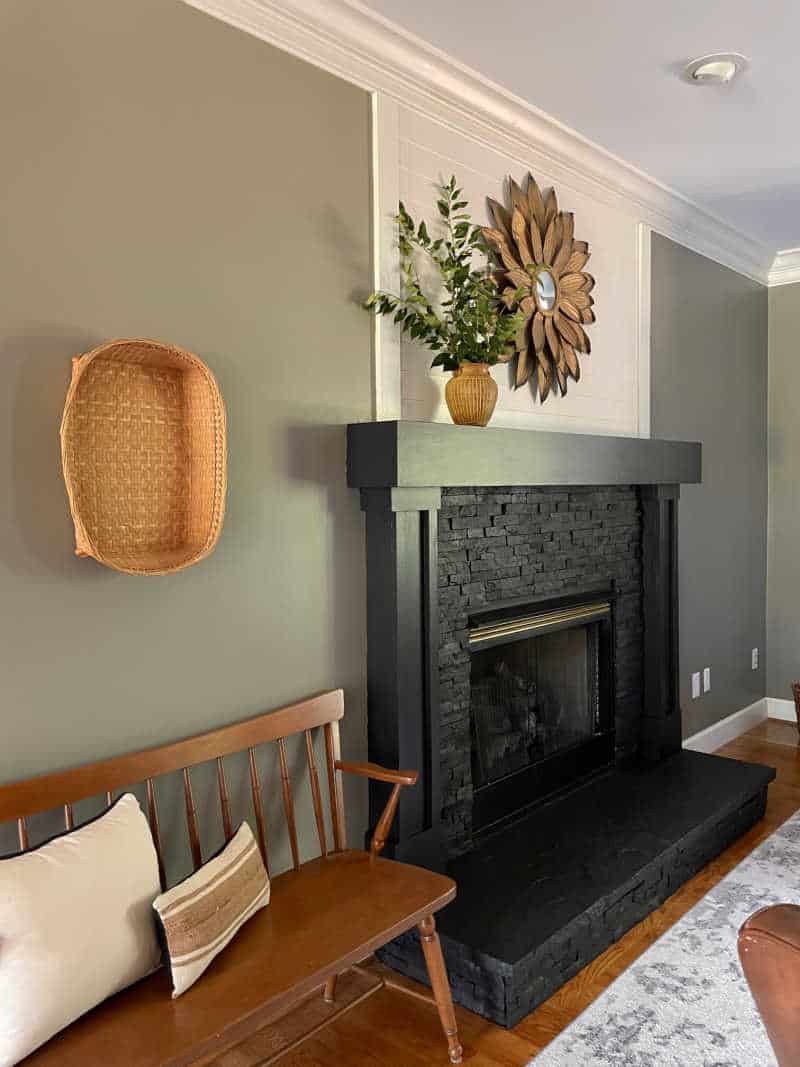 If you are visiting from Instagram or the Facebook viral reel, welcome to my blog! I've added an FAQ to the bottom of the post based on the questions I've been asked.
This is our fireplace and mantel before I painted it black. It's already pretty I know. I talk more about that at the bottom of the post. It's no surprise this fireplace surround has been painted many times. Before it was white, it was taupe.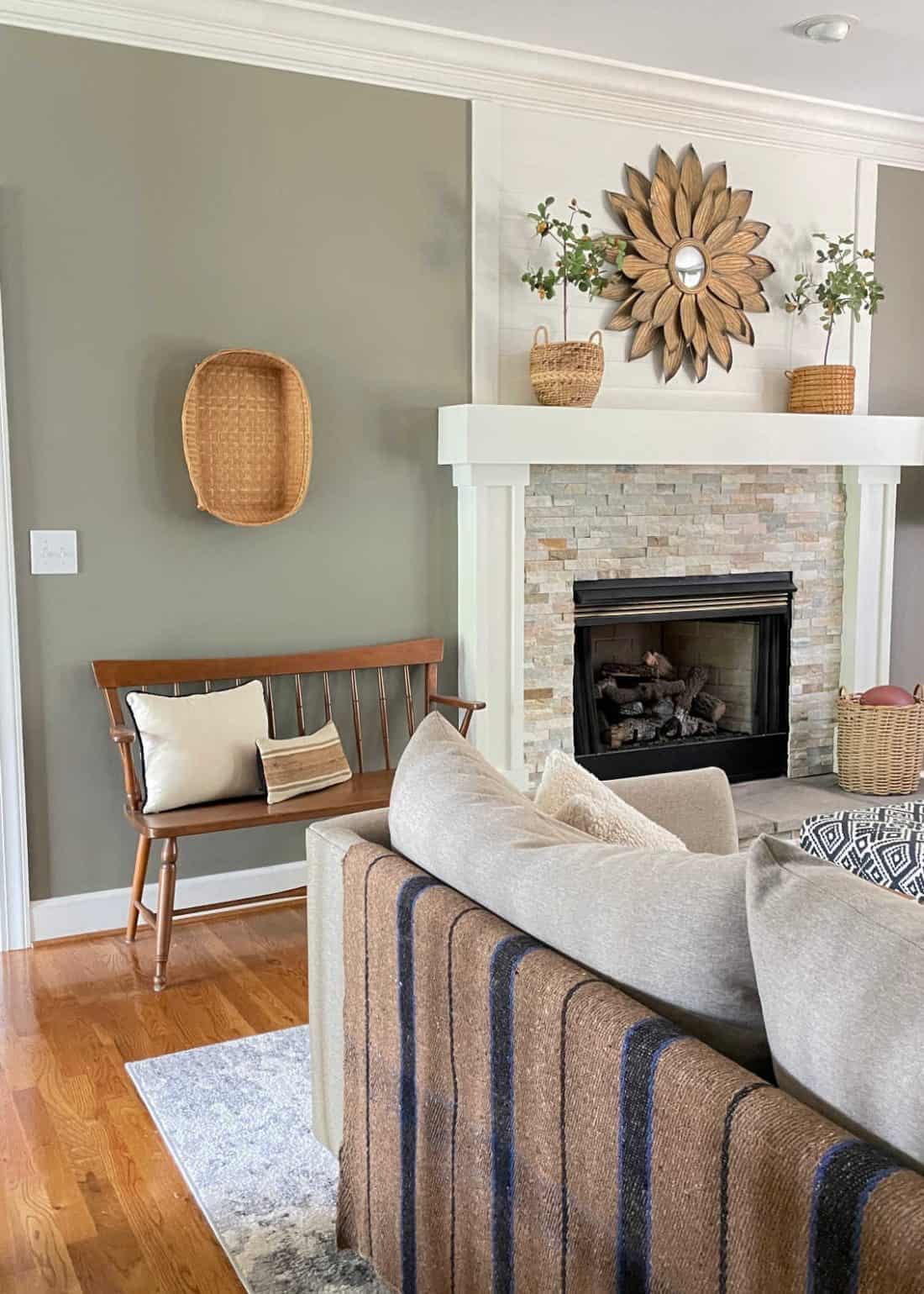 This was an idea I've been secretly thinking of for almost a year. I was worried Ray wouldn't be on board with me painting our stone tile.
One day a few weeks ago he said he thought our tile looked outdated.
BOOM! That was my opening.
My instinct was originally black. The same black I used in our bathroom makeover, dining room makeover and closets. However, I painted a few of the tiles a creamy gray taupe first just to be sure.
This is not my first time painting stone tiles. I painted our kitchen stone backsplash a couple of years ago. It has held up very well.
You can read that post if you want to do this in a kitchen. The process is a little different.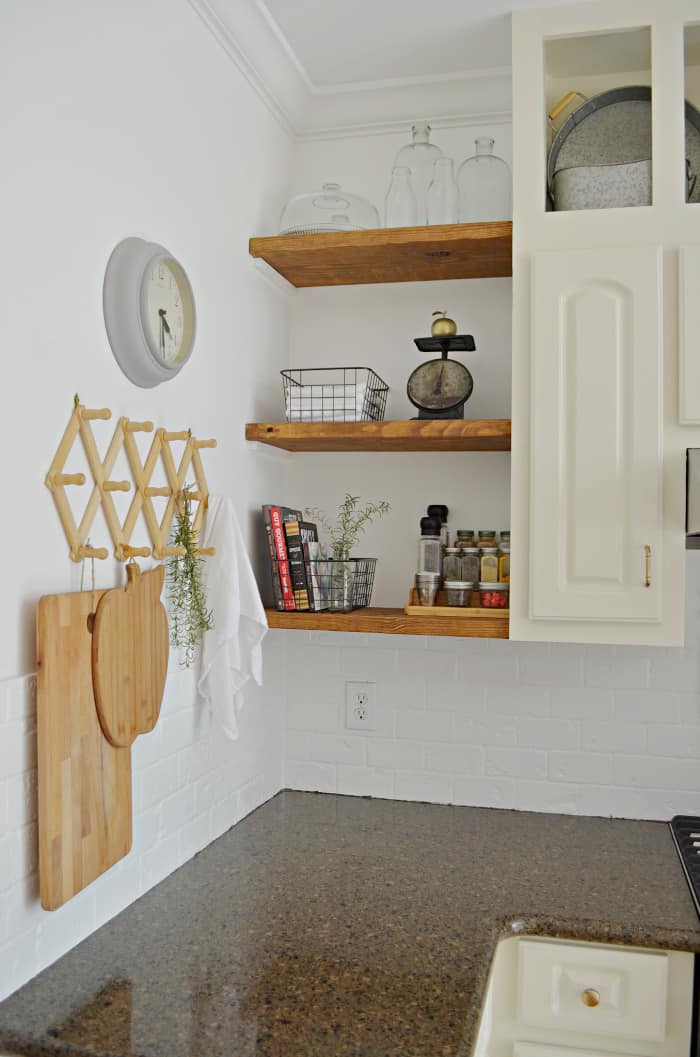 This post may contain affiliate links. See our disclosure for full details.
The fireplace history includes a mini makeover with V-groove wood planks, DIY full fireplace makeover with new hearth, and painted mantel surround.
Painted Fireplace Ideas
The hardest part for me was deciding where to paint the black. Tile and hearth only, include the surround, or paint it top to bottom black.
I messaged a designer friend on Instagram for his thoughts. The first photo of the tile and hearth painted black was what I sent him. It was the moment I started second guessing where the black should stop and start.
It was his idea to also paint the surround and leave the top white. So I did a quick sketch on my phone to give myself a visual.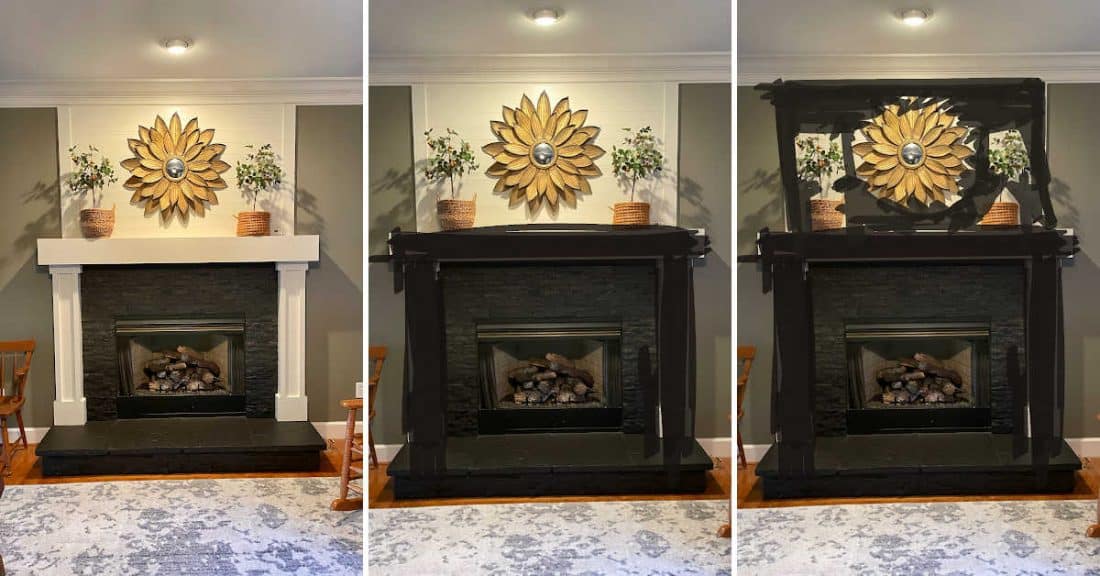 This was a mock up I did at night and using my finger to fill it in black. So they aren't the greatest quality but it worked to help me see the possibilities.
Steps for painted tile fireplace makeover
dust and prepare the surface
gather paint and supplies
tape off tiles if needed
paint fireplace surround and tiles
remove tape and clean up
enjoy your new fireplace makeover
Dust and Prepare the surface
As with any paint project, cleaning your surface first is usually a must. In total honesty here, I did not clean my tile, except for a light dusting.
Painting mine black was the reason. Had I went with a light color this would have been more important. A fireplace can put off black dust which will stick to a paint brush filled with white paint.
If you need to clean use regular dish detergent and give it a good washing. If you can wipe your stone with a damp cloth and it comes out clean then you are good to paint.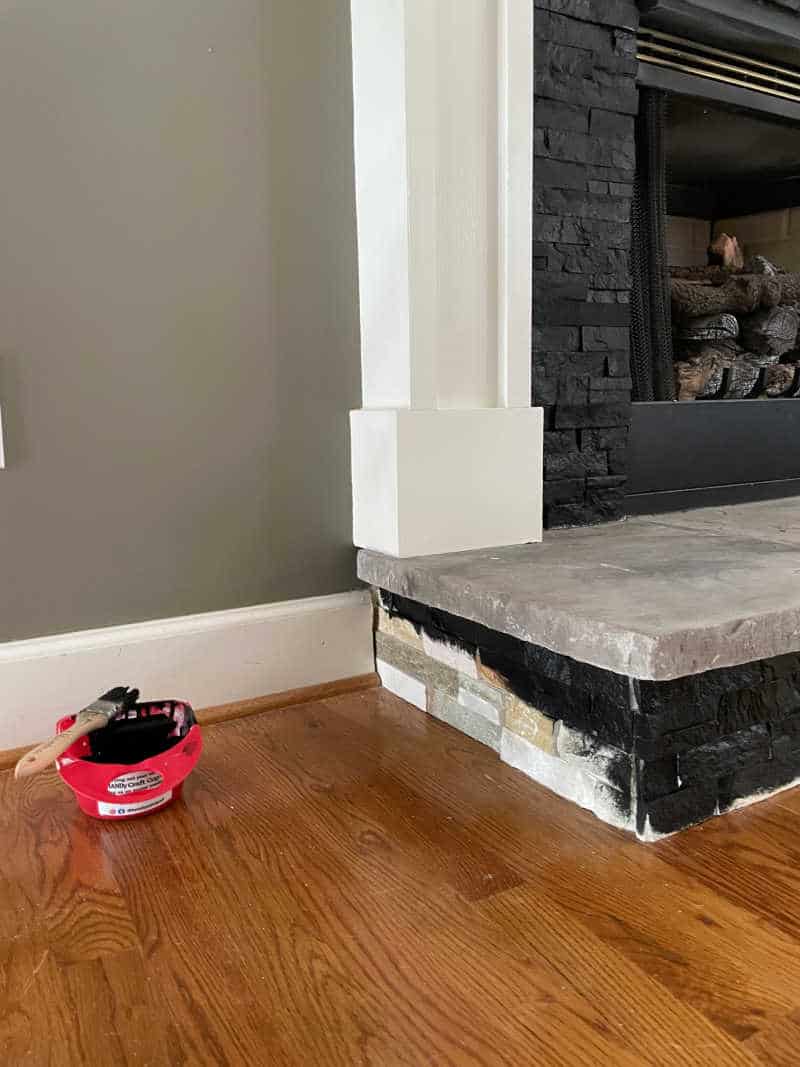 Gather paint and supplies
Whether or not to use high temp paint may be controversial. If you have any concerns about it at all, then use high temp paint. I talk a little more about it in the FAQ section at the end of the post.
The paint needs to be matte finish or eggshell, in my opinion. Anything shiny will cause lots of reflections with dark paint and may cause the fireplace makeover not to look as good as it should.
Chalk paint or primer (first coat)
latex paint eggshell finish or high temp paint (second and final coat)
sturdy brush for stones
quality paint brush or small roller for wood surround
Once you start painting this stone tile you can't go back.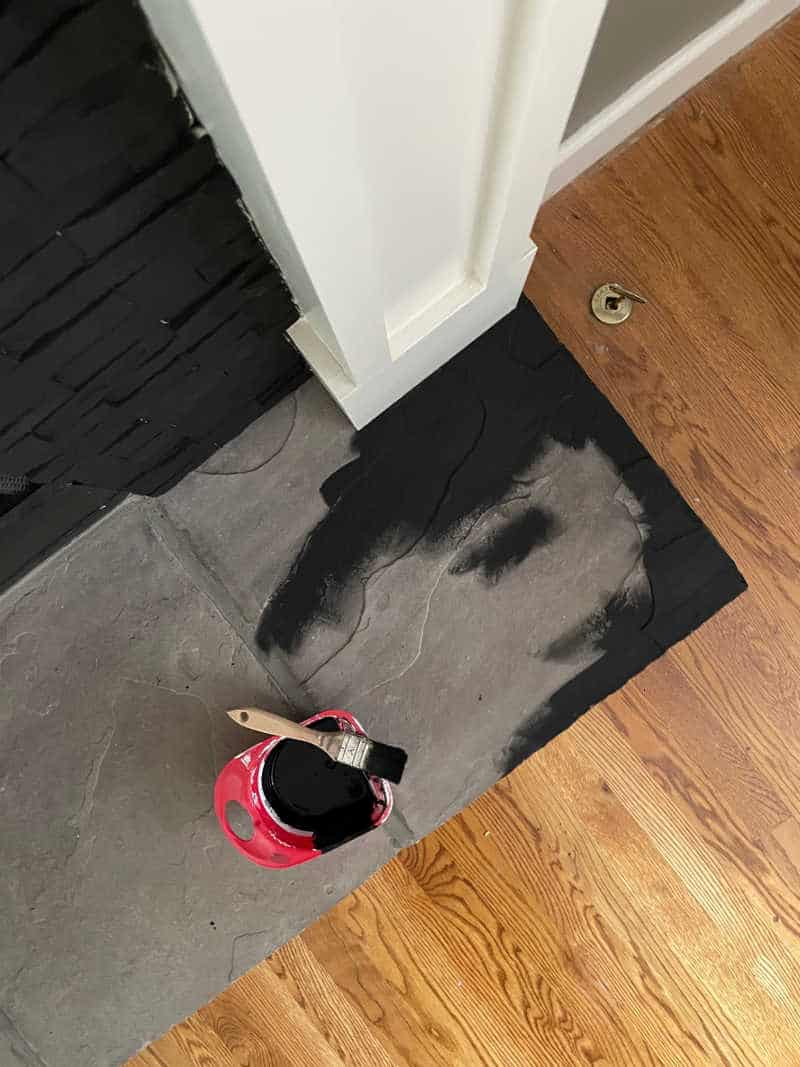 Tape off any areas needed
I notoriously paint without tape. If you feel you need it of course use it.
Paint fireplace surround and tile
I painted my tile with a black chalk paint first. Chalk paint goes on like a primer so it helps add a good base over the stone tile. I used a black I had on hand because my final color was going to be black. Otherwise use white or a color close to your final shade of paint.
For my wood surround I painted it with regular white primer because I ran out of the chalk paint.
The white area of the mantel surround was already painted in a semi gloss paint. I needed to prime over that in order for the eggshell paint to adhere well.
This is a necessary step when you are painting over shiny surfaces.
The second and final coat of paint was HGTV by Sherwin Williams Black Magic in eggshell finish. I had my Black Magic mixed/color matched using BEHR Premium Plus, Paint plus Primer because they were having a sale.
If black magic color isn't right for you home try one of these best black paint colors.
Painting Tips
use small inexpensive artist brushes to get in between small cracks
some spaces I used a q-tip
lots of dabbing with paint helps get into deep grooves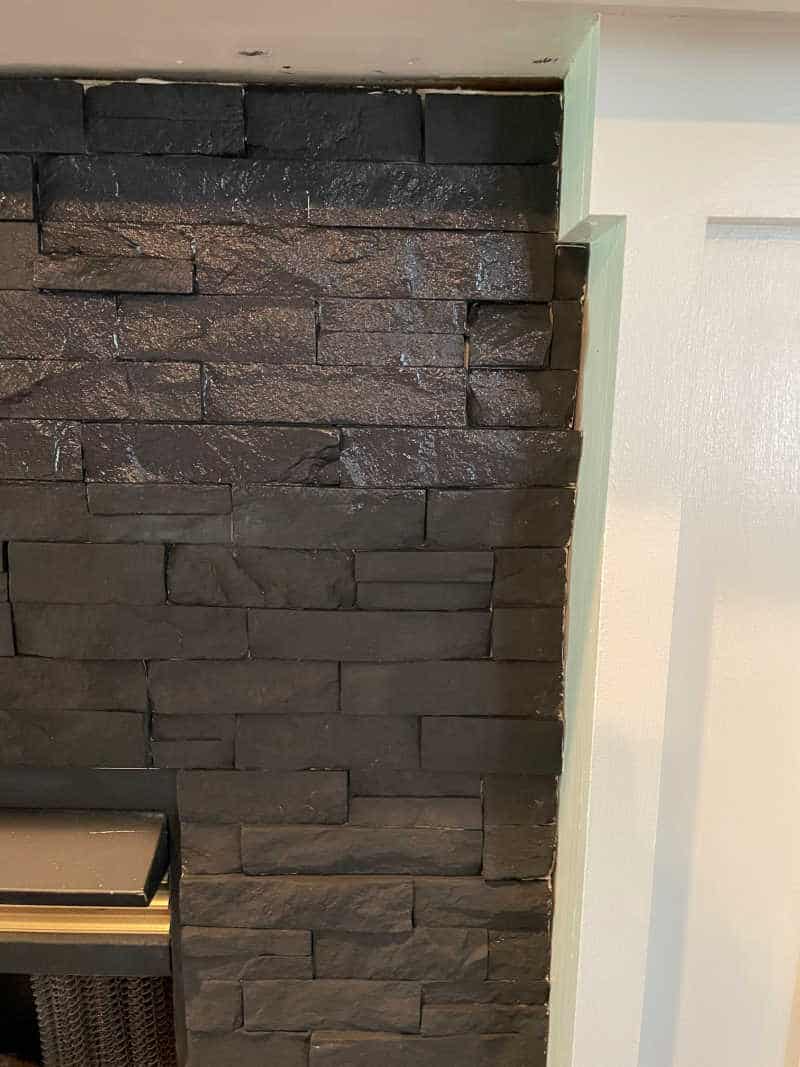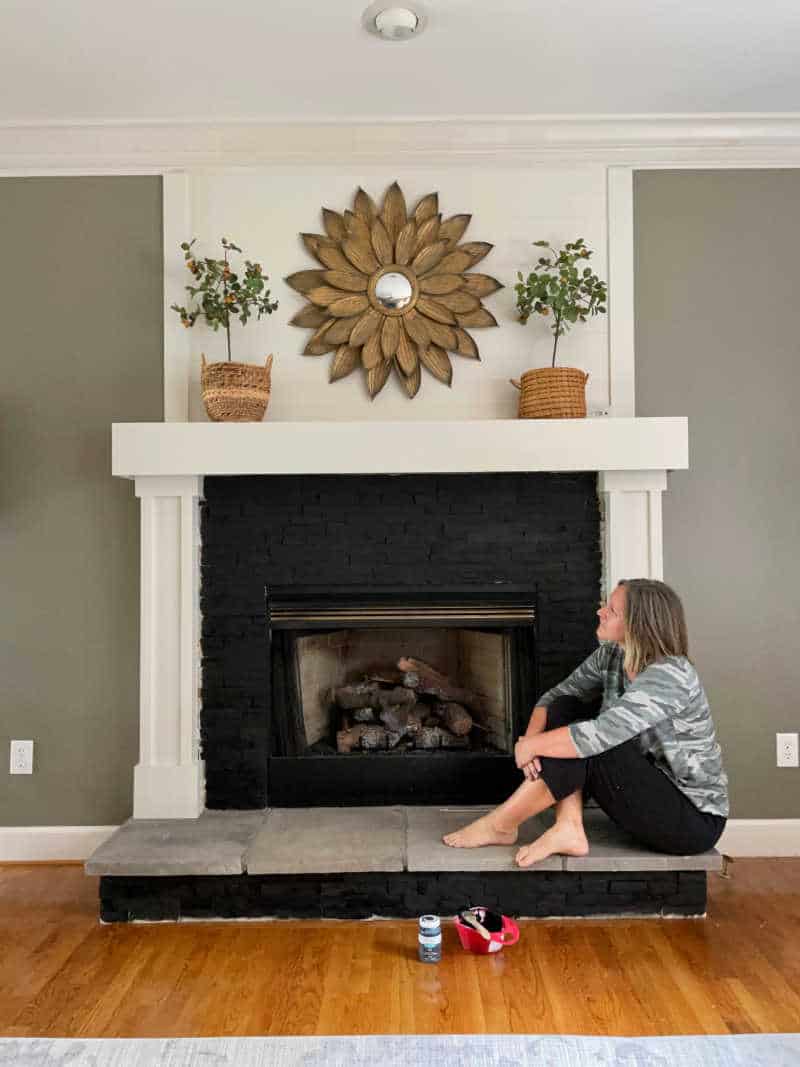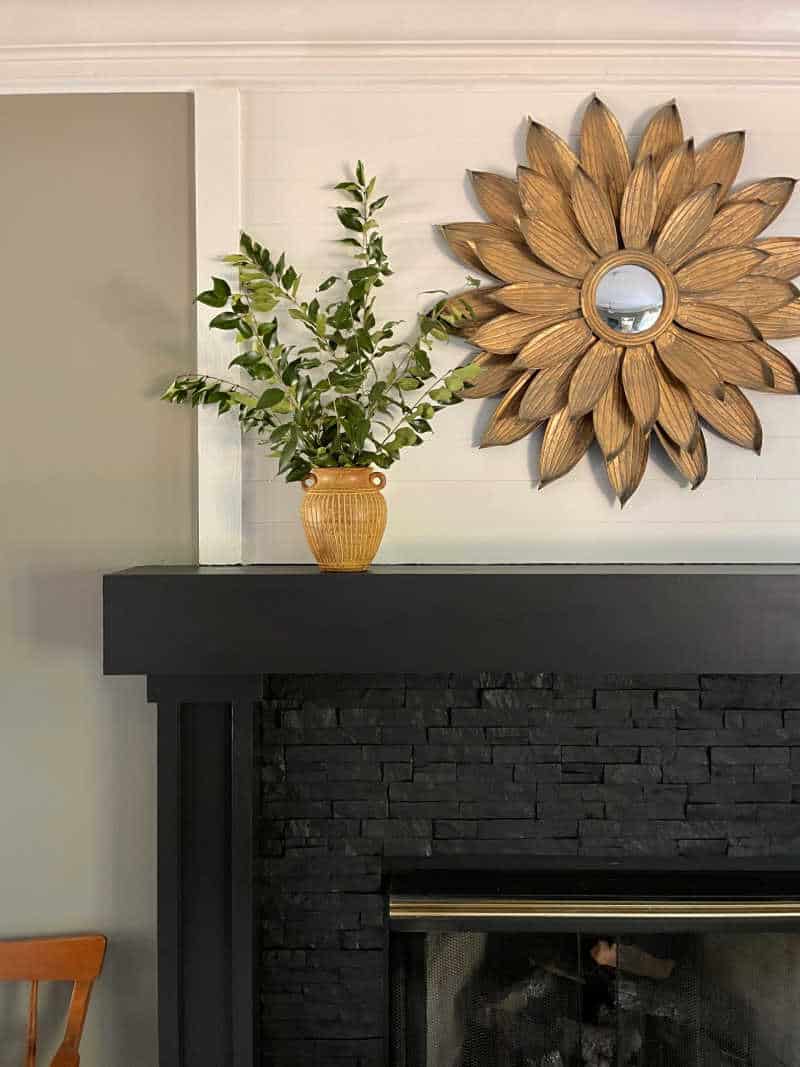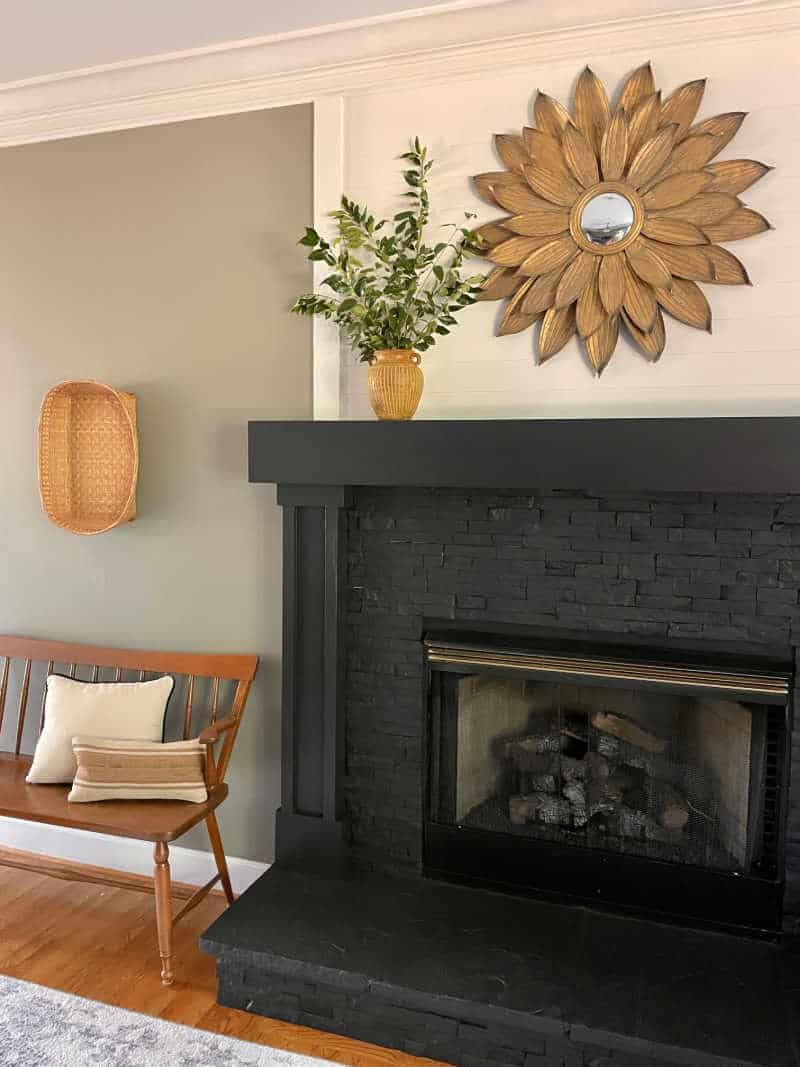 Remove tape and clean up
Removing tape and cleaning up is easy for this project.
Fold up your drop cloth and wash out your paint brushes.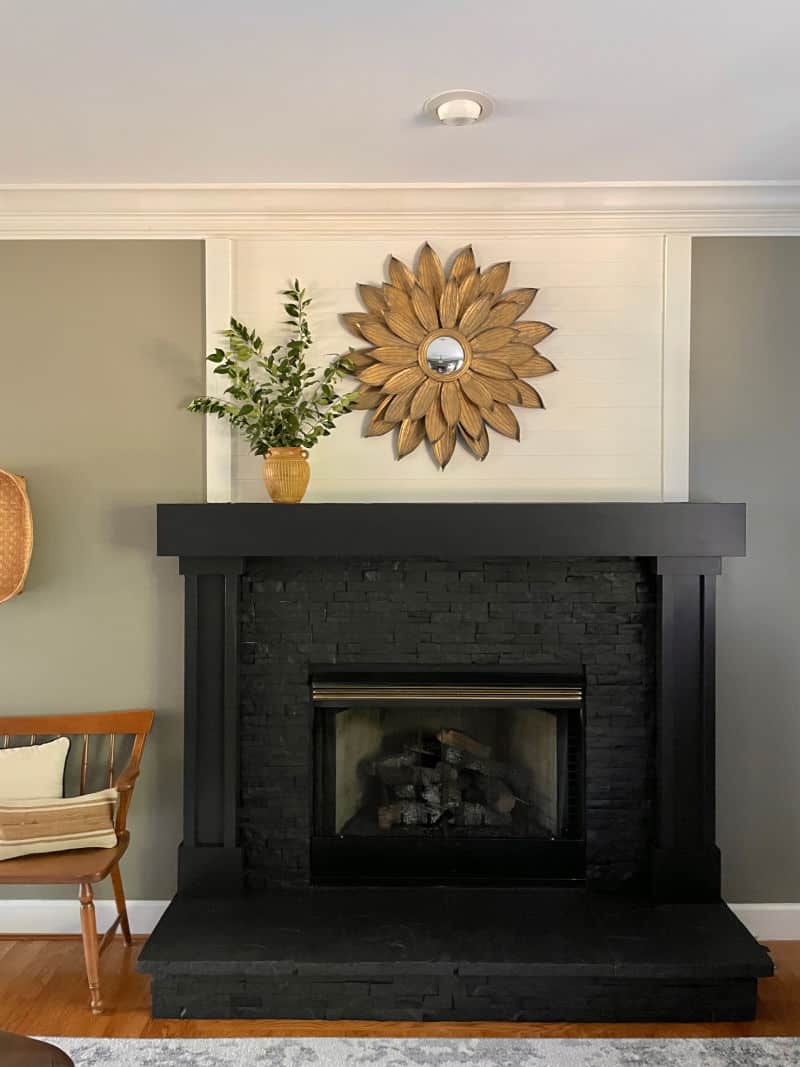 Enjoy your new fireplace makeover
I am so happy with how this makeover turned out. I wanted to show the after with it decorated the same as well as a simple greenery swap. I think this gives a real example of how paint truly is magical.
Can you even imagine what it will look like decorated for Christmas. I can't wait for it.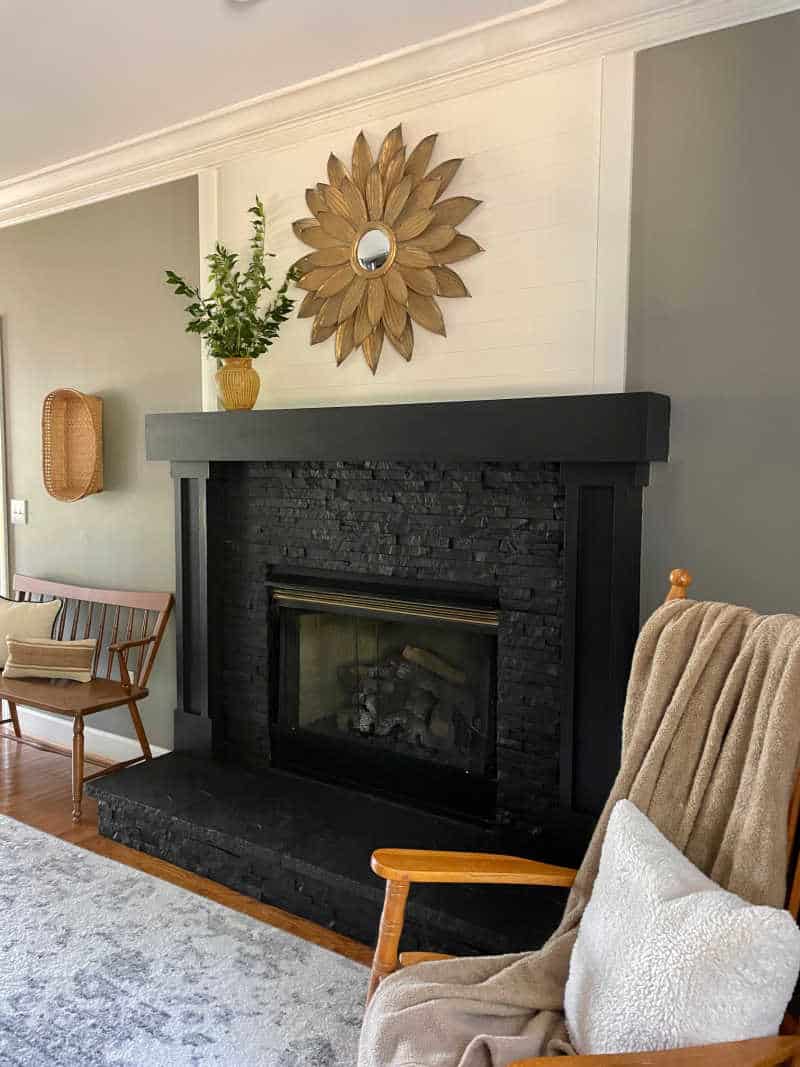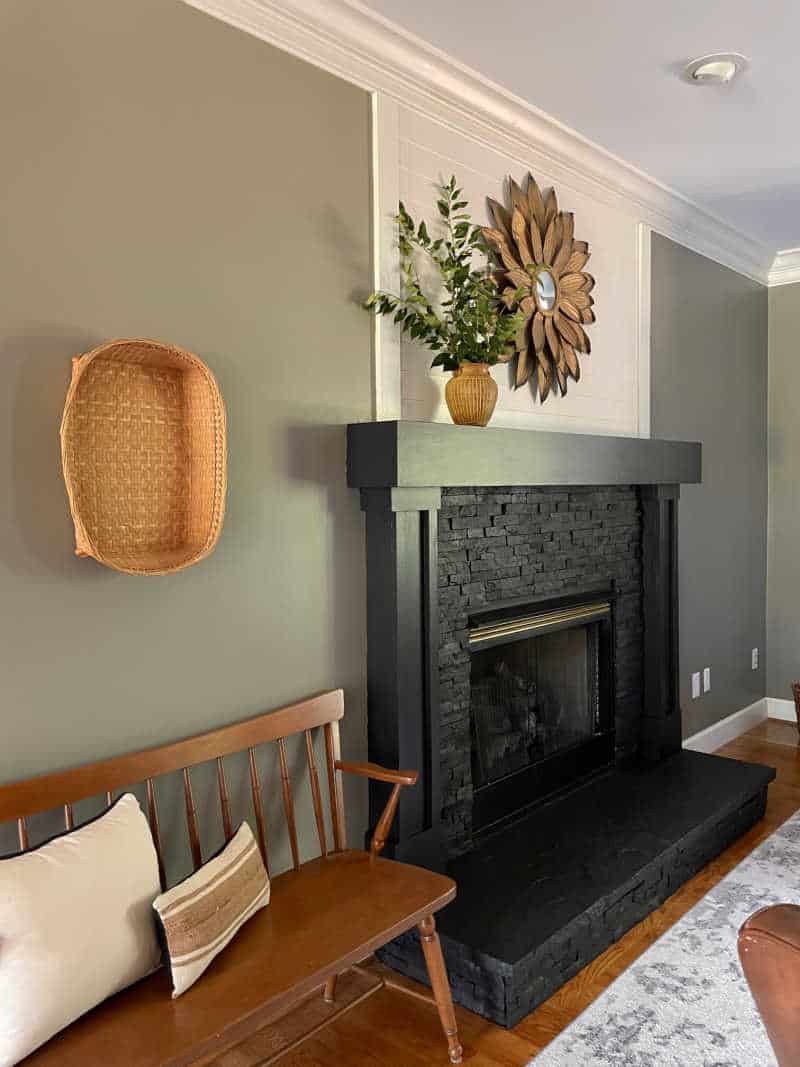 I want to be clear about our fireplace. It was beautiful before and I enjoyed it for the years we had it that way.
Painting it to me gives our living room a new look. Now the painted black areas make the fireplace look much more substantial in size.
Look how the evening sun makes it look. I just love it.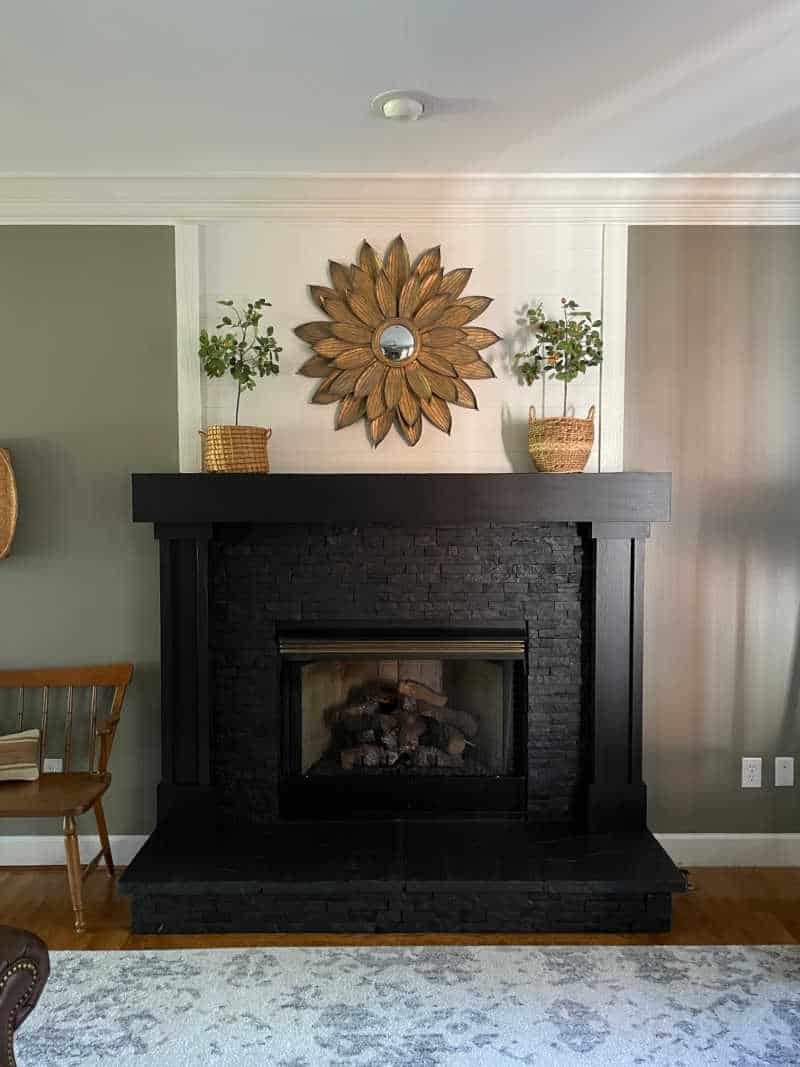 If you have dated tile or stone and want a new look, now you know exactly what to do. I look forward to your makeovers. Message me when you do this!
Did you use high temp paint?
No, I did not. If I had painted anything inside the fire box, where the gas logs are, I would have needed a high temp paint. I have painted my mantel a few times over the years and never had an issue. If you are nervous about it then by all means use a high temp paint.
What would you do if you didn't like it?
I knew I no longer wanted the color of the stone tiles. It was either getting paint black or white. I really hoped to love the black and I do! BUT I could have always went white.
What is the wall color by the fireplace?
It's called Adaptive Shade from Sherwin Williams. I tried 8 colors to get the shade I liked.
How did you convince your husband to let you do this?
I appreciate this question a lot. Making sure both you and your spouse are on board with such a permanent decision is important. Find inspiration photos so he can see what you are talking about. You can save these photos on Instagram for easy sharing. Men do well when they can see what you are talking about.