Painted Flocked Christmas Tree
Learn how to create a winter wonderland with a DIY painted flocked Christmas tree that won't make a mess all over the house every year when you set it up. Flocked trees have grown in popularity year after year.
Committing to a flocked tree can be a big deal. Trying one out on a smaller tree, especially a tabletop tree would be a great place to start.
This post may contain affiliate links. Please read out disclosure policy.
Christmas tree flocking has been something I avoided because I know the mess traditional powder flocking will make. If you're like me, this just may be the project for you.
What is Christmas tree flocking?
A flocked Christmas tree is an artificial or real evergreen tree that has been decorated with a layer of artificial snow or flocking to give it a wintry, snow-covered appearance. Flocking is a decorative technique where a white, powdery substance, is sprayed or applied to directly onto the branches of the tree.
Flocked Christmas trees can vary in level of flocking, just as real snow would do. A light dusting or full covered branches can could be achieved with the traditional powdered flocking. You can get the level of flocking just the same with paint.
Deciding on using a flocked tree or not will depend on your personal decorating style and look. The smaller flocked tree I created here allows me to add a little more winter wonderland without changing my big tree.
This little 4 foot artificial tree was tucked in the attic but it just looked sad. I knew it needed something and I wanted it took look a little different.
I remembered that I had an extra jar of Maxx Gloss in white china paint from my Brushstroke lamp project and I knew it would come in handy some time or another. I'll try paint on pretty much anything.
The tree already had lights on and I didn't bother removing them…lazy, I know.
How to flock a tree with paint
Use a gloss paint
Wear a glove
Dab on the branches allowing clumps
Do as much or as little as you would like
1 inch paint brush used but not sure size will matter
Start your painting with the tree branch tips making your way into the tree. Depending on how much flocking you want on your tree will determine how far into the tree branches you paint.
Wear a rubber glove and hold the branch in your hand. Next dab the paint all over the needles. If you try to paint with strokes the paint will splatter. I may or may not know this from experience.
Be sure you also use a drop cloth because there will be some little drips. How much you flock the tree is completely up to you. I didn't go over board but I can always add more if I wanted it to look thicker.
Using spray paint may seem like a good idea to flock a tree but I felt like this method would allow me more control over where I add the faux flocking.
How do you decorate a flocked tree?
You can decorate a flocked tree with as much or as little extra as you would like. A white flocked tree with just lights can create a cozy room.
They can be decorated with ornaments, lights, and other festive decorations just like traditional Christmas trees, and they often complement a variety of holiday decorating themes, such as rustic, vintage, or shabby chic.
Christmas tree decorating is always fun for me. I've got you covered for all of your Christmas greenery decorating ideas if artificial is your style.
Flocked trees are all the rage and they really are so beautiful. I've never committed to getting a big one for my family room but I thought maybe a smaller one would be great so I decided to try this project.
I think it turned out really great. I added some red wooden bead garland and a little cotton snow. If you like this idea but would rather buy one already to go, this 4.5 foot flocked tree is a similar look.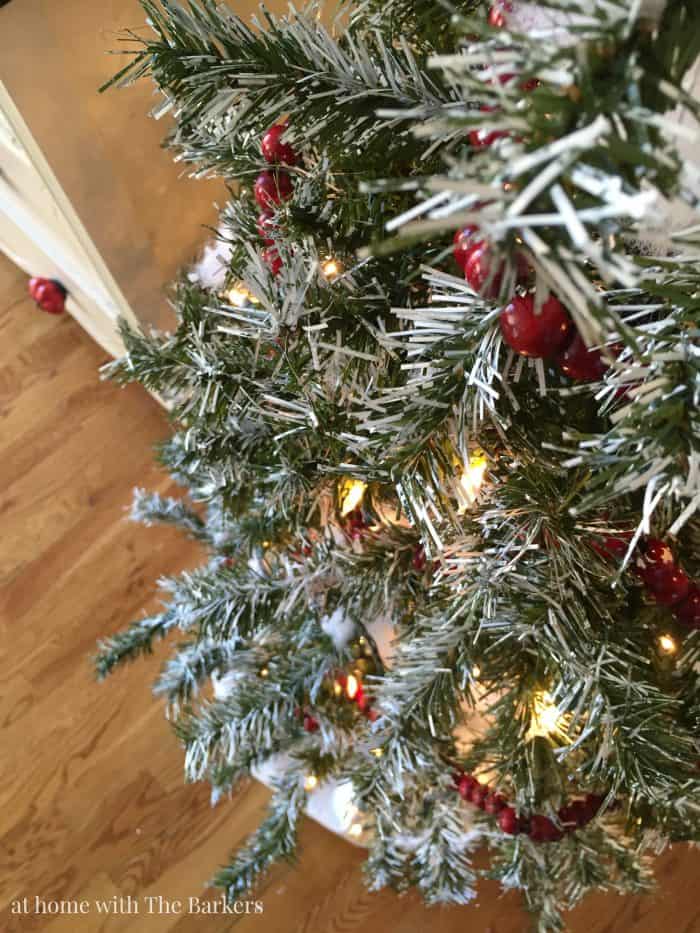 Buy a flocked Tree
If you'd rather skip the hassle of a DIY project and instead purchase a ready to decorate flocked tree here are some of my favorite small flocked Christmas trees.
I try to keep all of Christmas DIY and decorating simple. The DIY lunch bag snowflakes were so fun and looked great.
I hope you find joy in creating for your home.