Grain Sack Bench Makeover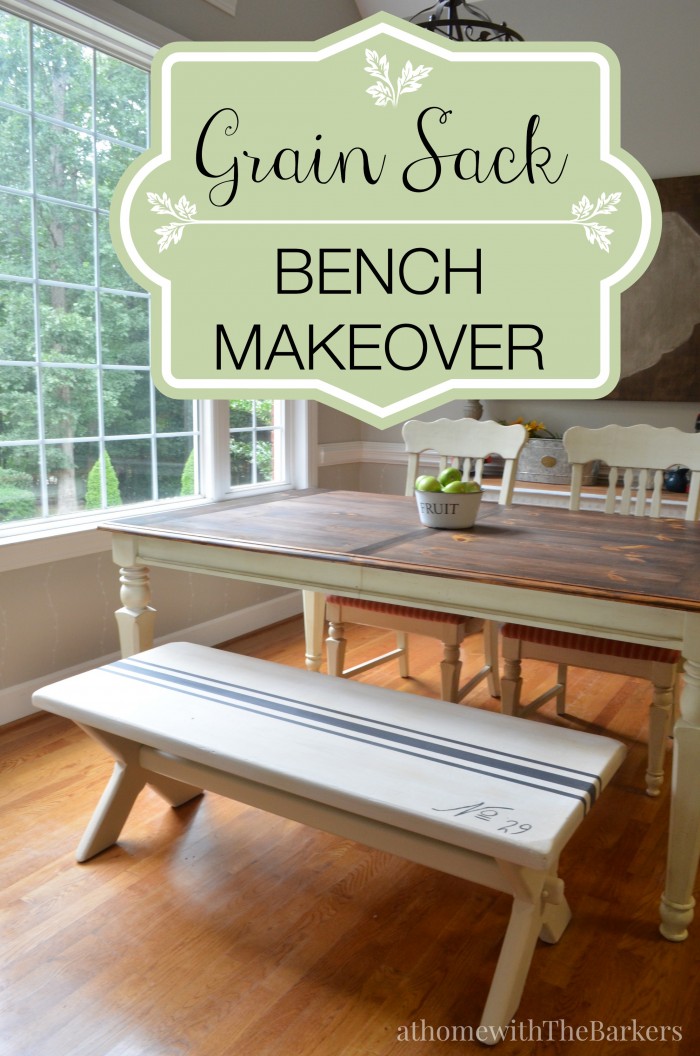 Since I have recently completed my dining room makeover I had this bench that no longer matched any of my decor. In all honesty, the bright yellow was something I wanted to repaint almost immediately after I painted it last year. I decided it was finally time to get it done and I'm thrilled with how it turned out!
This was my first time using the Americana Decor Chalky Finish paint and I love it! Americana Decor Chalky Finish paint is available in Home Depot, Hobby Lobby, Michaels, A.C. Moore and other stores.
My Grain Sack Bench Makeover colors include: Timeless, Lace and Relic.
I started with 2 coats of Timeless. I was worried that in order to cover the yellow I may need more than 2 coats but the creamy thickness of the paint covered it completely with 2.
Most of time when I want and aged or antique look I will distress a piece with sandpaper. I did not want to see the yellow showing back through so I used a different technique that I love called dry brushing. I used the color Lace to dry brush over the top. Then another dry brush layer of Timeless very lightly over that.
I did not do this technique on the legs, just the top. This gave the bench a textured look, like a real grain sack.
Next I taped the lines down the center. I used a sponge brush and filled in between the lines with Relic.
Love this color. It's a perfect charcoal black.
AND the No 29….well that is a special date in our house. Both of my kids were born on the 29th. I just drew it on with pencil and then used a small thin artist brush to paint over it with the relic.
I usually wax all of my pieces but I decided to try the Americana Decor Soft Touch Varnish. It goes on with a brush and dries clear and I have to say, I love it!! I will use it again for sure.
Today I wanted to try it out at my farmhouse kitchen table. I like it. I think it will more than likely end up moving around a lot! I'm sure when you see my fall home tour, you will find this grain sack bench some where else.
Have you ever tried the Americana Decor Chalky Finish? I'd love to hear about your projects!