My Top 5 Board and Batten Wall Tips
Check out my top 5 board and batten wall tips for a great way to add detail to any room. Wall details is one of the hottest trends in decor. Whether you choose an entire room or a feature wall, you can't go wrong with board and batten.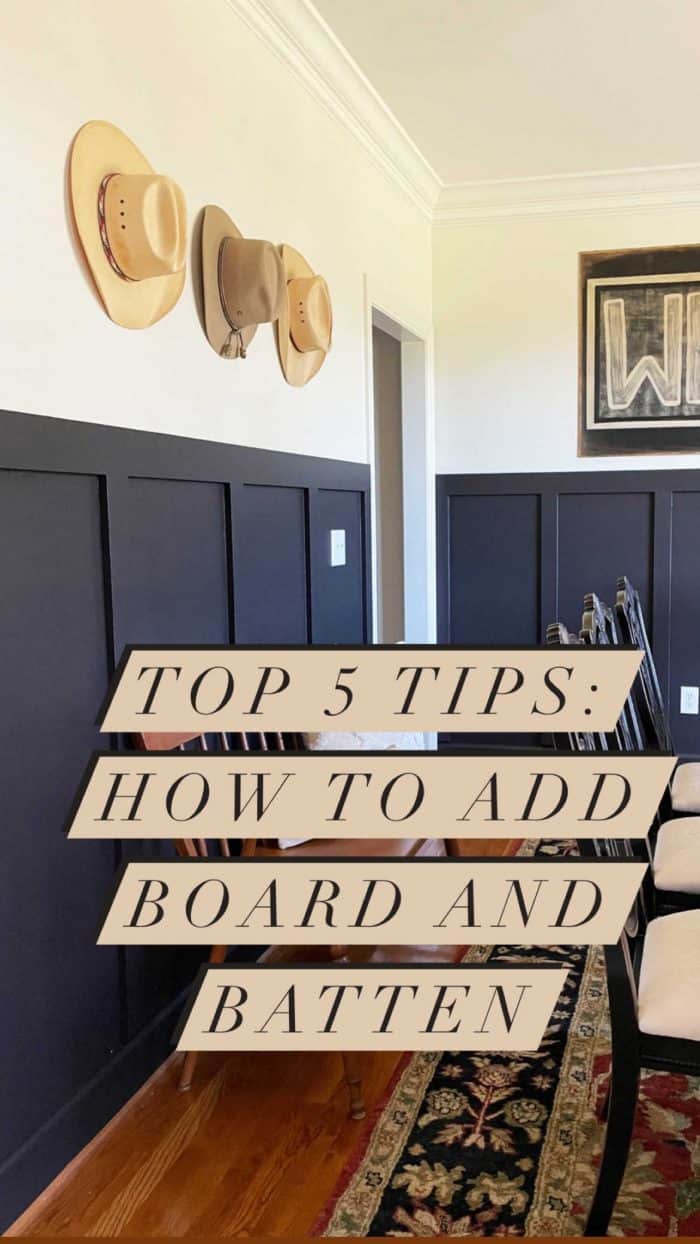 This post may contain affiliate links. See my full disclosure policy.
Wood accent walls give a home detail and character. Decorating with wood planks, mostly called shiplap, is another great option. The plank accent wall in the kitchen is the perfect example.
See many more before and after home decor projects on the blog.
How to install faux board and batten
Before I get to the details of this dining room makeover you must know the real story of how this came to be! I told my husband earlier in the summer I wanted to makeover the dining room and that I wanted to do this to the walls. He didn't quite understand what I meant…he doesn't look at Pinterest, magazines or blogs (except this one of course), crazy I know!
I tried explaining my vision.
His response was, he saw no reason to make over a room that we barely ever use! What?! Sure there is I thought. Nonetheless, I let the dream go and said I understand where he is coming from.
Fast forward to me coming home from Haven Conference in July to the BEST surprise ever! He not only designed the wall layout, he had bought all of the supplies, removed all of the old trim, cut all of the MDF boards and started the process of hanging it all! It was exactly what I saw in my head.
OH, and he took a few pictures!!
There are many tutorials on how to do this so I just wanted to share with you my top 5 board and batten wall tips that make the install easier. Also, for authentic board and batten, you would actually add boards to the entire wall then add the battens. For our DIY project we chose to use our wall as the board part. Therefore, you could call this faux board and batten tips.
1. What you'll need
3/4 inch MDF boards cut 3 inches wide and then to desired length/height
Battery and charger if you don't already own one
2. Carefully Remove Old Trim
The less damage to the wall, the less repair work, the less sanding you have to do. WIN, WIN!
Using a blade you cut the caulk away from the old trim and the wall. Then use a pry bar to pop the trim nails. Go slow.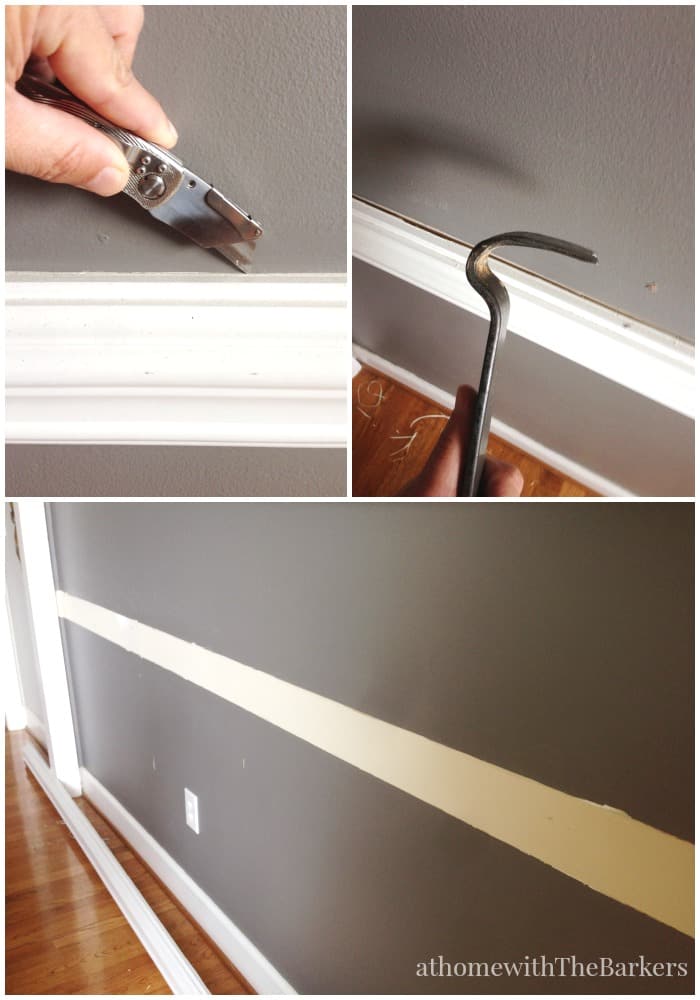 We used MDF for this project because we wanted a smooth transition from our existing trim. Before you paint MDF with latex paint you have to paint it with oil based primer and let me tell you, it smells…BAD!
Here is where I appeared on scene, just in time to use the new finish nailer he picked up for this job. That tool is the best time saver EVER! I know I talk about Ryobi often and they have been very good to me as a blogger but this is not a sponsored post. We bought this one ourselves because we LOVE the products!
**disclaimer…I was not wearing safety googles in the photo. In my excitement to test out the new tool I forgot to put them on. Otherwise, always be safe and wear your goggles.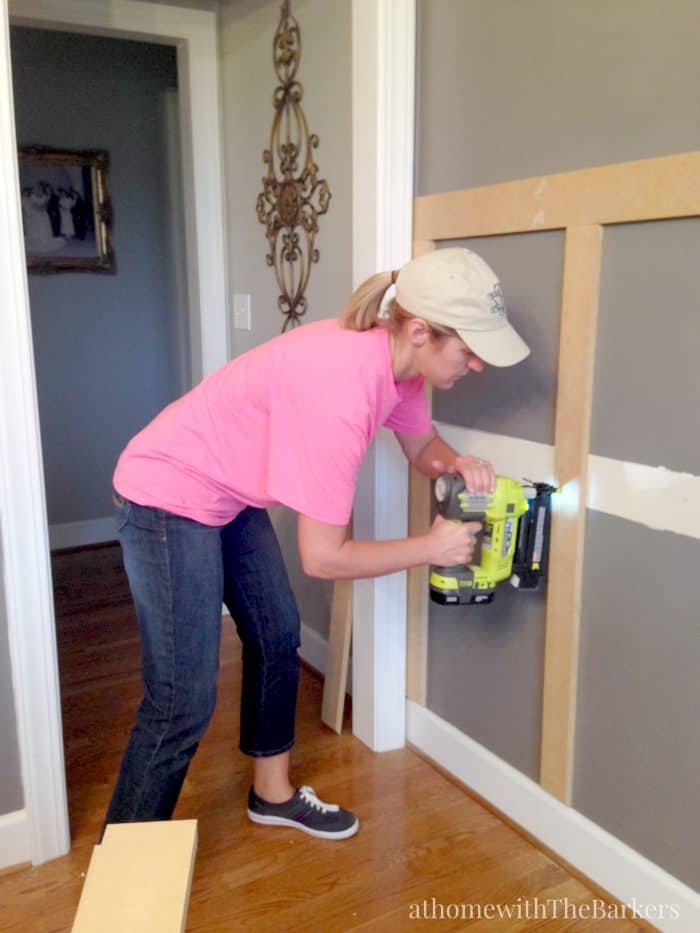 3. Determine Detail
The wall height of the board and batten is pretty important but not exact. This is the best part of the "how my husband read my mind!" I had 60 inches in my head…he hung it at 58! I knew this would be substantial and visually pleasing yet still allow me to hang things on the wall.
He knew that height would allow him to not have to cut extra boards to increase the height and were the perfect height as they were.
We make a great DIY team, even when we don't work together 😉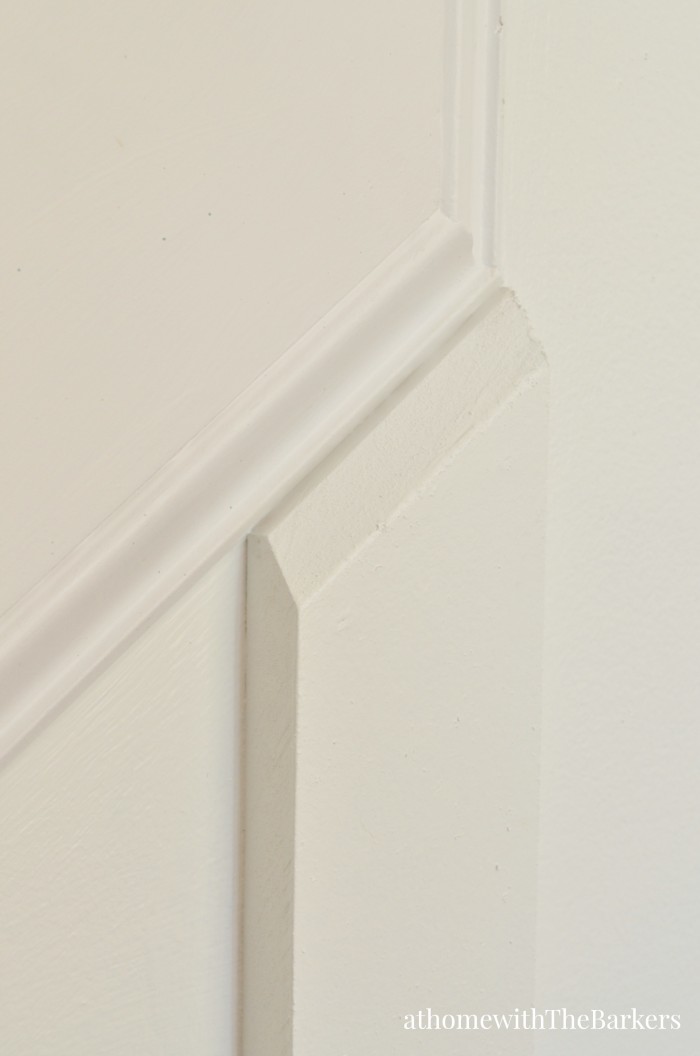 In order to keep our existing trim work and keep our house consistent, we (he) had to add detail where the existing trim on the stairs and base boards would meet the new MDF battens. He did an amazing job. He did this by cutting one end of the board on an angle.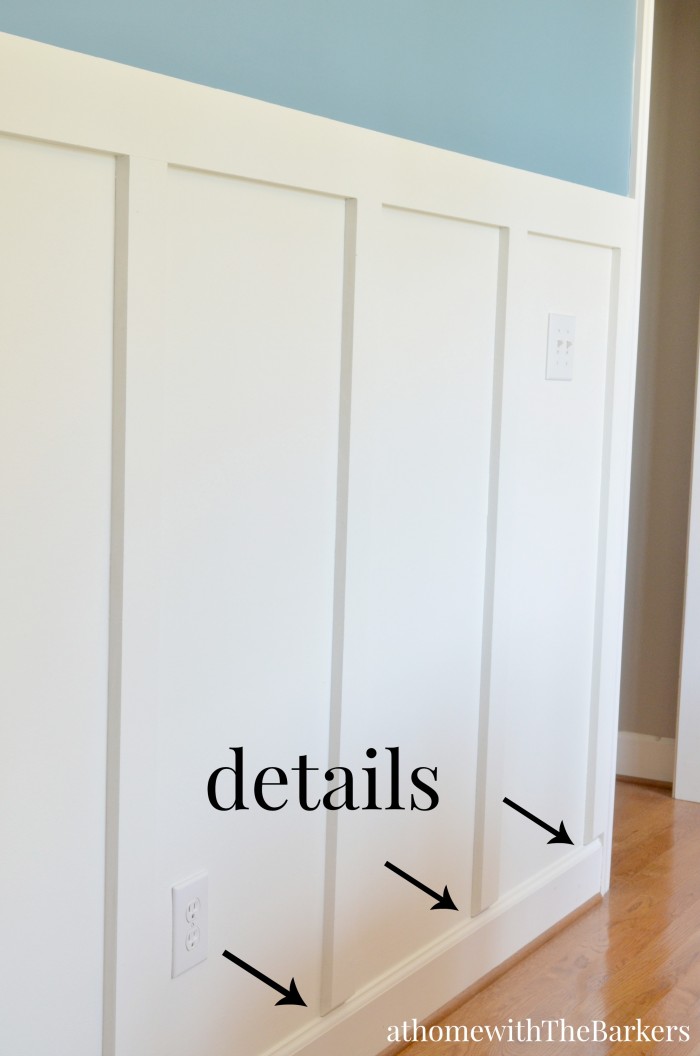 4. Time saver
Using a spacer keeps everything even. Cut an extra piece of board the distance between all of the battens before you start nailing. This will make things go much faster.
** Update to a FAQ:
I get lots of emails asking me about nailing the boards into the studs. While the boards nearest the corners and door frames do land on the studs we didn't do ours specifically to land on the stud. We did ours in a way that would be roughly stud width apart BUT decided to make them even distance on the wall.
We didn't want our boards to look unevenly spaced so we measured our wall and then divided it up. Our spacer board ended up being 17 and a half inches. You will need to take your wall length and divide it up to get your specific distance.
ALSO, we did not glue the boards before we nailed them. They are light weight enough and basically decorative, so they hold up fine.
Notice how each corner has a piece of wood on the ends. This adds depth to the corners as well as allows us to keep each wall spaced evenly. When you are creating your batten widths take your most obvious wall as your measurement. This will be the wall that is first seen when you wall into the room. Since this dining room has two entrances we went with the foyer view. That was also the only solid wall. The other walls had a window and stairs to work around.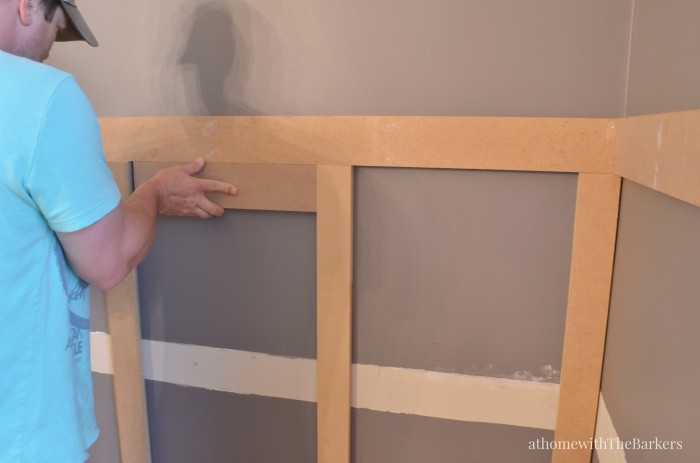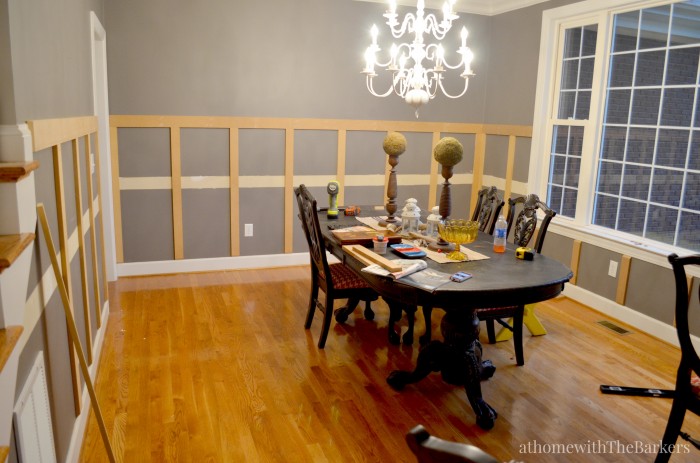 5. Less is more
The less work you have to do the more time you have for the fun stuff like decorating. So, we decided that the existing wall would act as the "board" part of the board and batten. No need to spend money there, just paint the wall the trim color and you are done!
My sister thought the less is more was meant for her…less work, more coffee drinking.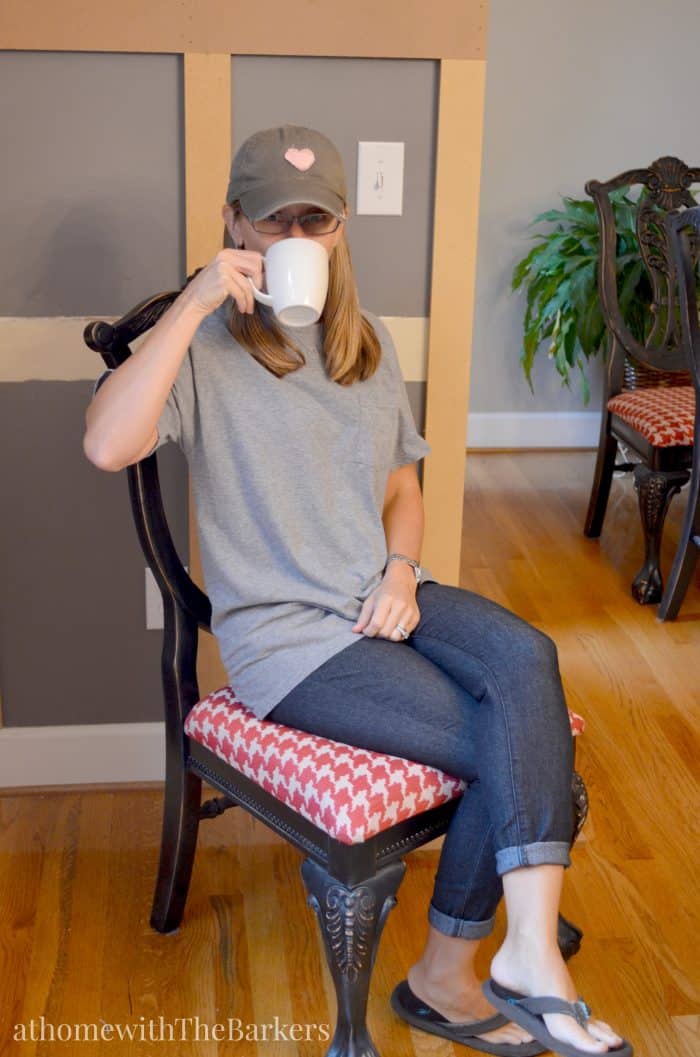 The dining room is now my favorite room and my inspiration for future room makeovers.
See the full dining room makeover here!
AND my Dining Room Updates as of Sept 2014.
You should see it NOW! The black board and batten is so good.