Dining Room Makeover Reveal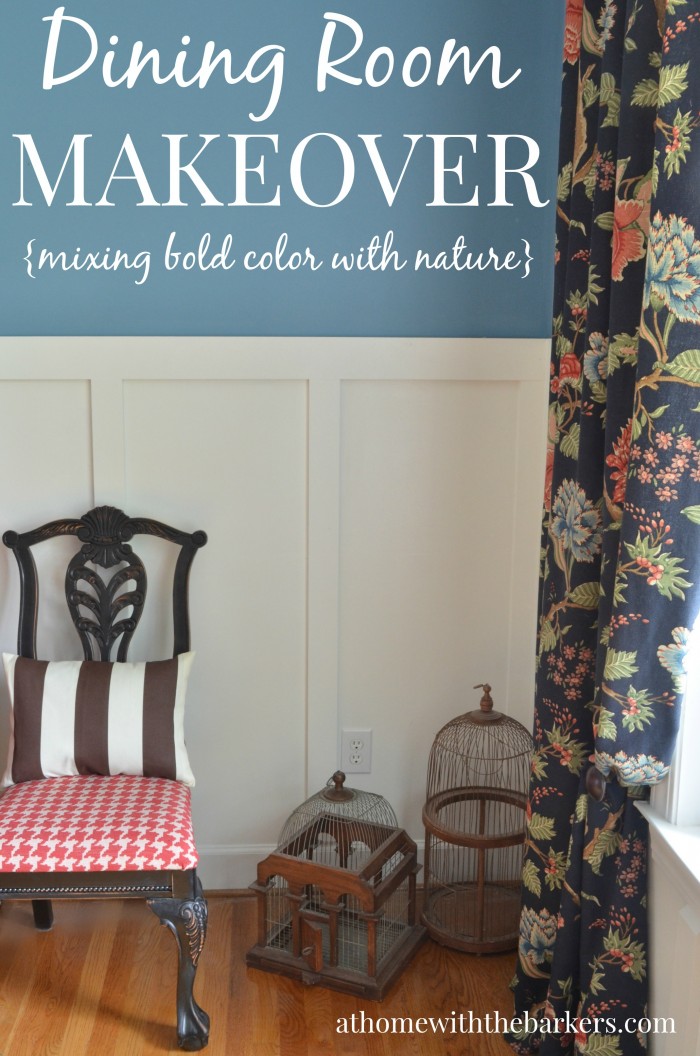 Today is the day… the Dining Room Makeover Reveal!
First, let me tell you how this all started…
I have been wanting to get rid of the chair rail molding and add the board and batten look on the walls for a while. So I told my honey my bright idea.
His response…"why do you want to makeover the least used room in our house."
It's simple really…it's the first room you see when you walk in our front door. I wanted it to set the tone for the rest of the house, which I plan to makeover. Not a total makeover in every room just a little here and there.
I knew the room as it was just was not exactly my style. Some of it was but not everything.
You see, I realized I love color AND I love nature! I was trying to force myself to choose one and decorate that way. It wasn't working and something always felt wrong!
This is the perfect example of USE WHAT YOU LOVE! SO I went for it!
REMINDER of how the room looked before…
AND NOW….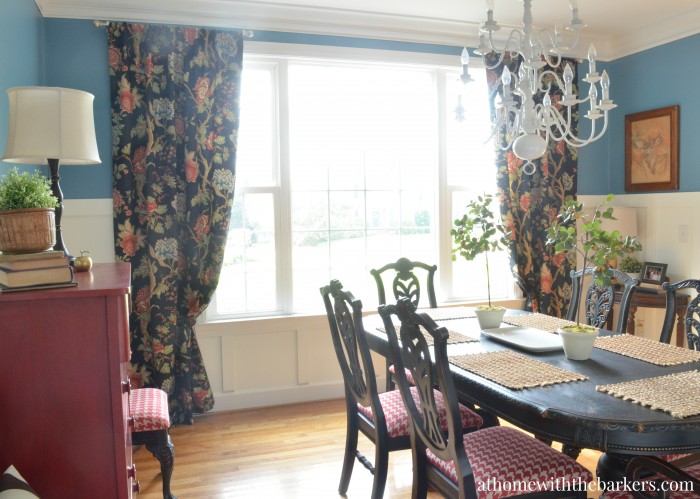 I knew I was keeping the dining table and the fabric on the seats…it's one of my all time favorites. So I took a fabric swatch with me to find the window treatment fabric. I knew it as soon as I saw it. At first I was wondering how the fabric, with a navy background, would look with the black dining table.
I pulled out my phone, quickly went to Pinterest and searched navy and black. Lots of fashion pictures came up and I knew right then, the navy and black would look awesome. That's a great decorating tip to know…look at fashion for home decor trends!
Today I mostly wanted to show you the room. I couldn't wait any longer!
I will be posting more room details on the blog soon. The tutorial on the walls and how Ray totally surprised with them! YES, he's a keeper. As well as more details about wall pieces and how I glued those antlers right on that plaque!
Do you recognize the brown stripe pillows? They are from my patio!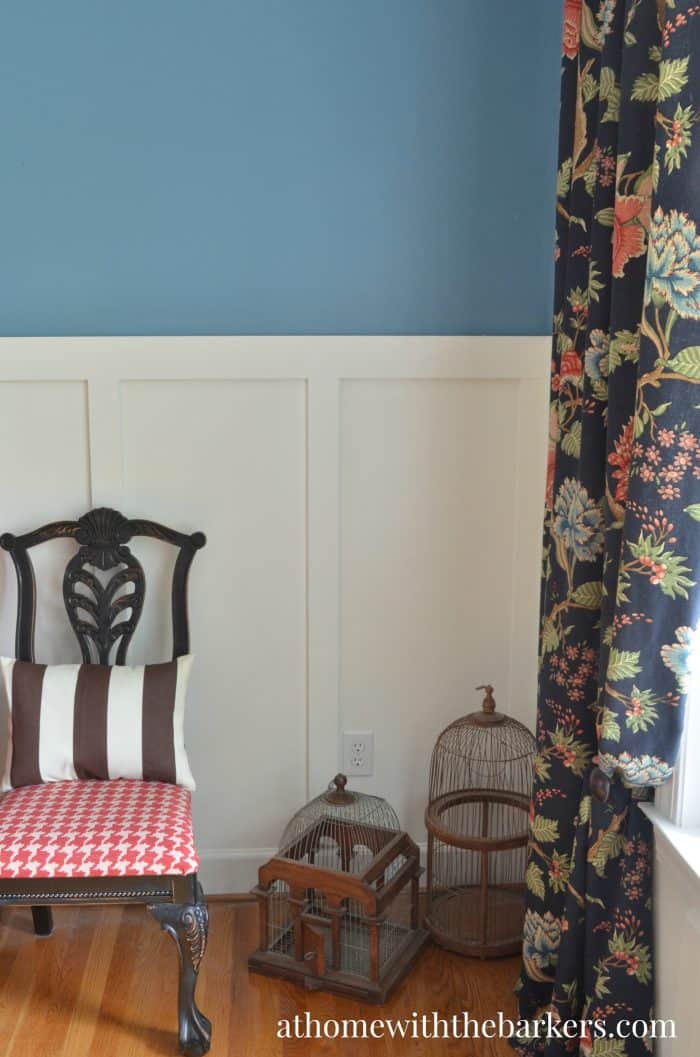 The walls are painted a Benjamin Moore color called Buckland Blue. Gorgeous color!
Here's a sneak peak of something I'm considering for my foyer and main living space. Remember last year I repainted my entire living space with Mindful Gray?
Well, it looks a little dull now with the Buckland Blue in the Dining Room.
Although I would still love to change the chandelier and I need to find something more to flank the art work above the red furniture piece, for now I am very happy with this room.
I really knew this room was a hit because my family loves it! My teen son said it's his favorite room in the house!
**As always, behind the scenes pics happening on Instagram!
UPDATE POST:
My Top 5 Board and Batten Wall Tips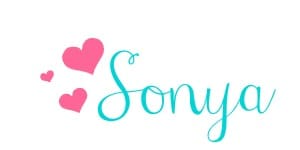 Linking up to: Just a Girl and her Blog