Reversible Patio Cushions and Pillows
This post is sponsored by OnlineFabricStore.net but all ideas and opinions are mine!
I have been wanting to add some color to my patio since early spring. I was looking to incorporate some of the outdoor pieces I had already been using on my deck. I thought they were a great starting point but I was hoping for a more custom look without a huge expense. Thanks to Online Fabric Store I had the opportunity to look through all of their beautiful fabrics for the perfect Premier Prints.
I started with all of these pieces that I purchased last summer. The floral patterned fabric on the cushions was what I used as my inspiration for the patio. I wanted to make reversible patio cushions and pillows. Some of the other pieces will stay on my deck.
My first choice of fabric from Online Fabric Store was this awesome stripe…Vertical Safari.
AND of course the perfect red…Rave Cherry.
My goal was to recover the two rectangle blue pillows with the stripe fabric for my chaise lounge chairs. Next I wanted to make reversible seat cushions for my iron bistro table. This required circle cushions…those circles are not easy to sew. I took apart the floral fabric cushions in order to have one side of the floral fabric as well as reuse the interior foam.
I grabbed some cardboard from my recycle bin and made a pattern for the seats.
I am super pleased with how it all turned out! I haven't used my sewing machine in a while and I enjoyed dragging it out.
For now I had 2 chairs showing the red fabric and 2 showing the blue floral. I can mix and match it how ever I want since they are reversible.
Online Fabric Store has so many Premier Prints to choose from and all orders over $50 are shipped FREE.
Some of my awesome blogging friends are also using fabric from Online Fabric Store, be sure to stop by their blogs to see more inspiration!
Also be sure to connect with Online Fabric Store through any or all of these links: Facebook, Instagram, Pinterest, Blog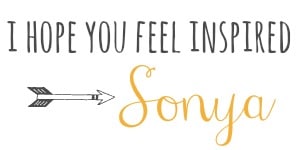 Linking up to: Just a Girl and her blog