How to hang string lights to a tree
Find all of the details here for how to hang string lights to a tree in a secure manner. Create the backyard oasis of your dreams by adding string light ambiance.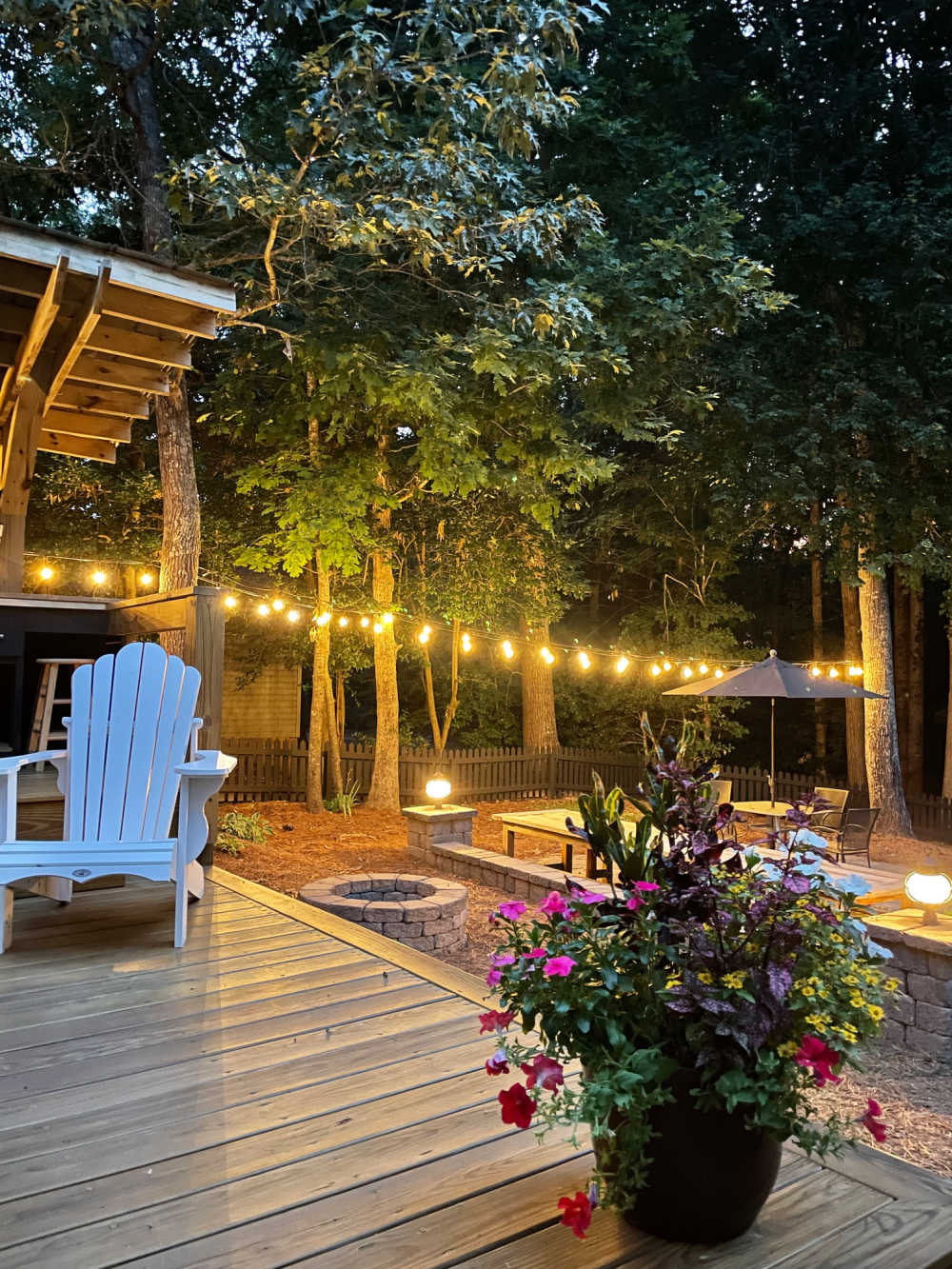 Estimated reading time: 8 minutes
This post may contain affiliate links. Please read our disclosure policy.
I'm adding in lots of extra info to help you in the process. If you want to skip all that and move directly to hanging your lights you can do that. You can jump to any part of the blog post by clicking that section in the table of contents.
You don't want to miss the secret trick in step four.
Have you been dreaming of the perfect backyard oasis all light up at night but feel like you need lots of decor and money to make it happen? This post is for you.
When we rebuilt our deck that included an outdoor kitchen, I knew immediately I wanted string lights as part of it. I still can't believe our first backyard makeover didn't include hanging lights.
When you start considering your outdoor space as a room, you'll realize how important it is to decorate it. I've come to learn that no matter how beautiful or minimal your outdoor decor is, string lights will make all of the difference.
Just like your Christmas tree lights during the holidays. No matter what is going on in a room, the lights at night just make it better.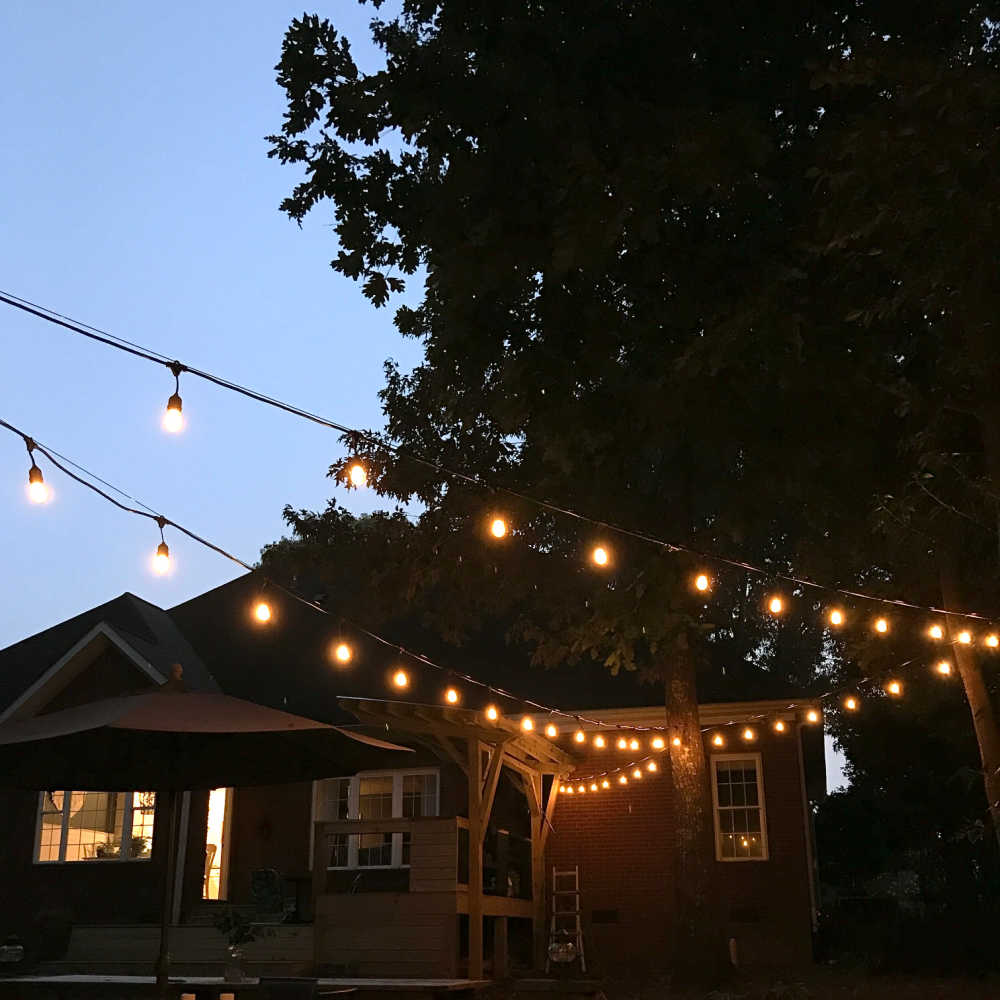 Frequently asked questions
Do you need a guide wire to hang string lights?
Not always but I'd recommend it. You will need a guide wire based on the weight of your string lights and the distance between each tree. The guide wire will create a more stable hang with less tension pulling on your string light wiring.
How do you secure string lights to a tree?
Hang with a quality string light kit. We used a top rated kit based on great recommendations. I've linked it in this post.
How do you hang lights on a tree without hurting it?
While wrapping string lights tightly around a tree can damage the bark, you will not need to do this with a quality kit.
How do I decide how high to hang the string lights?
You want them hanging tall enough as not to be bumped out touched but not too tall you loose some of the ambient light. Try for between 8-10 feet from the ground.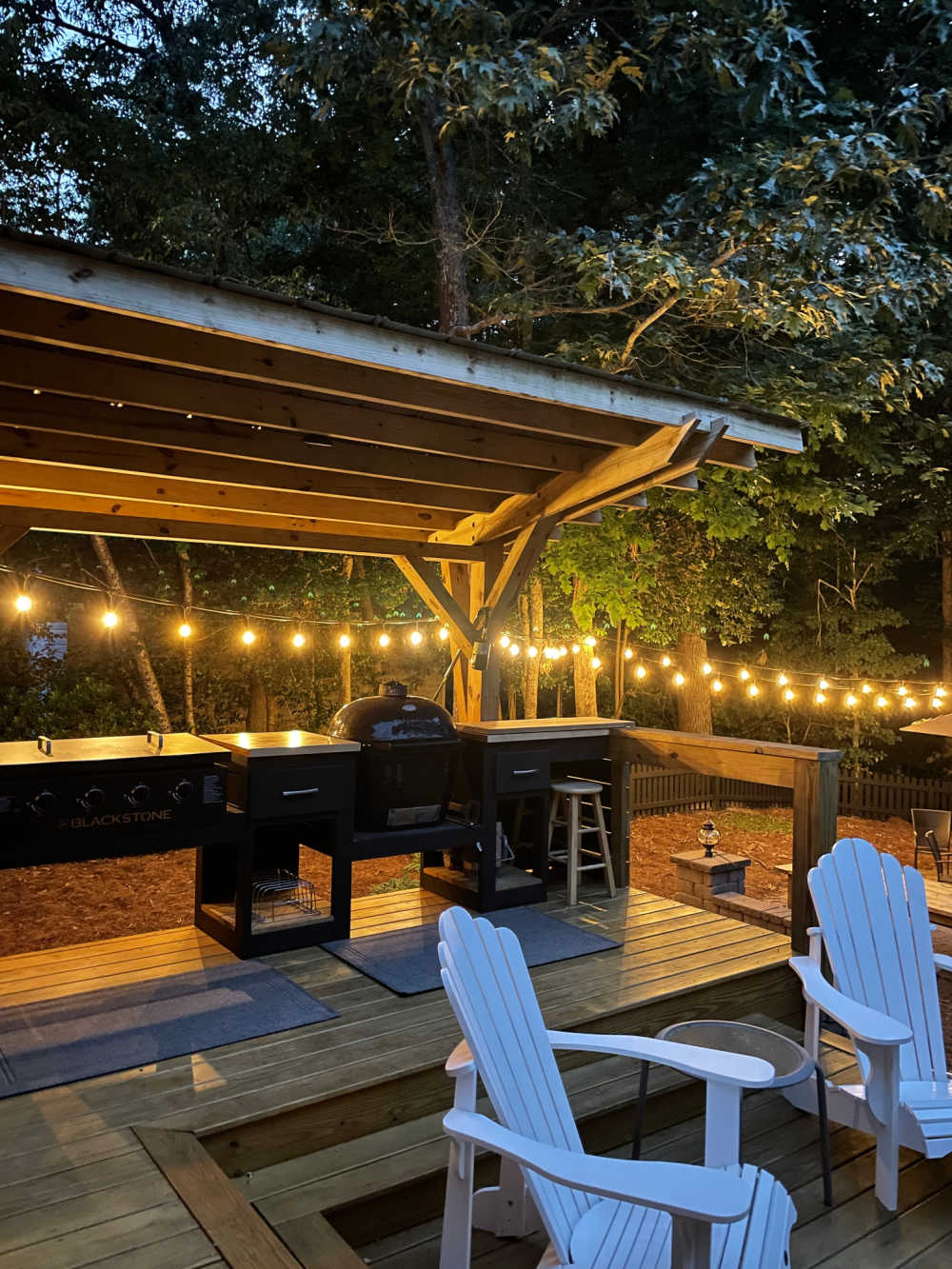 Why hang outdoor string lights
define an area, create a room (dining, fire pit, seating)
ambiance lighting
light up your yard for safety
Creating an outdoor room and bringing the inside out, is a great way to make your home feel bigger. Taking time to make a living room, outdoor dining room or a fire pit area are my favorite ideas.
The relaxed ambiance string lights bring to your outdoor rooms is worth the effort.
There is the added bonus of having more lighting in your yard for safety. Gives strangers the notice that someone is home, as you would with your porch lights. Also, adds extra light for walking around the yard.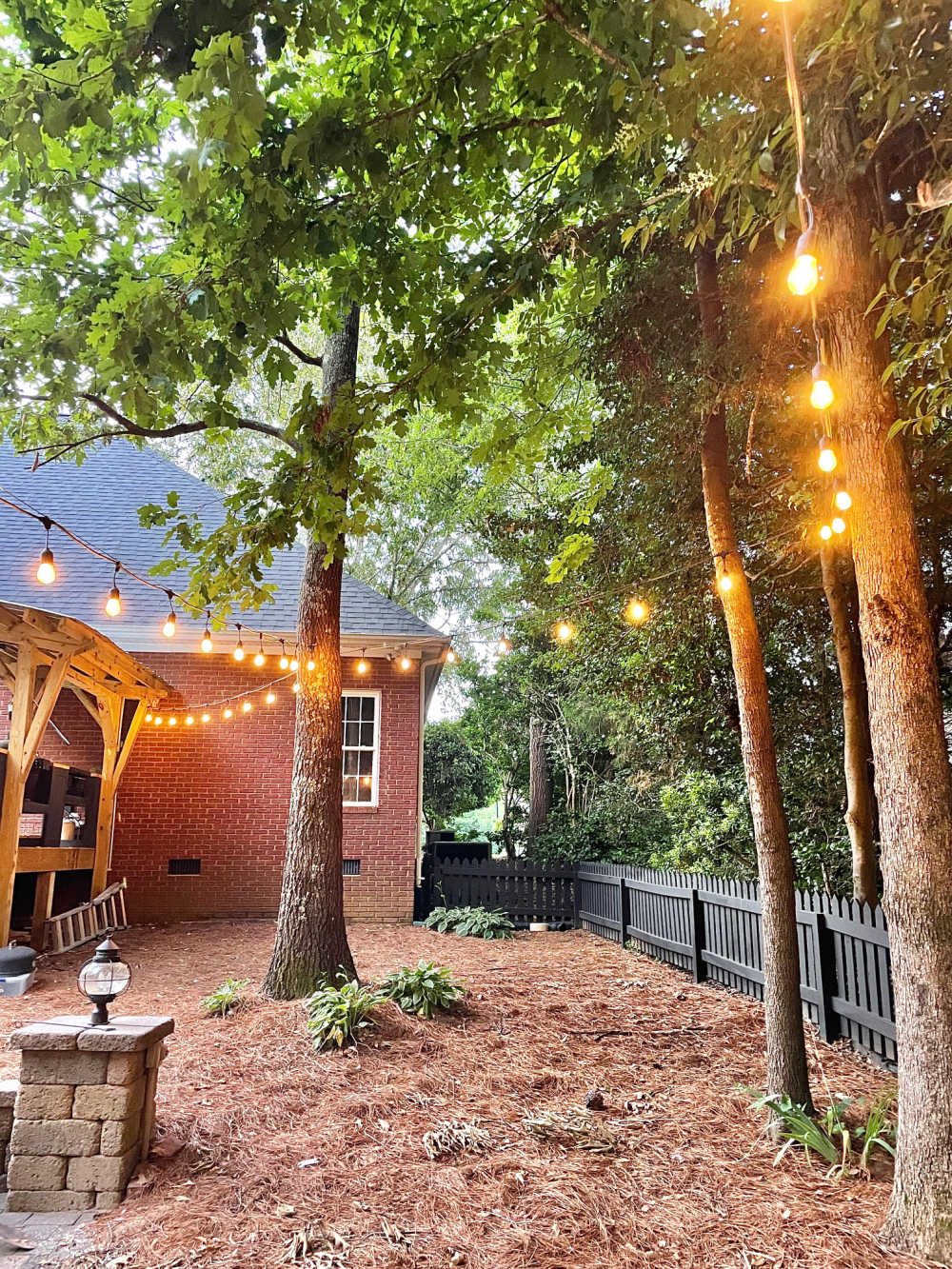 What to do before you buy
decide between solar or electric
determine area/room your lights will hang
measure distance to determine what length of lights to buy and how many strands
choose the trees for the project
I would recommend going electric if you have the option. Solar lights hanging from trees will not put off near as much light as string lights you can plug in.
We bought two strands of 48 foot string lights. Then we attached them to 3 trees and the outdoor kitchen roof when our electrical outlet was installed.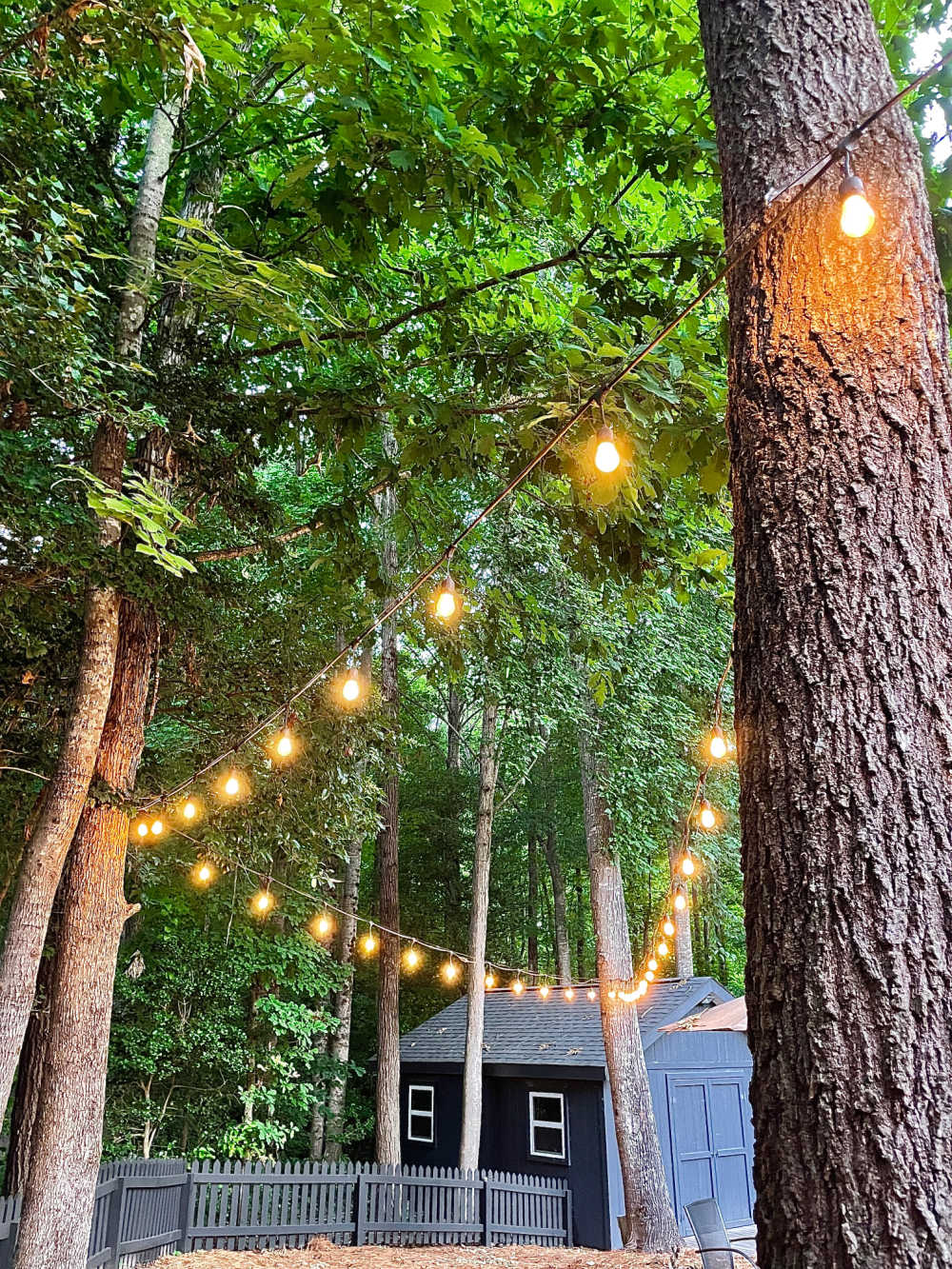 Type of lights to look for
shatter resistant bulbs
heavy duty
weather resistant
This tutorial and outdoor kit will work in any place you want to hang string lights to wood. Deck, pergola, screened porch, planter pole or your homes exterior. We hung ours from the backside of our outdoor kitchen.
As far as how to hang the hardware from the kit, it comes with great instructions. I'm adding some extra steps here to aid you in the process.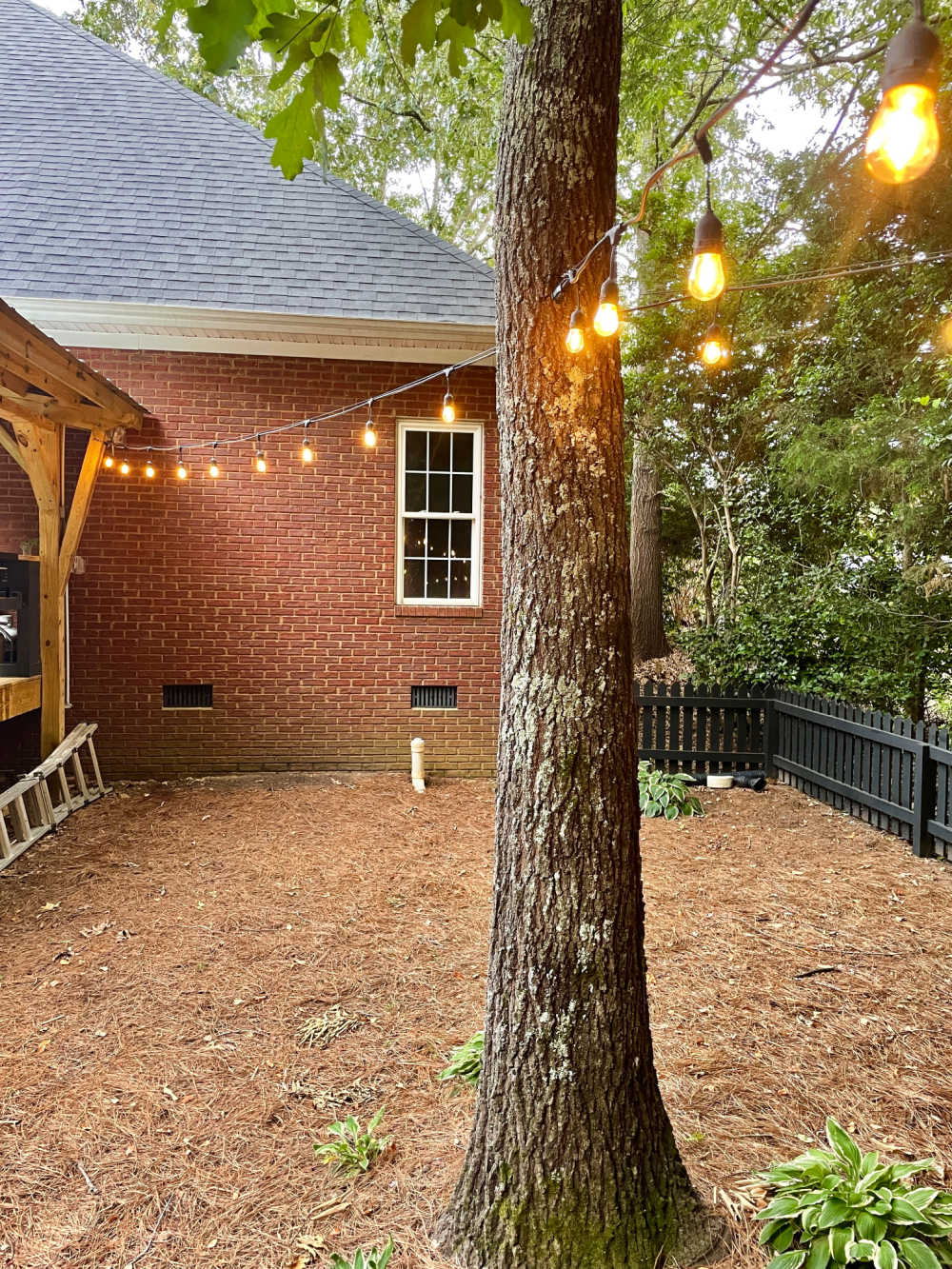 How to hang string lights to a tree
Step One
First and foremost, choose a quality outdoor string light kit. We did some research and found this top rated string light kit. Below is quoted directly from the Amazon listing.
Every component of this string light suspension kit is threaded and requires no additional tools to complete the project. The accessories are very compact and easy to assemble or dismantle. Detailed instruction is provided to make it a simple task to put up the strings light no matter on wood, timber or concrete wall.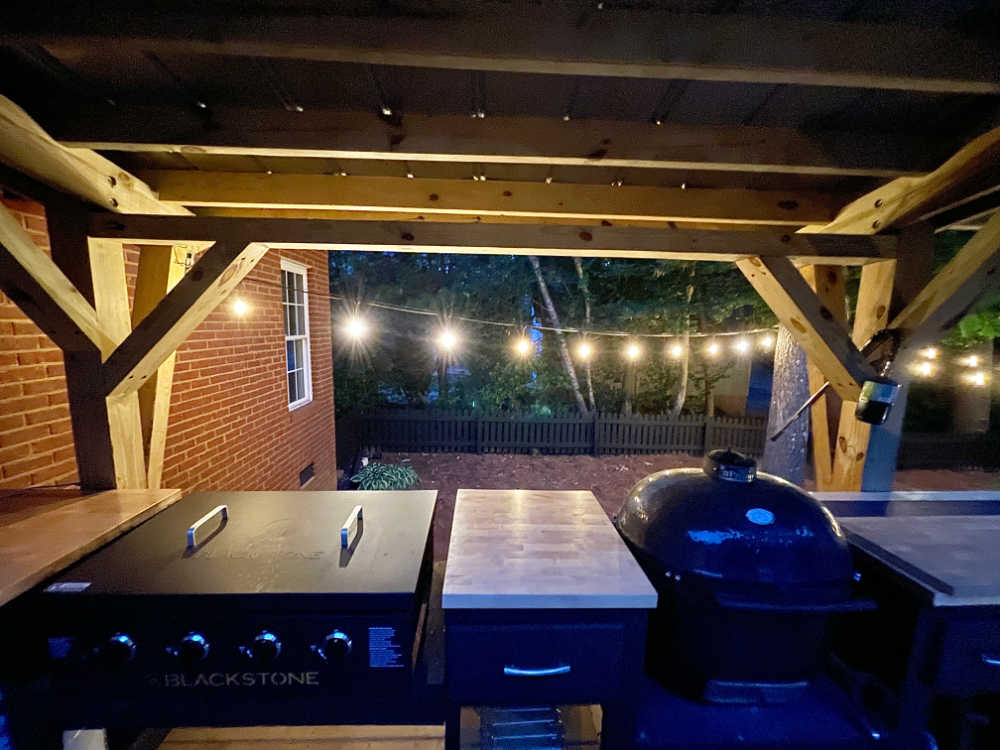 Step Two
Lay out your string lights on the ground from the electrical box source. Make sure to have them laying in the correct direction before starting.
Our trees are tall and limbed up so we didn't have any issue working our lights around branches. If you do have branches to maneuver this is the time to lay out that plan.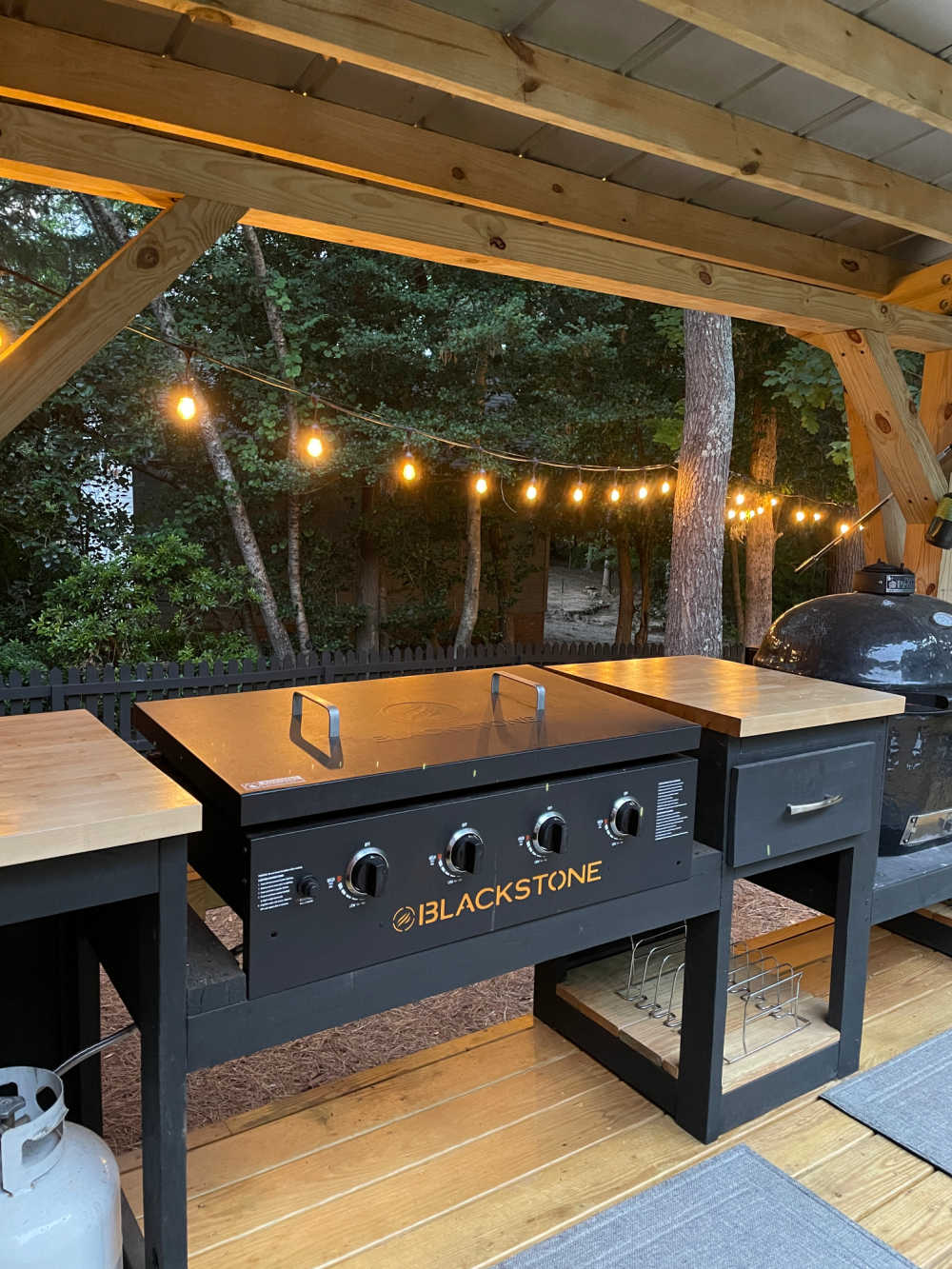 Step Three
Attach the tree hardware. We added the string lights as we went, doing one tree at a time. This allowed us to see how high up each tree we wanted the lights to be. The distance is roughly the same but because the ground is slightly uneven I didn't do an exact measurement.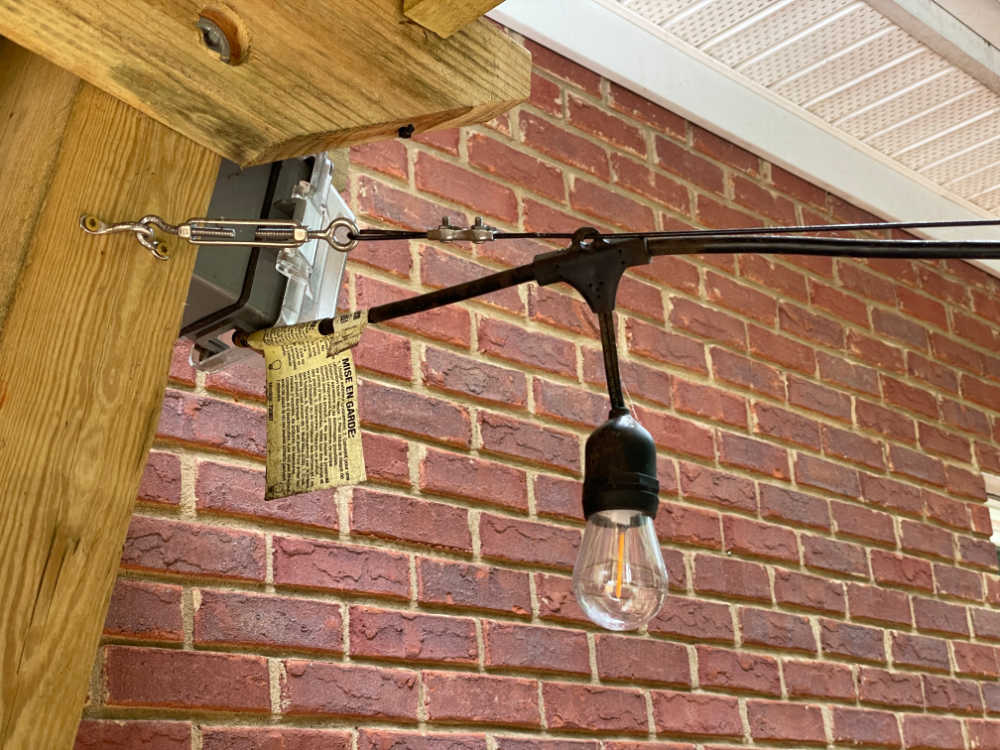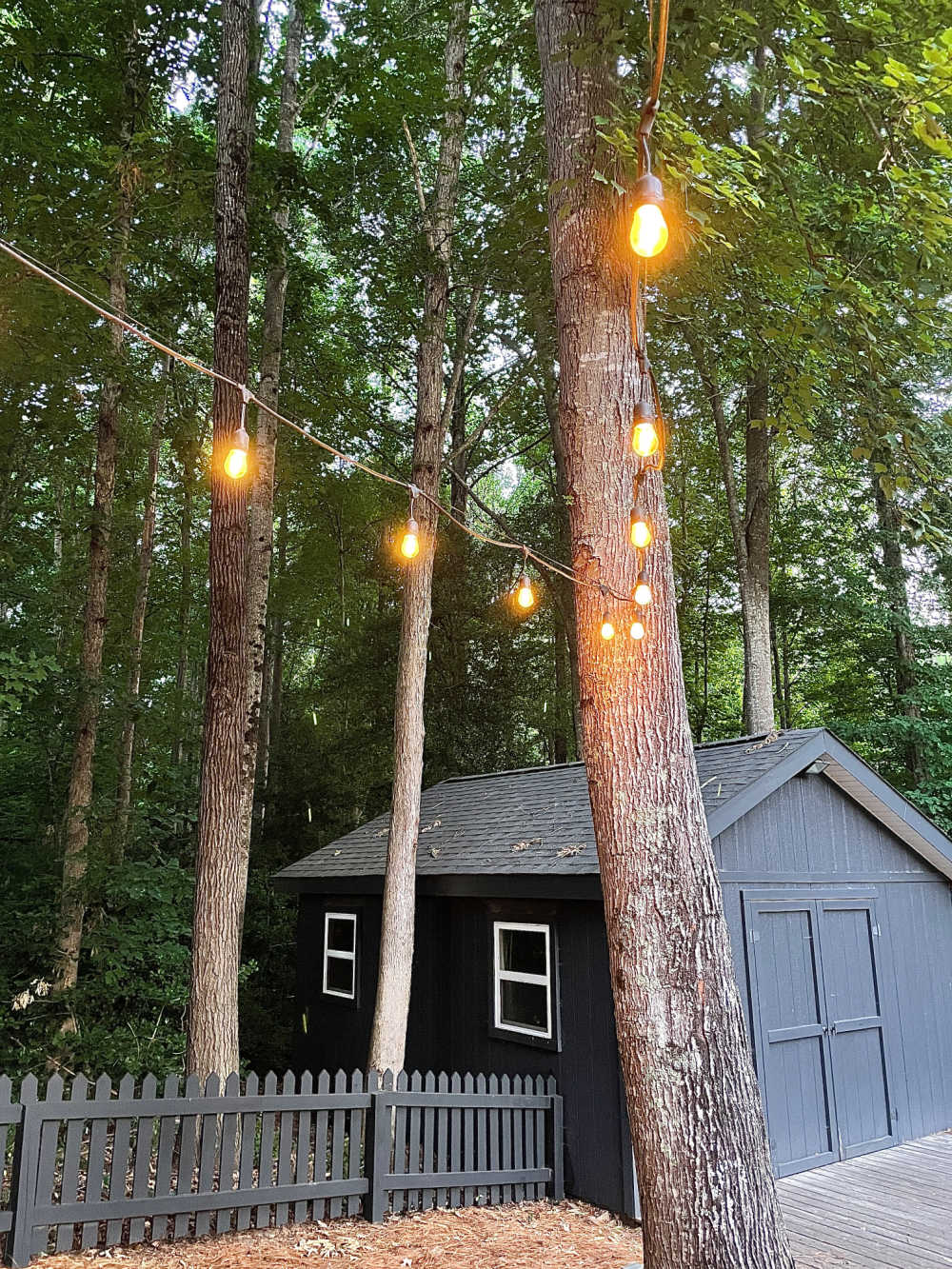 Step Four (secret trick!)
We didn't use the twist ties that come with the kit and instead ran our guide cable through the loops at the top of each light. Paying special attention to alternate the direction on each bulb.
This way of doing it has made the cable and string lights hold together very well.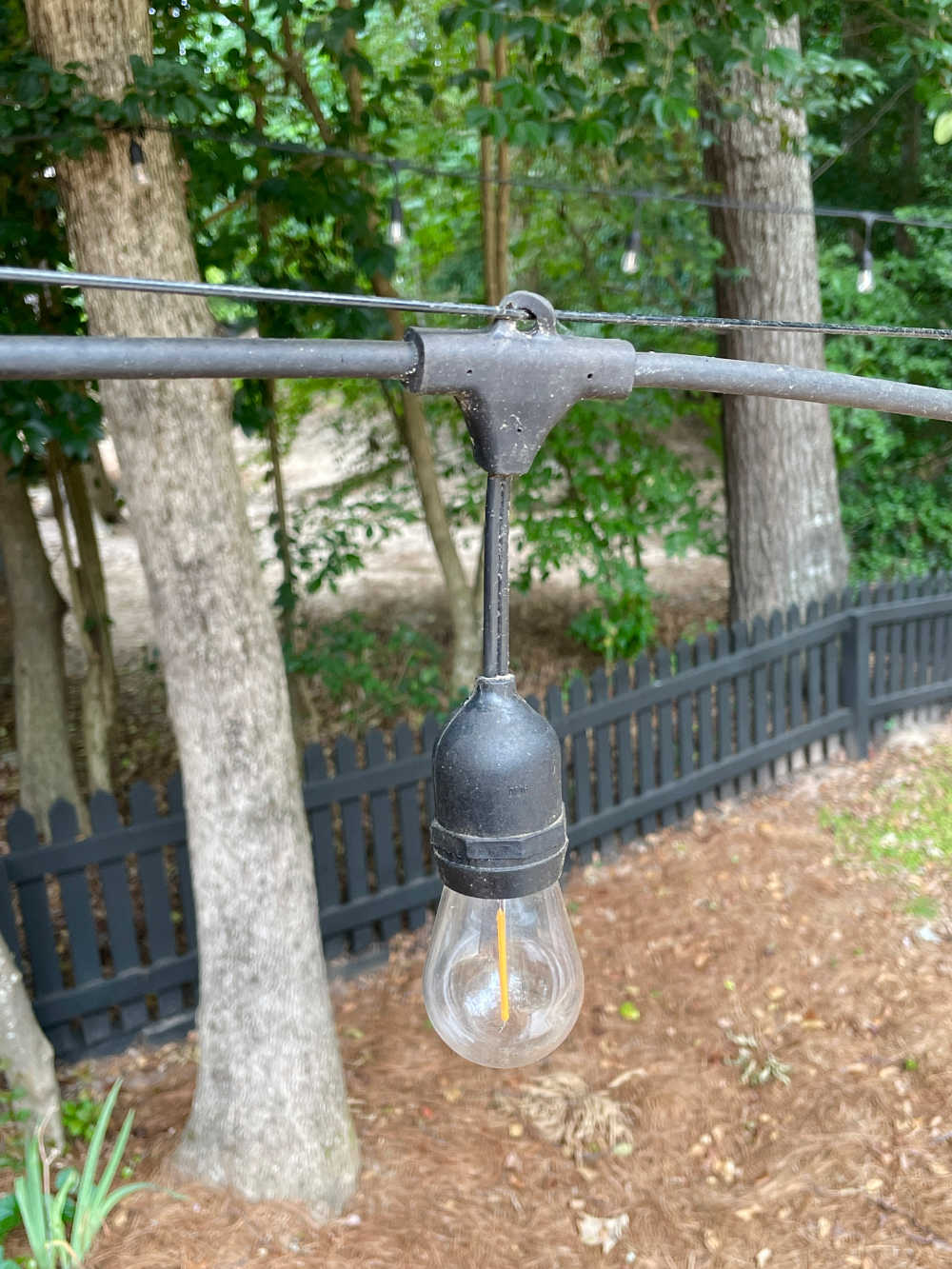 Outdoor string light maintenance
remove any broken tree branches from the wires as soon as you can
clean the bulbs with a microfiber cloth to keep a nice bright glow
check your tree hardware each season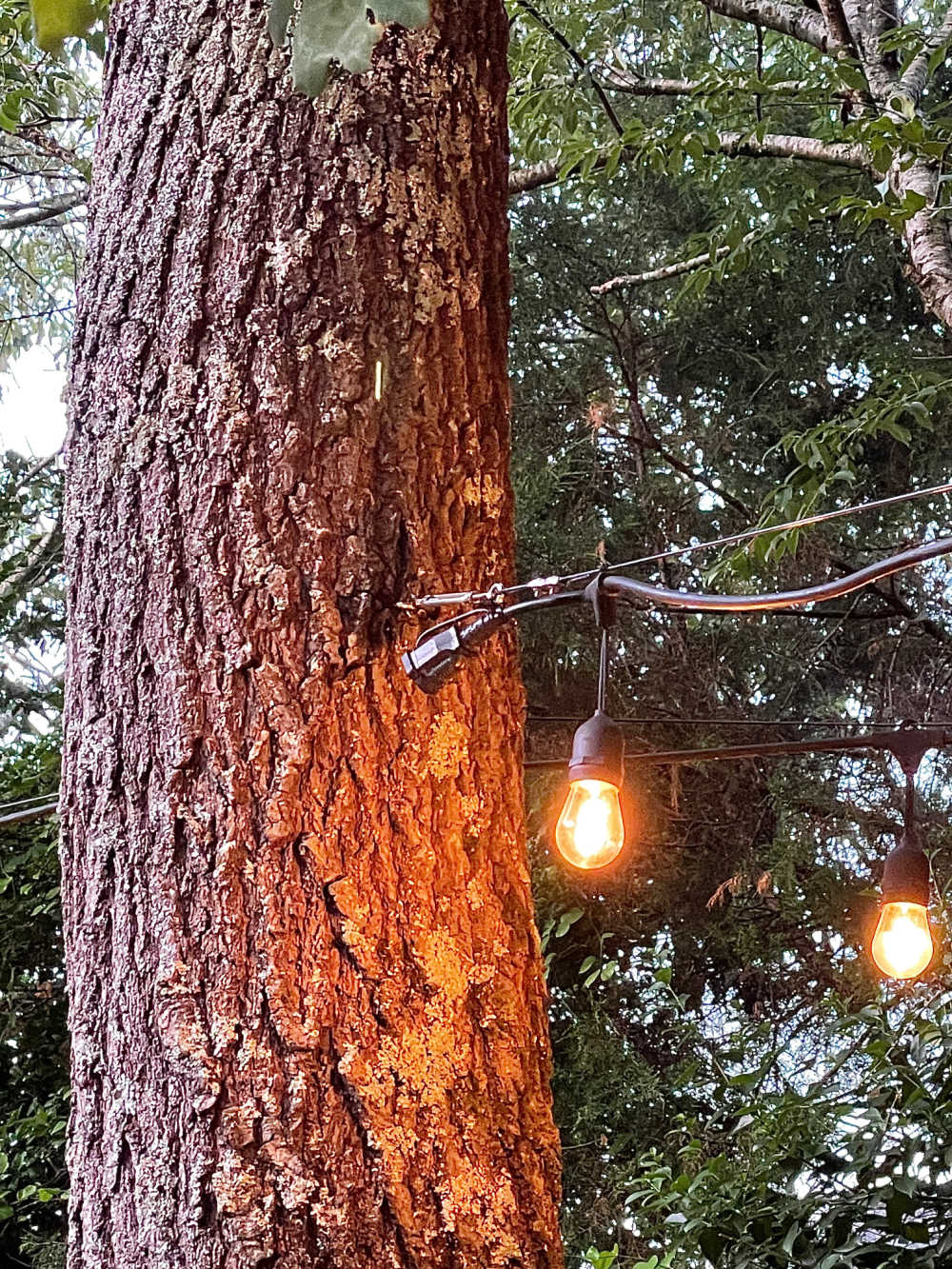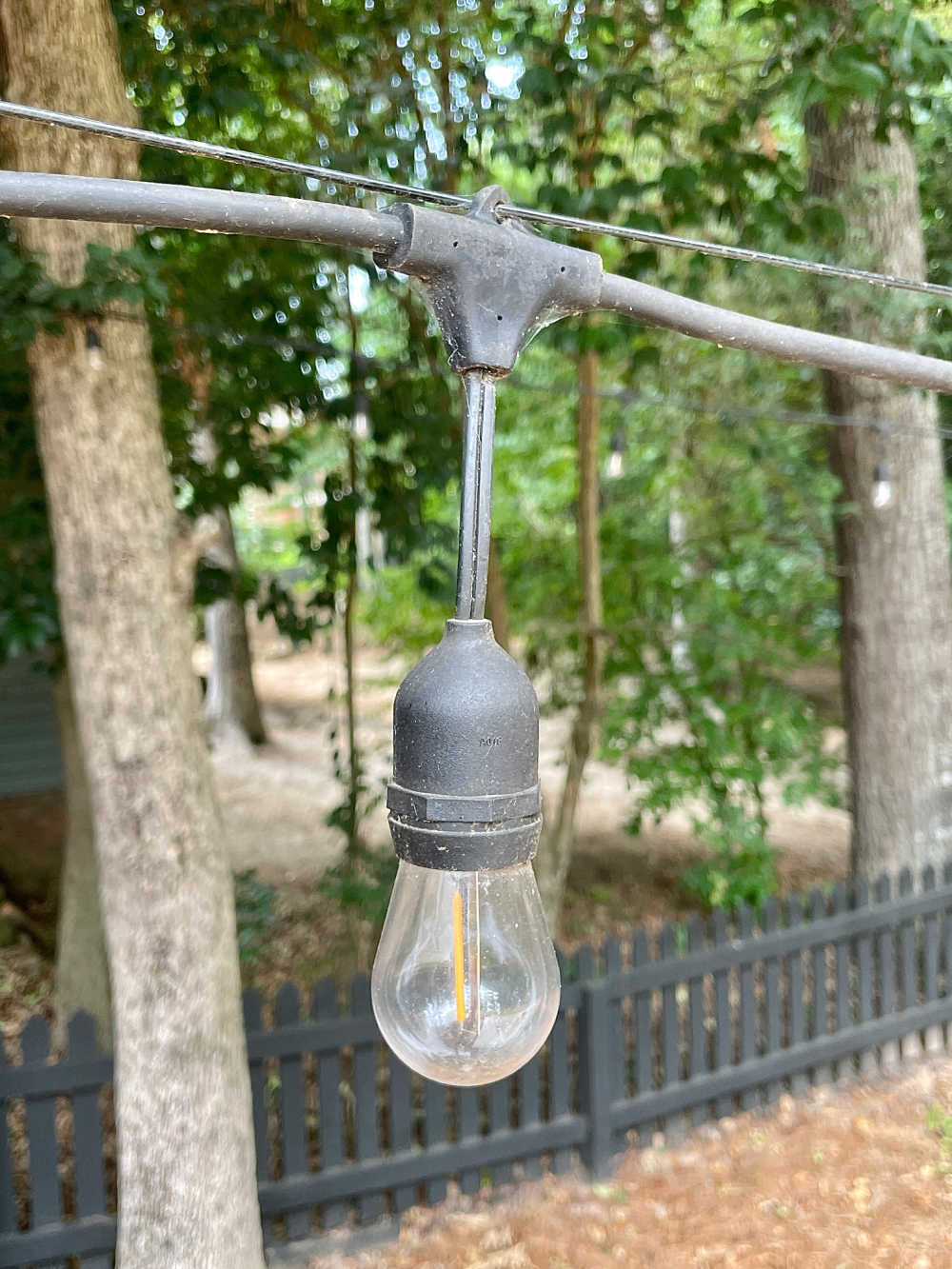 See many more before and after home decorating projects from around our home. That is a great post to see lots in one place.