Making the most of a small porch can add instant curb appeal to your entire home. Whether your small porch is on a small house or large one, these curb appeal ideas can make every home look great.
This post contains affiliate links.
An attractive street view of your home is a great selling point, keeps property values high, but it's also a great welcoming for the homeowner. Even homes with a small porch like mine needs curb appeal. Our home has many before and after home decor projects that want cost you much money.
This past spring we finally planted a tree in front of our house by the dining room. Next I added window boxes and repainted our DIY board and batten shutters that had been looking shabby for a while. That was the starting point to make the front of our home more attractive.
Like many of you, I'm guilty of throwing a wreath and rug on the porch and calling it a day. At least the wreath gave the porch a little something visual from the street. BUT it still looked bad.
A good cleaning was in order before ever thinking of the decor stuff. The walkway and brick step were black from years of neglect. We live in a beautiful neighborhood and y'all it was pretty embarrassing.
Small Porch Curb Appeal To Do:
Clean top to bottom
Hosing off the entire porch and sweeping with a broom took care of any dirt and cobwebs. The sidewalk and brick steps needed more work. The Greenworks pressure washer took care of that. The pressure washer was easy to put together and use. The 25-ft kink resistant hose made the job so much easier. I was able to wash lots of area without moving the pressure washer.
The pressure washer worked very well on my outdoor rug too. One wash over then I hung it over Ray's truck bed to dry.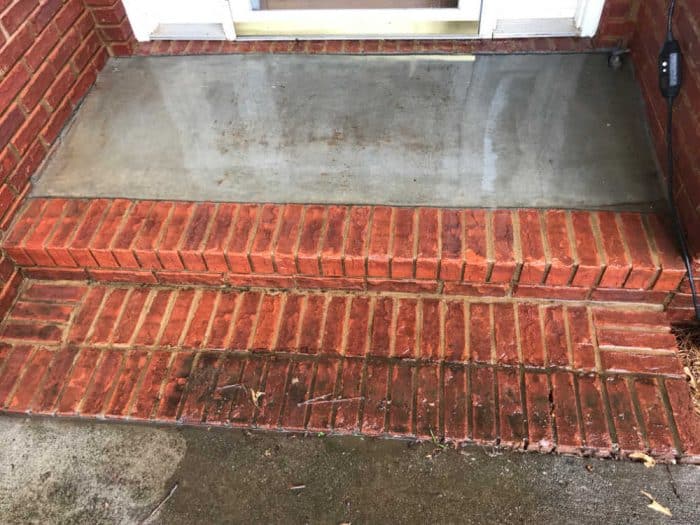 Paint front door
Painting your front door is a great way to add curb appeal. Our door had always been black. I decided to go with white and it looks amazing. The entire trim and side windows were all white. By making the door white it allowed for the space to look bigger and shows off my wreath better.
Door wreath
In my opinion, every door needs some decor. My DIY farmhouse style wreath has been around here a while but I love it. If wreaths aren't your thing a brass door knocker works great as well.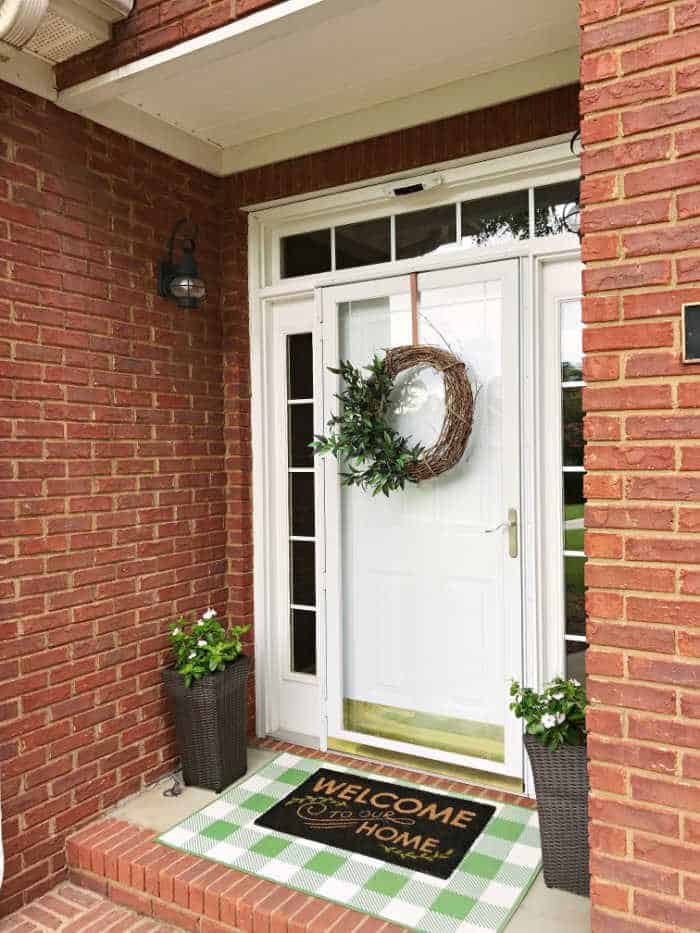 Layered Rugs
The layered rug trend is still going strong with no end in sight. Perfect way to add color, texture and even more curb appeal on a small porch. I have this outdoor rug on the bottom, and this mat on the top.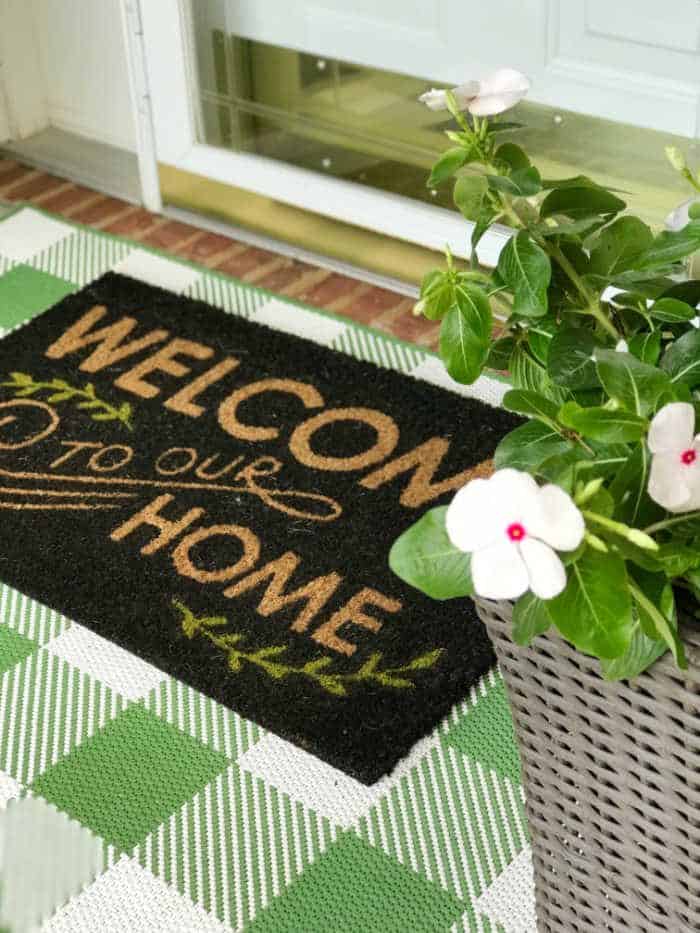 Flowers
Potted plants in these planters and flowers are like jewelry on a front porch. Depending on the color and style you choose, you can have an entirely different look and feel. I purchased these wicker planters last year at HomeGoods for our back patio and yard makeover.
Lighting
There are tons of options now to update your lighting on every budget. When we replaced ours a few years ago I couldn't believe the difference. Worth it for sure.
As much as I love all of the decor touches, just cleaning made such a huge difference. Thanks to Greenworks for the pressure washer. To see more projects and curb appeal inspiration, check out my fellow bloggers listed below.