DIY Farmhouse Style Wreath
A simple grapevine wreath is the perfect home accessory for every season. This easy DIY farmhouse style wreath is one of my favorites to make so I thought I would share my steps for creating it here with you today. If you're looking for wreaths to purchase already made, scroll to the bottom of the post. I've found some great ones.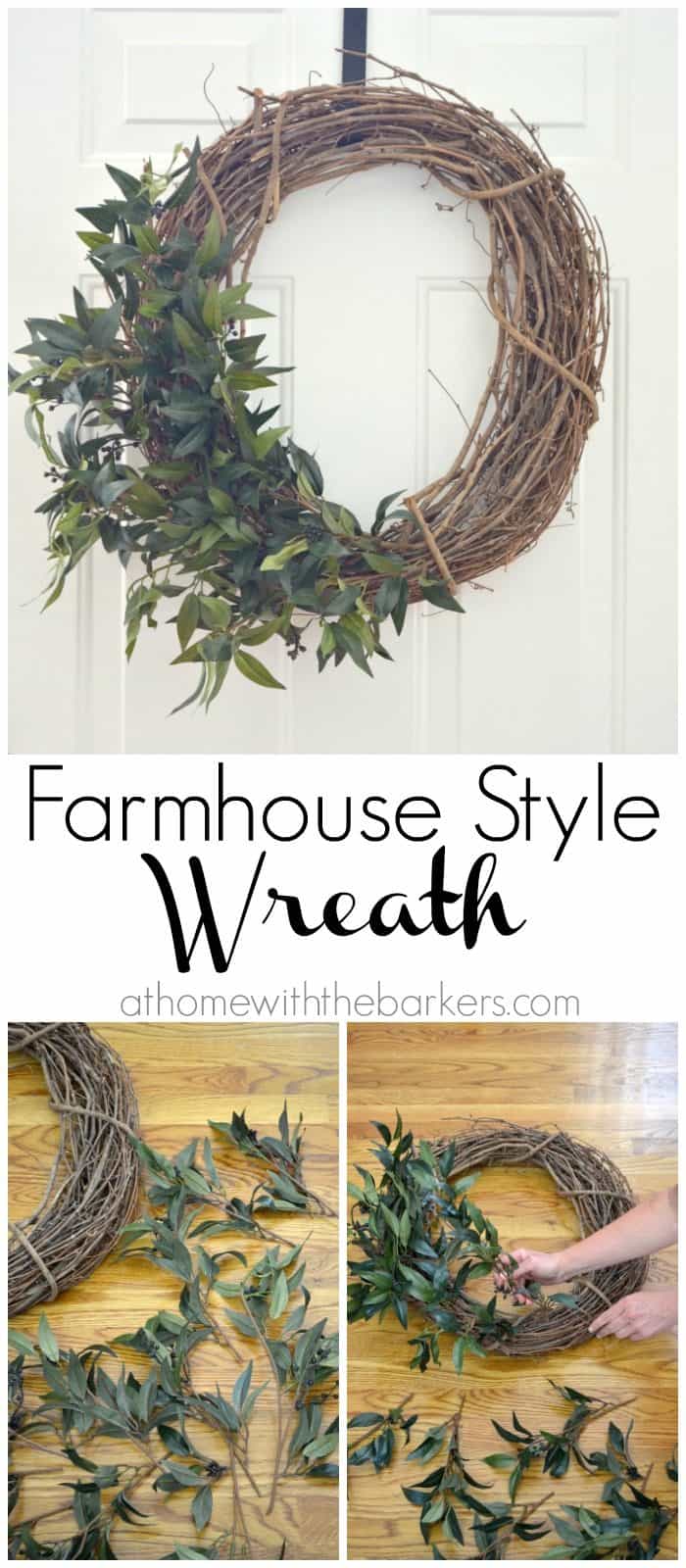 *this post may contain affiliate links
After I shared my shed makeover with you I mentioned there were quite a few projects in there that I wanted to share with you all. My DIY farmhouse style wreath is one of those projects. I am totally obsessed with farmhouse style decor, especially when it comes to the HGTV show Fixer Upper.
There are many reasons I love that show so much, Chip and Jo mostly, but when it comes to home decorating I mostly love how so much of the farmhouse look Joanna does can really carry well into many homes.
I am planning lots of post to show you just how you can achieve the very popular farmhouse style no matter what type of home you live in. Let's face it, I will never have chickens and goats in my neighborhood but I sure can have wood plank walls (shiplap) and farmhouse decor.
If making a wreath is not your thing but you love the look, SHOP WREATHS HERE.
Here's what you need to make this Farmhouse Style Wreath:
One of the best things about the grapevine wreath besides the lovely texture is the ability to reuse them. By weaving the greenery stems into the vines of the wreath there is no need for glue or wire to hold the stems in place. They wedge in nicely and stay until you want a new look. I have used this grapevine wreath for many years. They hold up well on porches also.
First I used the wire cutters and cut off all of the stems. Be sure to cut them all the way to the main branch in order for the stems to be as long as possible. This will allow you to use more of the stem to secure the greenery into place.
I like to cover the wreath about one third of the way around with the greenery. I work my way down in order to layer the stems. You can always fill in areas once you hold it up and see any spots that look thin. If you need to pull them out and start over. It really is that simple.
Before I had the shed makeover completed I hung my wreath in my foyer on the inside of my front door. I love to do this because it gives a pretty visual when I walk up and down my stairs.
I also love how the texture of the wreath looks against the white. That is a wonderful feature I have noticed a lot on the show Fixer Upper. Joanna is great with neutral decor and contrast, another one of the reasons I love her style.
After I had the shed completed I knew it needed greenery and the wreath works great in there.
I used the same door hanger and hung it over my vintage chalkboard I found at Miracle Hill Thrift Store for $5! SCORE!
There are times when you would rather purchase a wreath already to go! I found some that I love for you to check out.
Here are a few other wreaths I've made that you just may love as well! Click on the title of the wreath and you can see the full tutorial for that particular one.
If you don't have time to create your own wreath Check out the ones below or check out this curated selection of front door wreaths that I've found for you on Amazon.