Before I share about my Christmas Wreath, I must thank you all!!
I received SO many wonderful comments about my Christmas House Tour that I posted on Tuesday. I mean seriously…y'all know how to make a girl feel special. I appreciate your kind words here on the blog, on Instagram where I share more behind the scene photos)and Facebook (where I share inspiration from many different sources!!)
Ok, now back to the Christmas Wreath. This was such a simple wreath but it was one of the things that some many of you loved so I thought I should share a little more about it.
It's a basic faux greenery wreath that has a couple of different mixes of greenery. I added berry sprigs along with some simple gold twigs. Take the stems of berries and clip them into smaller pieces. This will allow you to spread them out through the greenery making it more detailed where you like. I attach them by using a little floral wire.
Those white little deer heads are one of my favorite little finds of the season. They are from Walmart, they are ornaments and cost $1.97 each.
The plaid bow was another project I made from my tablecloth that I found at Marshall's. The same plaid I used as my Christmas Garland.
I cut a strip long enough then used my sewing machine to make it. I folded it inside out and in half. I sewed 2 of the three sides together. Turned it right side out then sewed up the remaining end.
I decided to hang this one on the back of my front door inside my foyer.
I looks great against the white back drop and I get to enjoy it all day.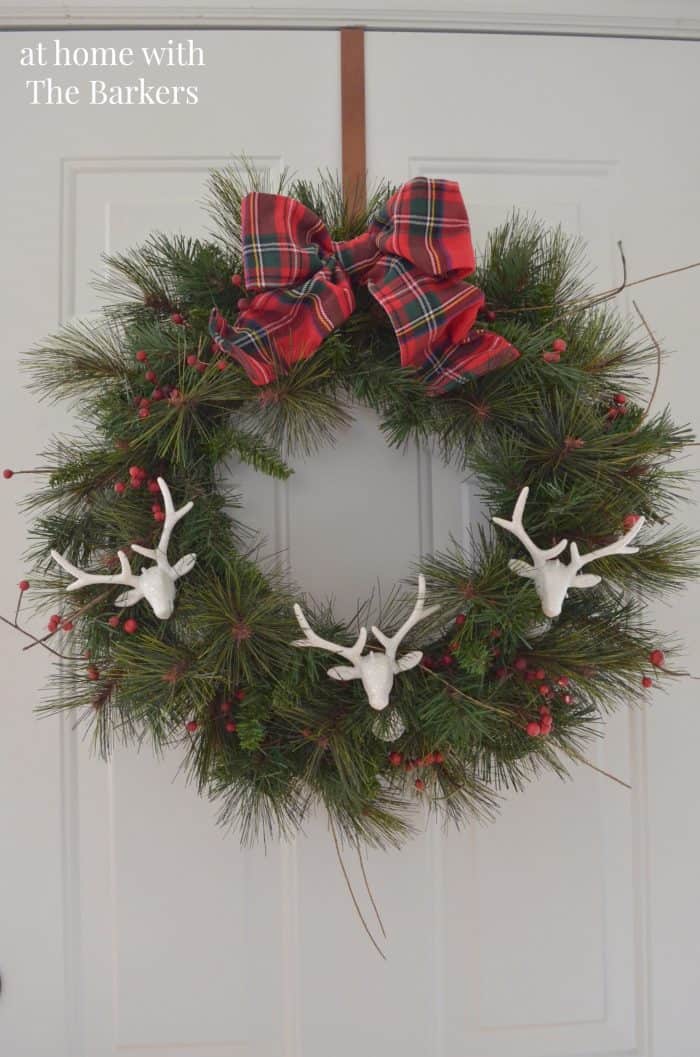 Today is the last day for the Christmas Tours and let me tell ya, you will be so inspired!!
You can start here with my Christmas House Tour (in case you missed it) then continue on to these lovely ladies who are up today!
My Christmas Post: