A Christmas mantel is the second most decorated space next to the tree. Today's post is filled with loads of mantel inspiration for you.
I hope you are ready to be inspired because today I am sharing my Christmas mantel along with some of my favorite blogging friends. I am happy to host this tour with my friend Melissa from Daisy Mae Belle.
We knew it would seem somewhat early to get out our Christmas decor BUT we also knew that in order to give our readers enough time to plan we had to go for it. Luckily we were able to gather some other awesome bloggers who were willing to join us and get their mantels ready too.
This year I wanted to add more of a vintage feel with some bold black and white accents.
My Merry & Bright Sign that I created last year was the perfect center piece for this years mantel decor.
I also wanted my mantel to have a collected look. I went with trees.
All of the faux little green trees I have had for years and have used them many different ways in my Christmas decor. I use to make them part of my Christmas village but I haven't put it out in a while. Last year I used them for my dining room table center piece.
The tall black trees are basic iron flower trellis. I bought them back in the summer and never used them. They make perfect little Christmas trees, don't you think?
The HO HO HO and Merry Christmas ornaments are actually gift tags from the $1 section at Michaels.
Over the years I have bought or handmade different stockings but I didn't have any that were what I needed for this years timeless vintage look, so I made some new one's. Find the tutorial for these DIY drop cloth stockings here.
This years Christmas mantel is a great start to my decor and gives my lots of ideas for my tree and gift wrap.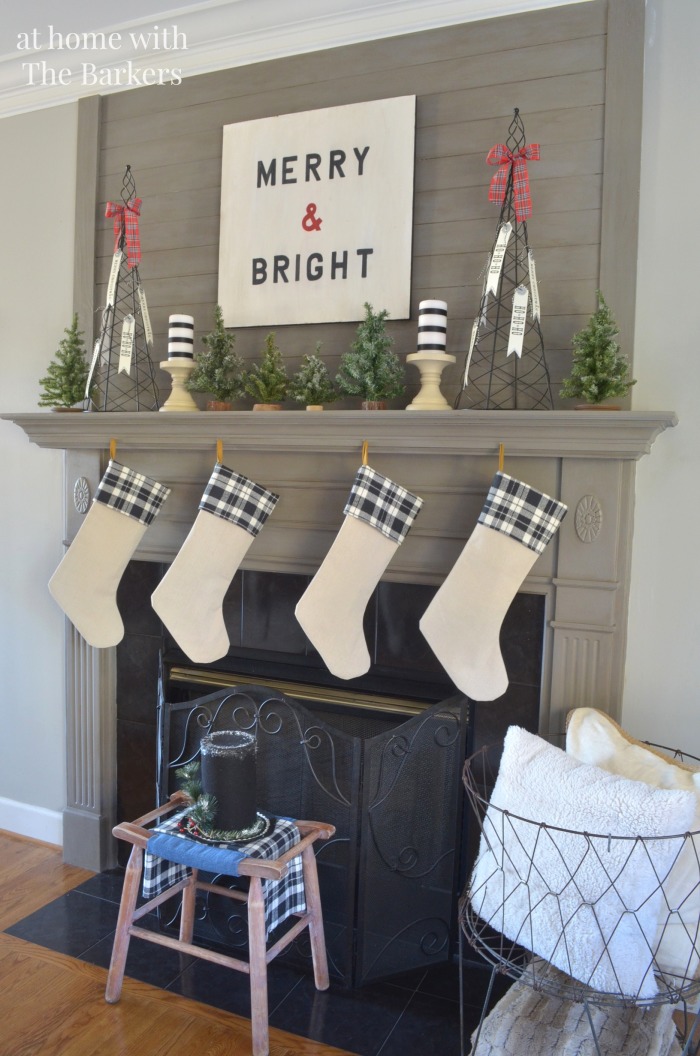 Now be sure to head over and visit the other bloggers sharing their post today! I will update Tuesday and Wednesday's post each morning.
I have a great round up of all the Mantel Inspiration just click here!
Monday:
Tuesday:
Wednesday:
If you are new here because you are visiting from some of my wonderful friends blogs, WELCOME, I am so happy to have you! Please leave me a comment and tell me where you are visiting from so we can get to know each other. Be sure to leave your email below to stay updated.