Christmas Sign inspired by Pottery Barn
The moment I saw the cover of the Pottery Barn Christmas catalog I text my sister a picture and said I have to make those Merry Christmas signs!
AND like that my Christmas Sign inspired by Pottery Barn was born! I was actually inspired by many things in this catalog and will be bringing you another project next week.
There are times when the cost of a project doesn't require you to do it yourself. It's not usually worth it if your supply cost, time and energy are greater than what you could have spent to just buy the item already made.
This was not one of those times, for 2 reasons! First, the Merry Christmas Sign from Pottery Barn was a 12 inch square and I wanted mine smaller and secondly the cost was $39.50 each! I bought a new slim tree this year and I felt like 12 inch squares would be too big. I'm sure you can hang the Pottery Barn signs up too but I wanted mine in the tree just like the cover of the magazine.
So off to Michaels I went looking to gather supplies. I had a totally different plan for completing this DIY project until I stopped at the $1 section!!!
My daughter LOVES cards, she has since she was a very little girl. She still hand writes notes to her friends. She also made custom cards for a few years as teacher gifts and even sold them.
Anyway, she grabbed up these cards and handed them to me!!

The brightest light bulb EVER went off in my head. My project went from how will I make this to DONE!!
You are going to want to get to Michaels ASAP before all of the cards are gone!!!
I already had plywood at home from my Holiday Signs I made last year. It is a 24 inch square of birch plywood and I cut it into 6 inch squares for this project. (One piece of this plywood is approx. $5 and you can get 16 squares from it)
I then took them outside for some red spray paint.
While the paint dried I cut the cards in half.
Once the paint was dry, I used Mod Podge to glue the cards to the plywood.
I can not even tell you how EASY this was! Here is a little display of how they will look.
You will see them in my tree during my full Christmas Home tour on December 9th!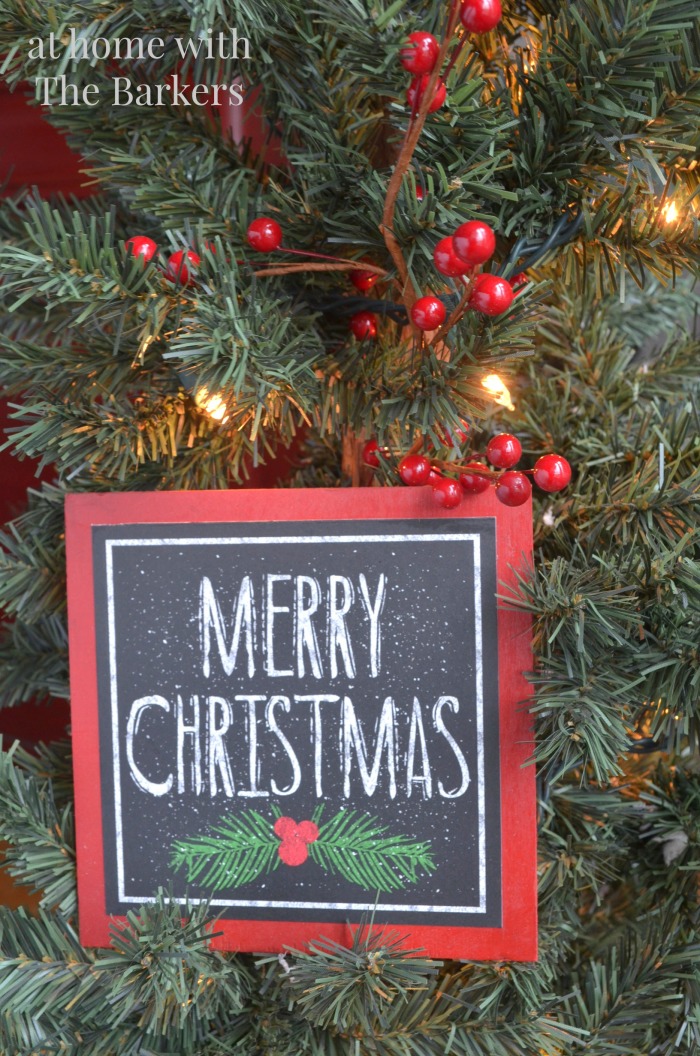 Now you have time to go and make your very own Christmas Sign inspired by Pottery Barn!
DIY Drop Cloth Christmas Stocking
In case you need more Christmas inspiration you can look back at my Christmas Tour 2013, click here.