Dining Room Christmas Decor
I was so excited to be invited by my friend Bee from Windgate Lane to take part in her Welcome to the Season tour. I will be welcoming you today with a view of my dining room.
If you are visiting here from Desert Domicile, WELCOME, I'm so happy to have you! If you'd like to stay connected be sure to leave your email at the top in the subscribe box!
I'm showing you my dining room Christmas decor because it is the first room you see when you walk through my front door. As you walk into the foyer the dining room is on the right and is an open concept room.
It is my most recent room makeover and is also the most colorful room in my home. I decided that because it already had many of the colors I am using in my Christmas decor, including red, I chose to use neutrals.
I had purchased these shatter proof metallic ornaments last year at an after christmas sale for a great deal. I bought 3 boxes, because well, you just never know.
I used fishing line to hang them from the chandelier. The antlers that I have hanging there are ornaments that I bought at Walmart for $1.97 for a pair.
For the centerpiece I pulled out my grain sack runner. The neutral and black work perfect.
I had left over plaid flannel fabric that I used to make my DIY Drop Cloth Christmas Stockings so I used it in this room.
I layered it over my red furniture and it looked great. I didn't sew it at all. The edges are raw and you can't even tell.
Next up on the tour is Gourley Girl and Guy! So head on over!
I'm also including a complete tour list just in case you get distracted and need to come back 🙂
At Home With The Barkers (that's me!)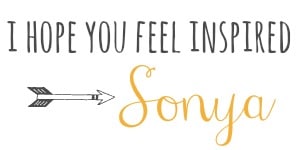 Linking up to: Inspired by Charm