Repurposed Stool for Outdoor Entertaining
As everyone is gearing up for summer, we all start thinking of our outdoor space and how much fun all of those parties and family gatherings will be.
While the thought of entertaining is a grand one, it can get expensive.
Instead of spending extra money for new furniture, start thinking of ways to save!
A repurposed stool for outdoor entertaining will be a perfect way!
This project was one I did for my sister and added to her beautiful back porch. I took an ordinary wooden stool from inside of her house. Then I gathered up her butcher block cutting board, a fabric place mat and napkin.
This is a great way to pull in colors and fabric to your decor. Easy to change out as well. Take the butcher block and place it on top of the stool. I like this piece because it is sturdy and will not tip over. Then layer the place mat and the napkin.
AND mix up a fun drink too!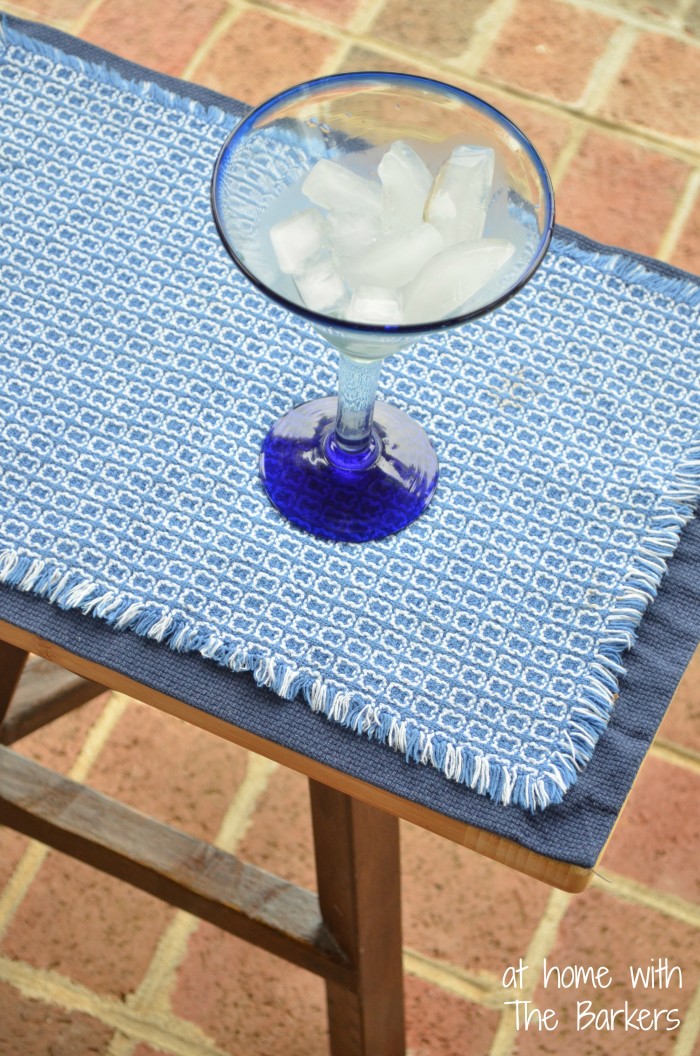 Then you have the perfect little table to move around your porch, deck or patio where ever you may need it. It can sit nicely between two chairs for people to sit their drinks or plates on as they are enjoying the evening.
Entertaining can be so much fun especially when you make preparing for the party easy.
Don't stress about what you don't have and work with what you DO have!
By the way, my sister and I both have this fresh mint growing in our yards and we add to so many different drinks during the summer. I plan on mixing up some fun drinks and sharing them on the blog this summer.
Oh, and when you're done with the party you can use that stool as a plant stand as well.
The next time you are planning an evening outside think about ways you can use what you have for those much needed extra tables for drinks and appetizers.
In case you missed it, I spruced up the patio with some things I already had and made new Reversible Cushions for my Iron Bistro Table!
Have a great day,