Yard Sale Frame with Chalkboard Art
This is a project I actually finished a couple of weeks ago but with the busy last week of school and a week long family vacation to Southern California I didn't get a chance to show it to you.
If you are a follower of At Home with The Barkers on Instagram then you saw my picture of the day I snagged this awesome frame for only $5! I was the first customer to this yard sale and no way was I passing on this awesome find! A yard sale frame with chalkboard art was just what I needed above my mantel.
I already had the chalkboard paint and the birch plywood at home. If you have been following my blog for a while you will remember the signs I made at Christmas with the plywood. I had to cut it to fit the frame but it was an easy straight cut. No pictures of this because hubby was out of town and I was alone…not quite talented enough for taking a selfie while using power tools 😉
Once I had a couple of coats of the chalkboard paint on and dry, I primed the board with the chalk.
To do this you just put a full coverage of chalk on the entire surface of the board, then wipe completely away.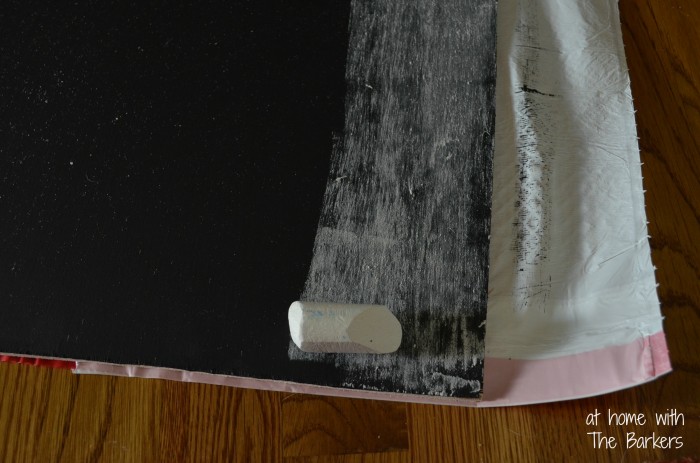 Next I popped the painted plywood into the frame and did my chalk art then.
I wanted it to be as centered as possible.
I don't have patience for things that take too long or require too many steps, so I took the monogrammed B off my wall and traced it. It was the perfect size!! YAY!
Then I free handed the rest which is pretty obvious BUT it's just the way I like it.
Since it's summer I added some lighter items along with lots of sea shells that I collect every year while at the beach.
The mantel is really the hardest thing for me to decorate…book shelves, table tops, no problem but the mantel gets me every time. I think because I really like only a few things on there so it's hard for me to keep adding.
Do you have that same problem with decorating your mantel? or is it just me?
I do LOVE my mantel though.
Did you see how we built the WOOD PLANK MANTEL and the HOMEMADE CHALK FINISH PAINT I made to paint it?
**UPDATE! Check out how I am using this art now for our family menu board.
Sonya