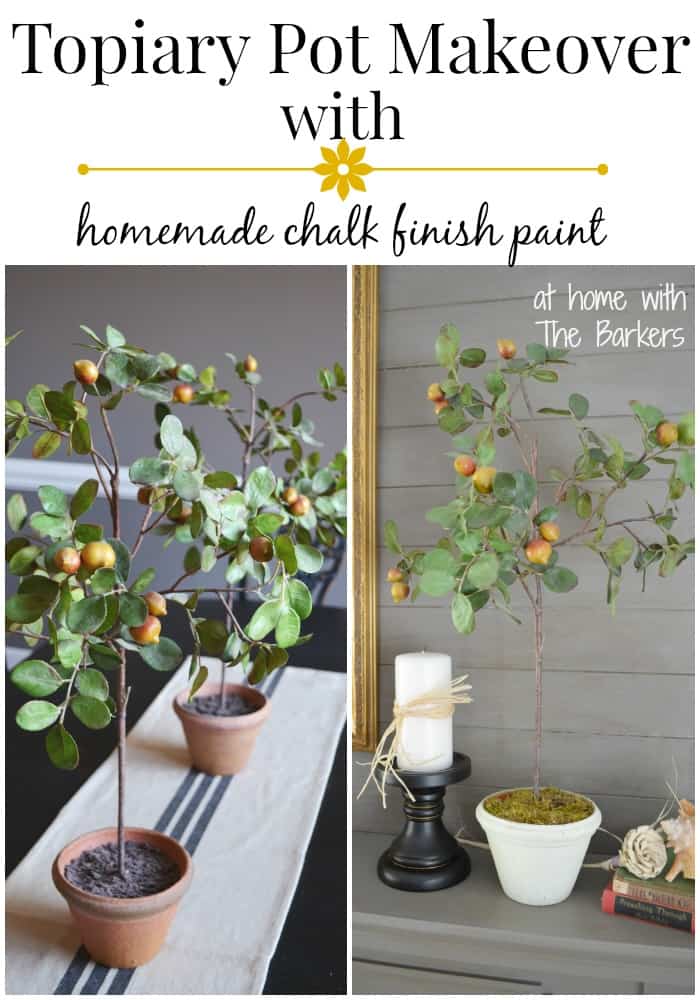 I have been a lover of dark colors for many, many years but recently I have found myself swaying to the lighter side of things. Although I will forever love brown leather, I am working on incorporating some light shades of cream, tans, and whites into my decor.
This topiary pot makeover is just one of the small changes I have recently made as I move toward some lighter colors. I thought it was best to start small to determine how much was enough.
I have had these little faux lemon tree topiary's for many years and I love them. I have thought of getting rid of them but can never bring myself to do it. They came in the traditional terracotta pots.
BUT before they were painted white recently they were a blue/ green combo. I had actually did that only a few months ago but you know how it goes…
I took a sample container of Valspar paint that I picked up for free from Lowe's. Those magazine coupons do come in handy!! It is the color Muslin Wrap. It's a creamy white. I used my homemade chalk finish paint recipe on them.
I did two coats of paint because I didn't really want the other color showing through. After the paint dried I sanded over them with sand paper. I used a really rough paper so that I could get it down to the original finish.
If you notice also on the inside of the pot it was just a black plastic. I took some of my floral moss and glued it in. Made it look more organic and gave it a cool texture.
I haven't went too far yet with the whites in my decor but so far I am loving what I have done.
I did give my garage sale table a lighter makeover.
Hopefully soon I can get the living room cleaned up enough to take some other pictures. I hung some white Ikea curtains that I need to show you. That may take a few more weeks, it is summer after all and the kids are home!
Be sure to add your email to the subscribe box at the top of this page so you don't miss the new post!
I hope you have a great day,