How to get your floors to shine
Can you get dull hardwood floors to shine? Yes, and I'm showing you the perfect product including where to buy and how to apply it.
Before we had our hardwood floors refinished in spring 2022 they were very dull. The wood floors had been installed around 20 years ago so you can imagine how they looked. This post will be for you if you have very dull older floors.
The photos give a good view of the dullness.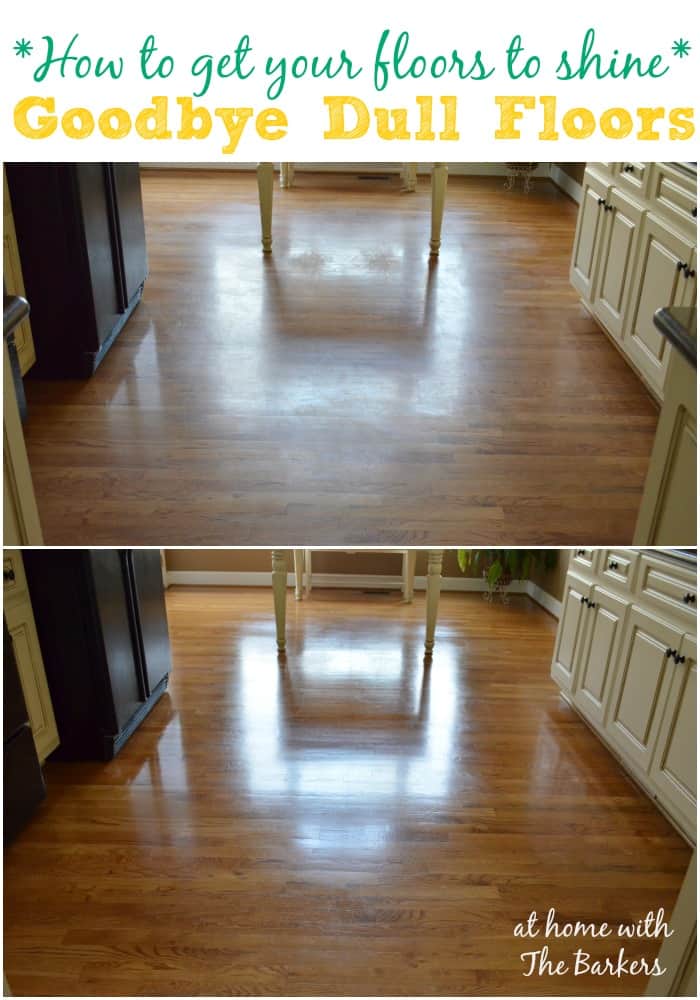 **This post may contain affiliate links.
This post was originally written years ago when I was looking for a way to get our dull floors to look better.
I am updating the information and sharing again for those in the same situation. These are real life photos from our floors before to demonstrate the product.
Shine consideration
Depending on the dullness of your floors currently you may need to apply two coats of the floor shine the first application. Keep this in mind when you start.
Don't over apply on the first application. Do two gentle coats to help avoid any streaking.
Dirt
Before using the floor shine you will need to sweep, vacuum, dust and clean the grime from your floors.
Keep in mind, this floor cleaner and floor finish will shine your dull floors but it will not remove scratches.
Hardwood floor cleaner
You can use a microfiber mop with your favorite cleaning product if you prefer but I used the floor cleaner that went with the floor shine. The mop is included in the kit I listed below.
Make hardwood floors shine
The product is a floor finish and it is awesome! It has received the Environmental Protection Agency's (EPA) Safer Choice label. Safe for your family, children and pets with out harsh chemicals or terrible fragrance. To me that makes it even better.
While I never used it this way, it can be used on tile as well.
The kit comes with a mop and 3 pads. You can use the mop pad dry for dusting or damp when applying the floor finish.
The photo below is what my kitchen floor looked like before. This is after I moped, yikes. See how dull and dirty they still looked. The floors really do need to be refinished but I'm just not up for the fumes and havoc right now.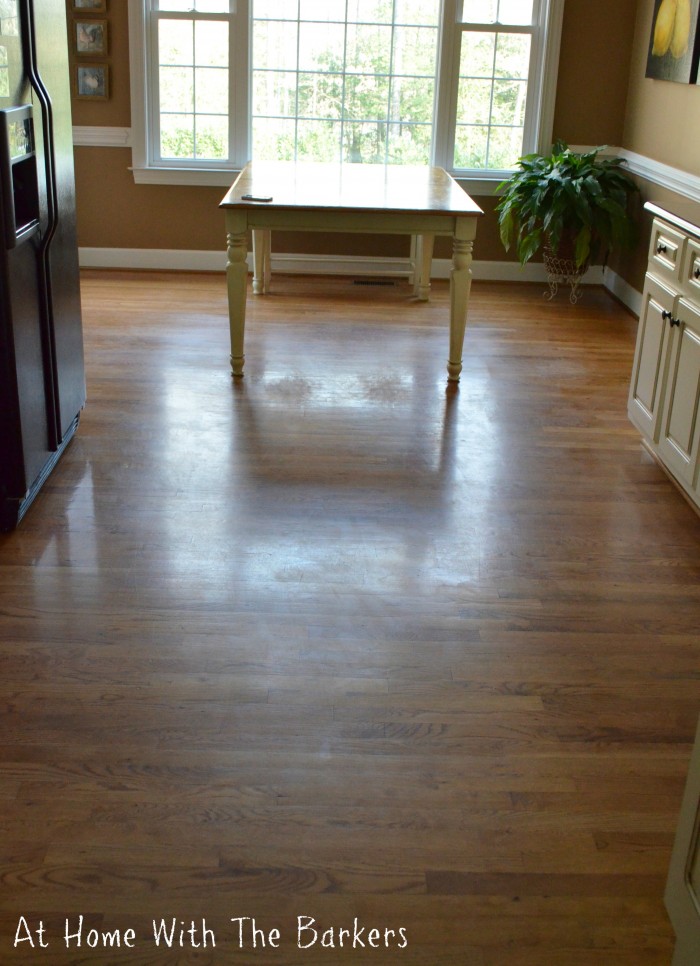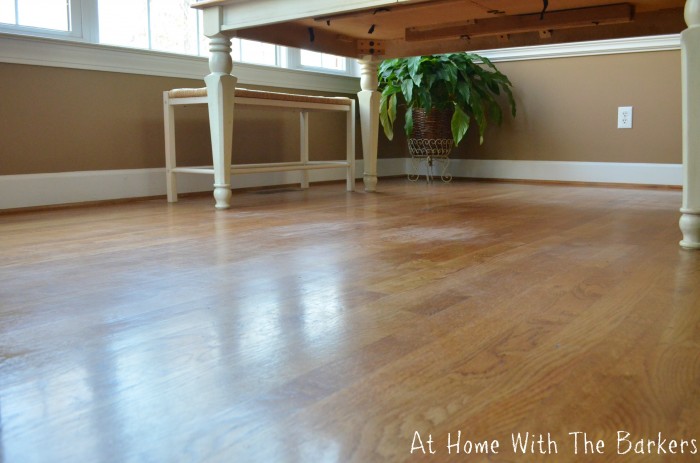 The floor finish is applied to a clean, dry floor with a damp sponge mop. Just squirt right out of the bottle on to the floor. That's ALL…It is that easy!
In the picture below you can see where I started from the door and worked toward the table. I stopped to show you the difference with just one coat of Quick Shine. You can do more than one coat, just let it dry in between applications, approximately 30 minutes.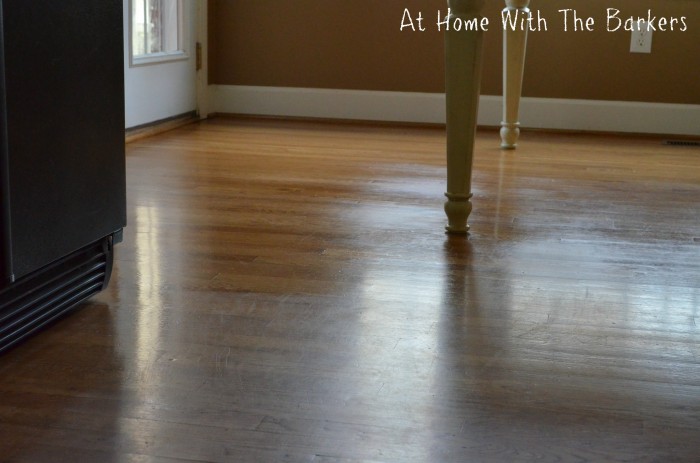 Be sure to sit the bottle of floor finish on a paper plate or towel or you might end up with a few shiny spots on your painted TV cabinet that you didn't want shiny!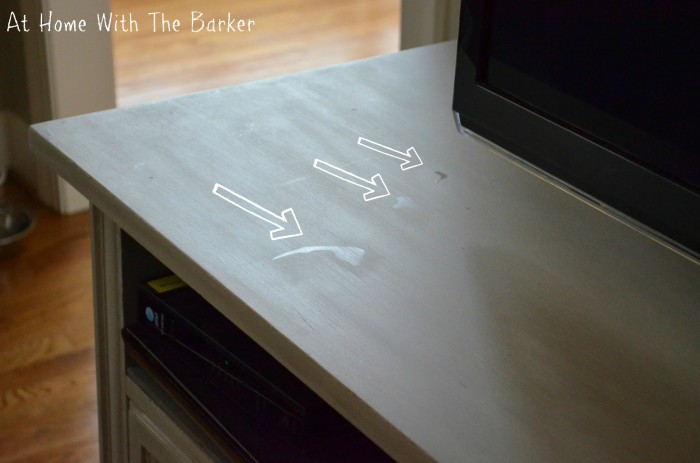 Tips for keeping floors shining
Don't wear shoes in the house
Add area rugs and runners to highly used areas
It really was simple to use and the fact that it is environmentally friendly makes it even better!
Now that we have our hardwood floors refinished I will use only the floor cleaner from our flooring company. My floors are a matte finish, not shiny.
MORE homemaking post you may enjoy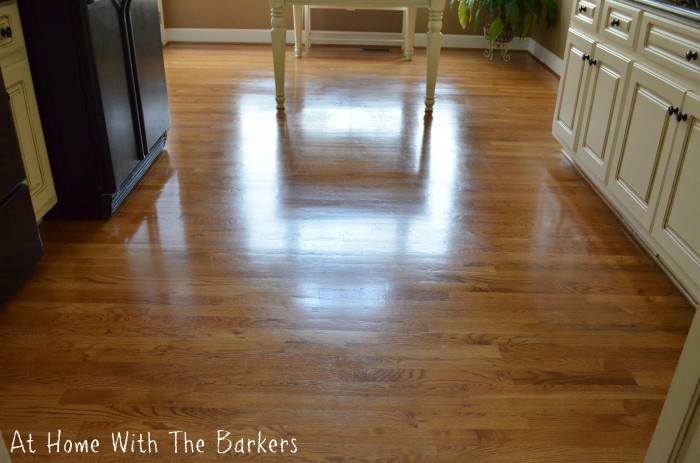 So there you have it, how to get your floors to shine!
Cleaning house can be much easier when things are in the right place to start. I am happy to have found a book that has changed my way of thinking about decluttering my home.
Frequently asked questions
What shine is best for hardwood floors?
This will be a matter of preference. You can go with a high lustre, classic shine or a matte finish as I have on my new floors. Remember that high traffic areas will show dulling faster. So consider that when choosing a shine.
How can I make my wood floors look new again?
Unfortunately the only way to get dull floors to shine again is to have them refinished and sealed or use a product like the one I shared in this post.
Why do my hardwood floors look cloudy?
Bad floor cleaners or wax build up can make your floors look cloudy after you have cleaned them. Use a one to one mixture of water and white vinegar on a damp cloth to remove the build up. If you have new floors ask your flooring company for their recommended cleaners.
How often should I use the floor shine?
You should only need to use it every 2-4 months. This will depend on the traffic to your floors.
Are shiny hardwood floors still in style in 2022?
I think this one is a preference. While I went to a matte finish and many new home have went that way, you do what you personally love.