Sharing a collection of nightstand ideas to add multipurpose function to your bedroom as well as making a decor statement. Learn how to choose the right bedside table for your space.
Anytime I share our nightstands in our primary bedroom I always get the question "where did you get those?" I have had mine for close to 20 years. They were stained wood and I painted them a couple of years ago.
I have looked around and sourced some wonderful options of bedside tables for you to shop. These are all intended to give the look and feel of mine. The shopping guide is at the bottom.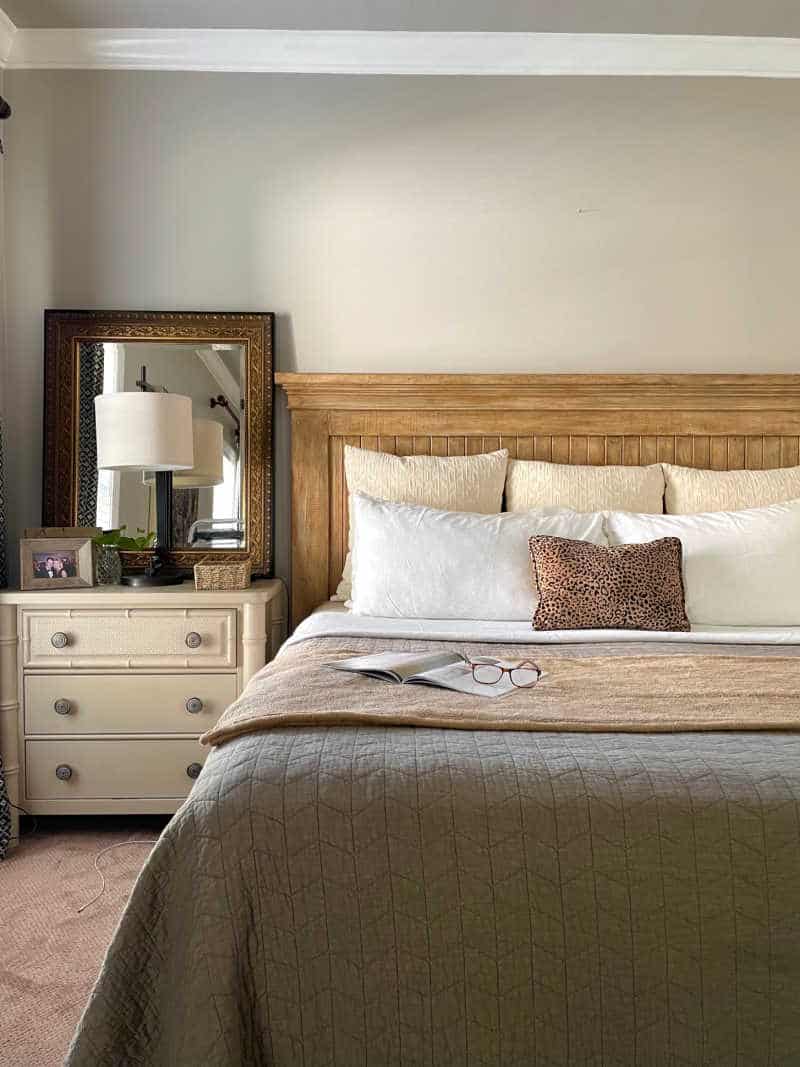 This post may contain affiliate links. See our disclosure for full details.
Nightstand Design and Style
What can I use as a bedside table? Any type of furniture can be used as a nightstand. Keep in mind the size and shape of the piece as well as the functionality. When space allows I like a piece that is on the bigger side.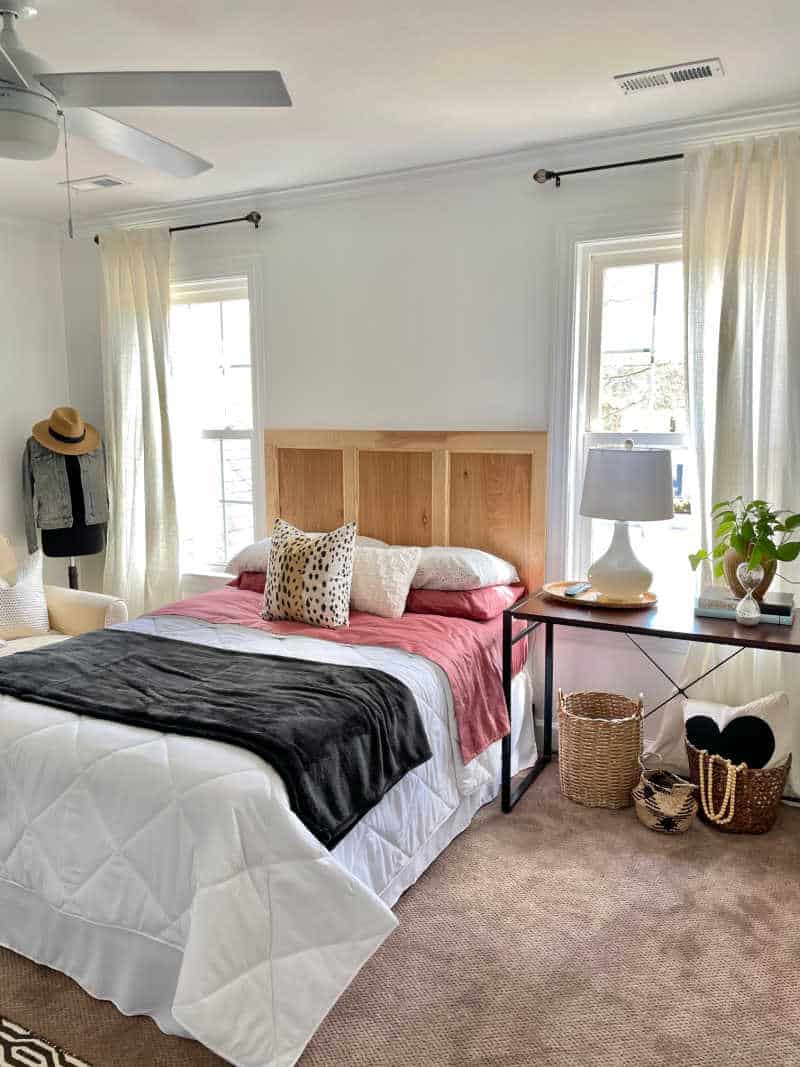 Should a nightstand be higher or lower than bed? The rule of thumb is your nightstand should be level with the top of your mattress, plus or minus 2-4 inches. I personally think it should be shorter. Being even with the mattress or slightly taller is esthetically pleasing as well as more functional.
Do you need two nightstands? I believe you do, as long as you have room. If space only allows one then use only one. Having a nightstand on both sides of the bed balances out your space.
Do both bedside tables need to match? This will be preference in style. They do not need to match but they do need to balance each other out. Similar size and weight will ground the room.
Our nightstand through the years
Our nightstands are a good size 3 drawer dresser. We love that we have the extra drawers for storage. I use my side for socks and swimsuits. Ray uses his side for books, workout gadgets and white t-shirts.
Nightstand usage
Many people read in bed and may have books on their nightstand. I love having a small basket on mine for my lip balm, hair tie and readers. This little basket keeps those items nicely organized while keeping the surface neat. A nesting basket set is good many areas.
Decorating with baskets is my first go to when it comes to home organization and accessories. Also using a decorative tray to corral all of the items works great too. My how to decorate with trays post shares tons of tips and a shopping guide.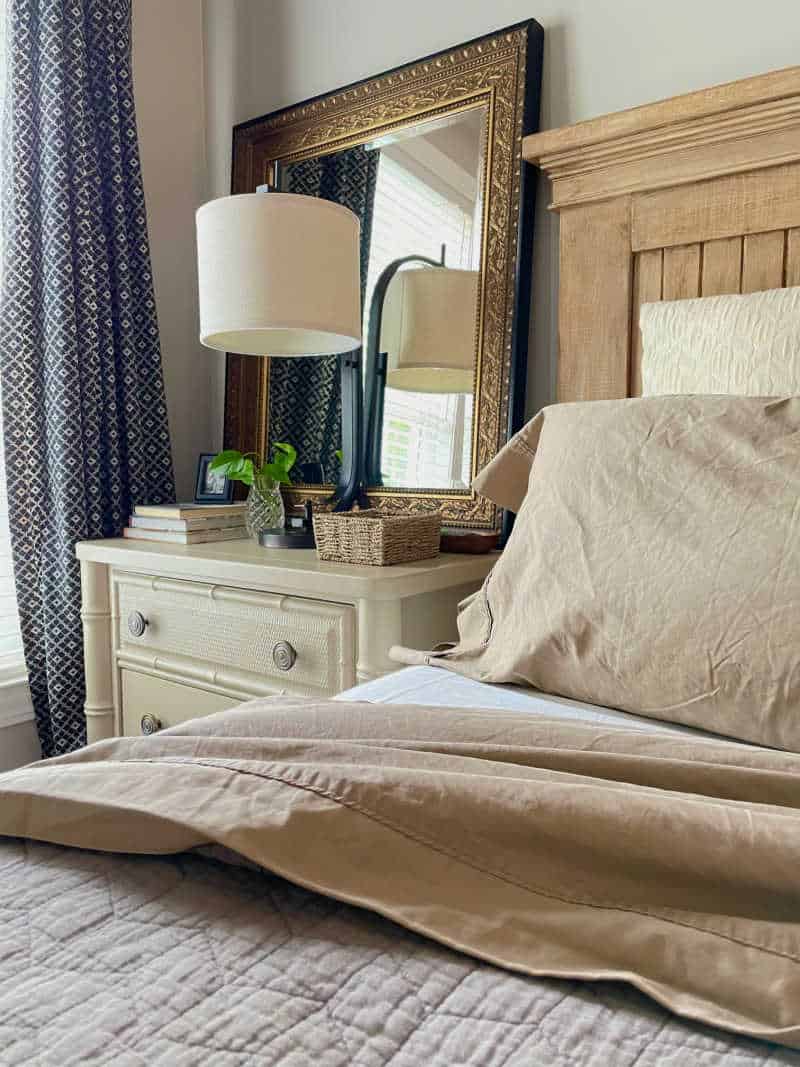 Nightstand Shopping Guide
You can shop any of these links below by clicking on the photo. While they are all on the larger side like mine be sure to check the sizing for you space.