Master bedroom refresh on a budget. Adding a touch a blue to a space is a good way to add color but not an overwhelming amount.
This post may contain affiliate links. See our disclosure for full details.
I'm one of those people who prefer comforters over other type of bedding. I love quilts for the colors and patterns but not for the weight. That's why for me a comforter is well more comfortable. I recently added a NAUTICA comforter to our bed and thought it would be a great time for a master bedroom refresh.
The comforter in the photos in no longer sold so the one linked above is also from Nautica and I love the stripe.
Lately, I have been changing my mind between colorful versus neutral rooms and that was the case in my master bedroom as well.
I chose the comforter in khaki and I thought it would be great to show you how changing around the pillows is much easier with a neutral base. For now I am using blue as my accent but I have a feeling I will be changing that too.
Earlier this year we added the DIY headboard and I painted the night stands Scandinavian pink. While I still love the headboard I was finding it difficult to decorate around the pink. I knew the best way to change out my look would be to create a room where all of the big, important pieces are neutral.
I painted over the pink on the night stands going with white. I decided to try the new One Step Paint from Amy Howard…I'll do a blog post on that soon to let you know what I thought.
The NAUTICA Khaki Comforter came with 2 pillow shams. I liked how the white looked in between the pillows so I didn't use them at this time. The 3 euro shams and the 2 reversible denim pillows are all custom made. The extra pillow I added to the front is from HomeGoods and the leopard print one is from a thrift store (don't fret, it was new!)
That gorgeous Eddie Bauer plaid and sherpa throw blanket is so cozy.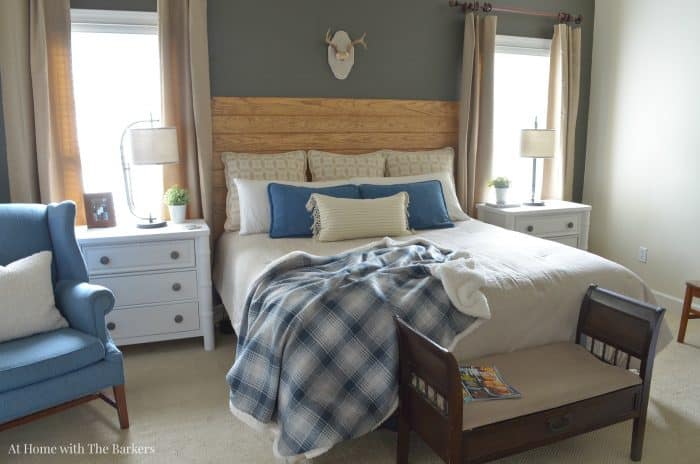 Here's where I would love your input…bedskirt or not? If so, what style? I already have a bleached drop cloth that I was thinking of using for it but I'd love your ideas.
P.S. I'd highly recommend the comforter…it's light and airy yet cozy and warm. Just the way I like it. As for that blanket…it's my new fav. You don't want to know how many times I've asked my family how much they love my sherpa 🙂
Just in case you're like me and like to see rooms evolve…Master Bedroom a year ago.