Show and Tell Saturday #2
Show and Tell Saturday #2 from Sonya of At Home with The Barkers. Random fun talks, things I bought, and interesting finds.
This post may contain affiliate links. See our disclosure for full details.
Oh my goodness, y'all loved the new show and tell series I started last week. The response was so good.
Woke up this morning and it feels like fall. The humidity in the south can be brutal so I am always waiting to wake to a more crisp air.
We are headed to Clemson today for the football game and I can hardly wait. It is Sarah Beth's senior year so we are soaking up every minute of it with her.
This week at home
This week I needed to massage my neck and shoulders a good bit. Investing in that Hypervolt was worth every penny. Ray and I use it all the time. I have some compression in my neck and any little tweak can cause all of my should and back muscles to over compensate. When that happens I get in a mess.
When I painted the entire upstairs earlier this year my neck was really in a bind. I can't DIY as easily as I use to be able to.
We keep the massager handy in our living room. Ray likes to have things handy. Using a basket lets me keep it out of the way but also handy. Placing the basket in front of an outlet allows us to charge the massager as it is stored away.
We keep it by the fireplace. If you notice we also keep a football in that basket. Ray likes to toss me the ball every now and then, lol.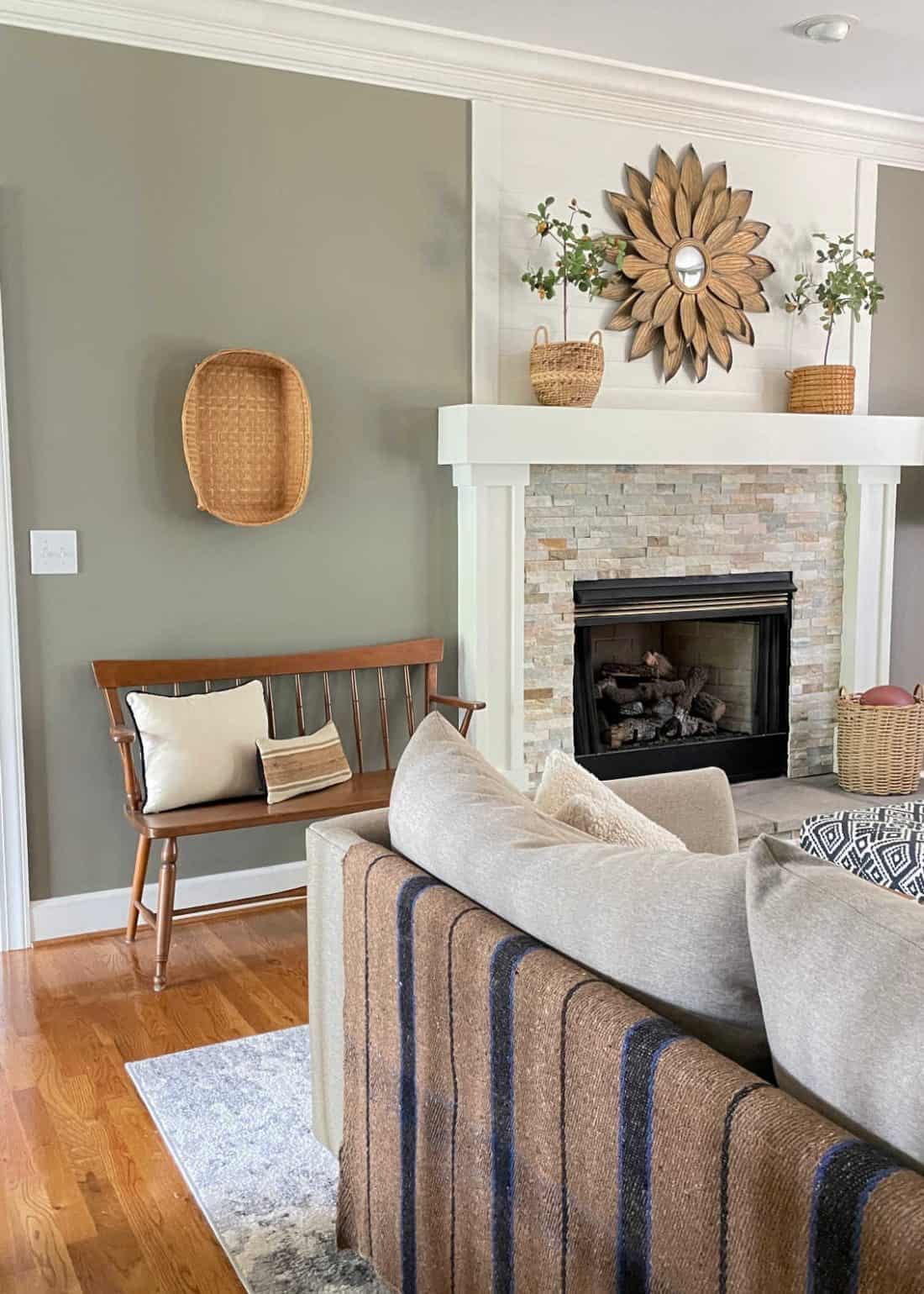 Random…Did you know adding a few sliced carrots to your spaghetti sauce helps with indigestion? The natural sugar in the carrots cuts down on the acidity of the tomato.
Cleaning
I found a steamer that works great for cleaning tile grout. I had to refill the small tank often but I like it because it was light weight and easy to use. Next I plan to try it on the window tracks like I saw here.
I also shared over on instagram how I use hydrogen peroxide to clean. These glass bottles are the ones I use to make cleaning supplies look nicer when sitting out on the counter.
Those bottles are so useful. You can use them in your fall decor as a vase. A simple flower or bunch of baby's breath would be perfect.
Making the everyday items look nice is the best way to give your home the decorated look you want.
Fashion
My favorite sweatshirt is back in stock and many new colors. I love this one because it doesn't have a fitted elastic waste. It's also the exact dupe of a much more expensive one from Aerie.
This is me wearing the sweatshirt last season. Seeing my Christmas decor in the photo has my wheels spinning for this years look.
September 11, 2001
I can't end today's post without making mention of the 20 year anniversary of 9/11…wow, time really does fly. Like so many of you, I got a phone call to turn on the TV.
We were living in Georgia at the time and Ray had already we to work. Dylan and Sarah Beth were only 1 and 3 so our TV was on a cartoon channel. I turned on my TV to see the first tower on fire. The unbelievable site of the second plane coming in is still haunting.
Ray worked in Atlanta, home of the CDC, so everyone left their offices and went home. Ray had only been out of the Air Force since March. His inactive reserve status went immediately to active with the possibility of being recalled.
I can honestly tell you, he would have went. That day and the days that followed bound our country like I have never seen before.
It a hard time we are living in but I believe there can be good in every day. I pray that you choose to find it. It is my hope that by visiting my blog you find life to be a little lighter.
Recent posts you may have missed…