Best throw pillows for leather couch
The best throw pillows for leather couch can make your space feel cozy and welcoming. Shop this post for the best collection for a brown leather couch.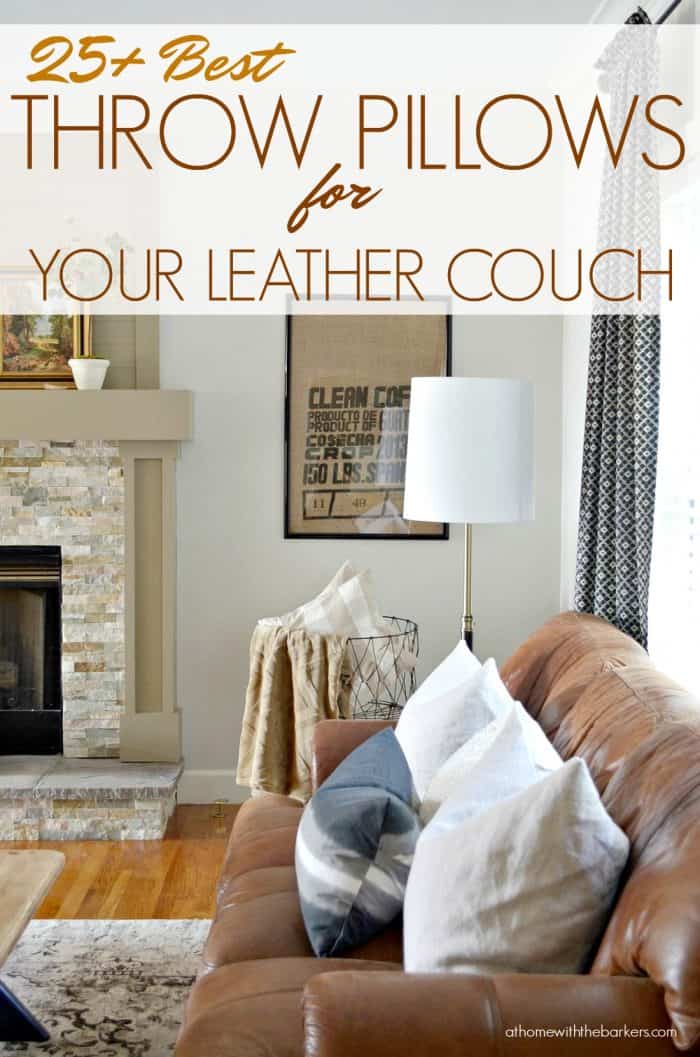 This post contains affiliate links.
One of the things I love most in our home is our brown leather couch. Even with its chunky arms and worn cushions. Even when we completed our family room makeover I kept the couch. This couch is 17 years old.
Since I originally wrote this post the leather couch has been passed on to our son for his new apartment in Charleston. See our current living room with a fabric couch.
I get asked where it was purchased ever single time I share photos of it on Instagram. While mine is no longer made, I found this rolled arm leather sofa that is a best seller. Most people loved the chunkier look even though more streamlined looks are popular. As I always say, buy what you love!
If you are looking for a good affordable brand try Studio McGee from Target. The throw pillows will be ready to toss on your sofa. Keep in mind the tips for the appropriate ones for leather.
Side note, I did a poll on my Instagram stories asking what word was used more, couch or sofa. The results were 80% of my followers said couch.
Finding the right pillows for a leather couch can make all the difference in your living room design. The texture of leather can cause the pillows to slide down if you don't buy the right kind.
Decorating tip!
You need to buy heavy throw pillows or pillow inserts for your leather couch and chairs. This will keep those pillows from sliding down and looking messy.
Non-slip pillows for leather couch tips
skip the light weight poly filled inserts
no silk fabric
use thicker texture fabric for pillow covers
The goal is to find a classic look that can carry you all year. These type of throw pillows are your base decorating look. They are meant to be built on. Look for solids that offer a contrast to your brown leather. White, beige, and cream always look amazing. Our leather couch is meant for lounging. The throw pillows must be comfortable to lay on.
If you are buying pillow covers only be sure to purchase quality pillow inserts.
Leather couch throw pillow fabric options
Look for cotton, linen, and velvet fabrics for softness
Organic fabrics with tone on tone texture
Try contrasting colors like black and white or off white.
Avoid silk and shiny fabrics because they tend to slide down.
Down filled is a plus.
SHOPPING TIP #1: When you click over to any of the items be sure to add them to your cart so you can look around without forgetting what you came for. If you decide not to buy, you can remove it from your cart. I have found adding to my cart as I like something allows me to see all of my options together. Then I can omit as necessary.
SHOPPING TIP #2: For people who still like to go to a store to shop, order your item online here but instead of shipping you can do local store pick up. Especially for places like Target. Many times I am in the store and end up ordering online anyway because the item I wanted is sold out.
Click on the IMAGES below for details