Affordable Family Room Makeover
When I first started planning for the One Room Challenge this time around I knew that cost would be the biggest factor. I wanted to share an affordable family room makeover that would show others it's possible to make a room look different and beautiful without breaking the bank.
Don't miss the complete financial break down at the end of the post.
The goal has always been to create a home that our family will love not a room that the internet will love. My goal as a blogger though is to make sure I share home decor ideas, tips, and tutorials that will give you the courage to be the decorator I know is in all of us.
Make your home the place you love to be. I personally gravitate towards cozy, rustic, and casual decor. I like new things that look old and worn. That's why I made my own shelves instead of finding old barn wood.
So many different projects went into making this affordable family room makeover. That is such an important thing to remember, in order to save money you must be willing to do some work. Creativity will pay off.
Affordable Family Room Makeover Under $1000
If this is your first time visiting the blog see the entire process of this room makeover week by week.
I know you're here to see the family room makeover so let's get to it. I'd like to say, I do all of my own photography and this room is so hard. It is on the back of the house with the foyer light shining on one side. It cast hard shadows. I worked hard for these photos but man I sure wish I had a professional here for this room.
BEFORE:
ANOTHER BEFORE:
To be clear, the DIY Fireplace makeover was completed last year. It looked like this when we bought our house. The second photo is of the fireplace before we painted it for this makeover.
As you can see I decided to paint the mantel. I am so glad I went with a lighter color than I shared in the inspiration photos but I love it!
MORE MANTEL DETAILS:
I get so many questions about the rug. It is linked at the bottom but I found lots of other options that you can look through that would give a similar look but one many be better for your space and style. Click on the rug to see up close options as well as sizes. Click the arrow to see all 12 I found.

These wood shelves are a great addition to our family room. I tend to prefer keeping most things to a minimum but I really needed some shelves for a few special things.
For the record, I couldn't complete these shelves alone. Ray came to the rescue and helped me. All the details for the Rustic Wood Shelves are in this post. He was a genius at getting them level.
Plus, it was the perfect little spot for Ranger.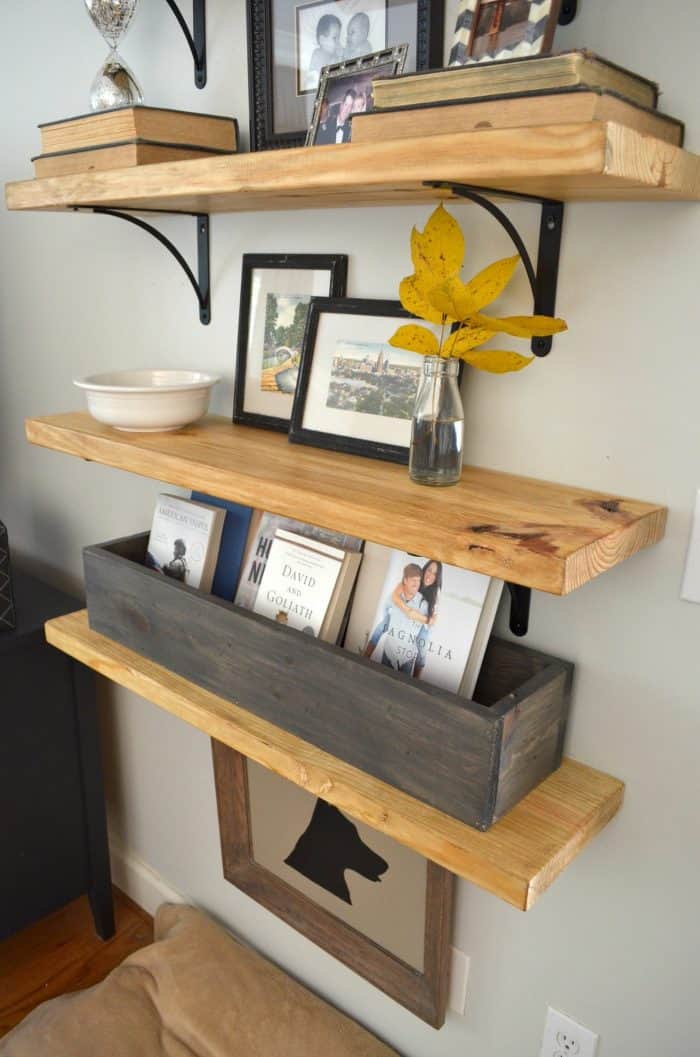 In order to share all of the details about the DIY projects I will be sharing each of those post separately over the next couple of weeks. I will come back to this post to add the links to those projects in the area below. (This post contains affiliate links)
One Room Challenge Family Room:
I sold some home decor items on Facebook and made $150
TOTAL COST with new rug $996.55
TOTAL COST without a new rug $357.55
I would like to thank NuLoom for sponsoring my room with a new rug.
Also, thanks to Linda from Calling it Home for hosting this challenge. It gets my butt into gear every time.
I'm so tired from finishing up the room and the election. If I missed anything important just let me know.