One Room Challenge Family Room Week 4
It's that time of the week, family room makeover progress update. If this is your first time visiting, welcome to my little space of the blog world. In case you missed any of the previous weeks click on the below links to see those posts.
This has been one of the rooms in our home that hasn't been completely made over the way I wanted in many years. I have been doing little things here and there to get by but it just never felt like us. I tried using more color than I'm comfortable with but I was never pleased. Like that time I tried a modern rug and painted the coffee table pink. Those two items lasted about 6 months…
Once we completed our fireplace makeover I knew I was on the right track!
One Room Challenge Family Room Week 4
This week I started on a few fabric projects. I recovered my ottoman and a small stool that were already in the room. It's amazing what new fabric can do for a space. This is a great way to save on costs as well.
I replaced the chair in this room because I found a great buy on Overstock that cost me less than reupholstering my previous chair. The ottoman though was more cost effective to recover with new fabric.
The fabric choices for this space have been some of my favorite finds. Unfortunately, it will be very hard for me to find sources to share for most of my fabrics. There is a monthly local fabric warehouse sale that my sister and I like to hit up. Lots of times the fabrics I grab are already cut pieces of a yard or two and there is no manufacturer listed.
This is one of the easier projects as far as steps. The hardest part is making sure to keep your fabric lined up and pulled tight while you staple. I have a tutorial for how to recover kitchen chairs and it is the same process as here.
TOOLS you will need for this PROJECT:
Many times I will add fabric over the top of what is already there if the fabric isn't very thick. This black and white fabric is really thick so I went to work with pulling out staples. Let me give props here to my sister who sat around and helped me.
Here is a close up of the corner and where your patience may be tested. You can see from the photo, I tuck the middle in flat, then fold the outer edged over it. Sort of like gift wrapping.
I am pleased with how the room is coming together and I adore the new look on the ottoman.
I would love it if you would pin the below photo to one of your favorite boards. This helps me grow my blog and it lets you save the photo for reference later.
Here are my two past One Room Challenge Spaces: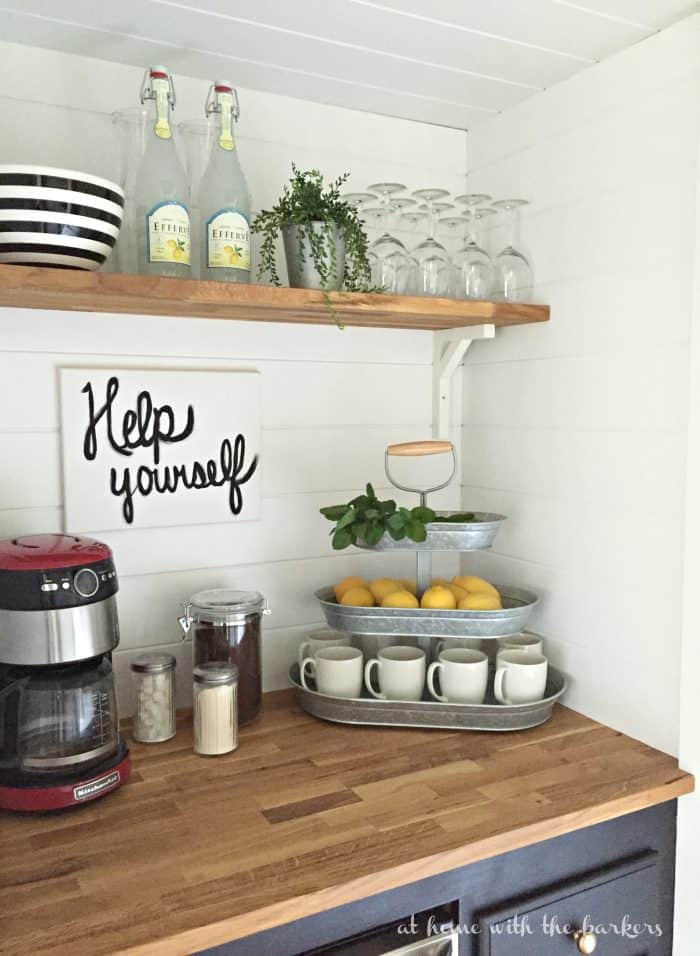 Be sure to see all of the other rooms linking up to the One Room Challenge today.