DIY Black Chalk Finish Paint
How to give vintage and antique furniture a new look with DIY Black Chalk Finish Paint.
While the trend in furniture for the past few years has seen a return to wood stains and bleached wood, 2023 is starting to see people going back to painted furniture pieces. In my opinion, black painted furniture is classic and stands the test of time.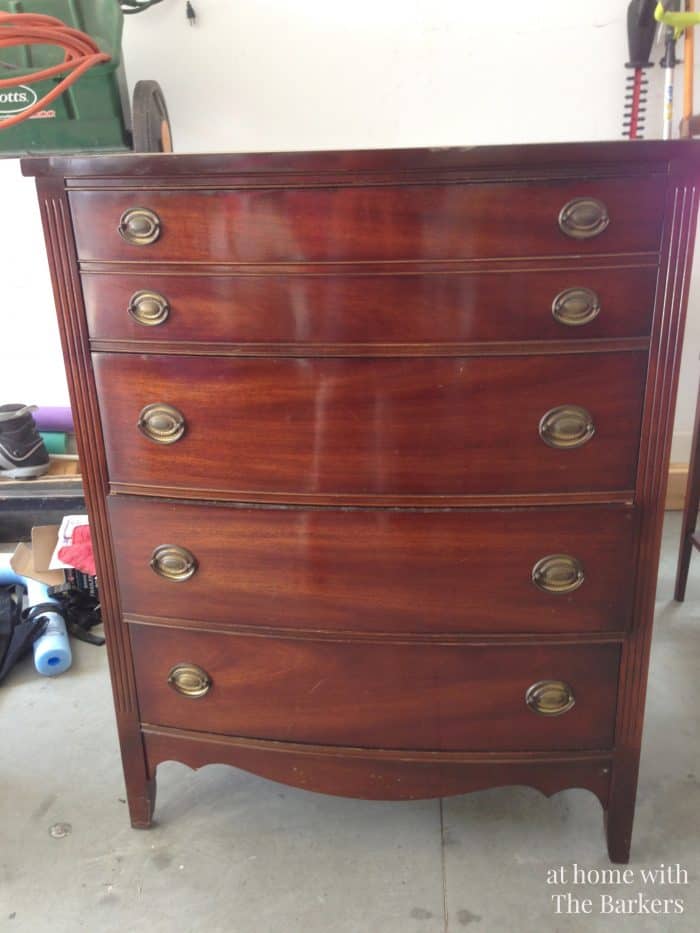 This post may contain affiliate links. See our disclosure for full details.
This was a paint project I did for a friend and didn't have any great pictures of it in the home after it was finished. I had taken the photos in my garage and in the back of the truck before delivery.
This was an entire set…bed, chest of drawers, dresser, mirror, and side table. So I had to get my sister to help with this or I would have been working on it for a month.
Painting wood furniture, especially vintage or antiques is not for everyone. I have zero issue doing it. There is no reason you should have to live with a piece you don't love. It's all wood and can be stripped if you change your mind.
For this job my friend wanted the furniture painted black and she wanted it distressed. I already had a can of Glidden Duo paint in Onyx Black that I knew was the perfect shade of black so I decided to make my own paint.
I have had people mention to me they heard you should not make homemade chalk finish paint with a paint + primer but I have done it a few times and I haven't had any issues. If you are worried about mixing your own paint, Annie Sloan has a great black called Graphite. If you would like to try your own, here is what I did.
First step is to mix the Plaster of Paris with the cold water. It will have lumps so make sure you stir until they are all gone. It will be the consistency of skim milk. Then add the latex paint. Again, mix together until completely combined.
I don't usually sand when I use a chalk finish paint because it is not required. However, this was such a big job and the furniture had been in storage for years so I wanted to make certain the paint would adhere.
Older stains and oils can bleed through paint. Because I was using black I would have more than likely not noticed if it did happen. Being safe and doing the prep work was the choice for me.
After we cleaned off all the dust, we painted! Choose quality paint brushes and you will be much happier with your makeover. Depending on the type of finish you want your painted furniture have you may want to use a paint sprayer.
Use paint brushes when you are going to wax seal a piece. This gives it more depth in my opinion.
Once the chalk paint has dried it's time to distress. Using a 220 grit sandpaper is best for chalk paint. It allows you to remove paint in small amounts. This was not a full distressing project. We were going for a more natural wear look.
The best way to do this is with a sanding block because they are easy to control. Sand areas around the edges of the piece. The drawers, corners, places that would be touched naturally more often.
Then it all got waxed. I used Annie Sloan clear wax. This wax is not as easy to work with as some other brands but it has an amazing finish and holds up very well.
Furniture Wax Tip!
The trick to getting the best finish when waxing over chalk paint, especially Annie Sloan wax, is to apply in a small amount. Applying a thick layer is very hard to buff. This will cause a sticky finish that doesn't buff to a good shine.
It is probably my favorite painted furniture I've ever done.
I decided not to restore the furniture hardware but instead leave in it's original state because it looked so great with the black.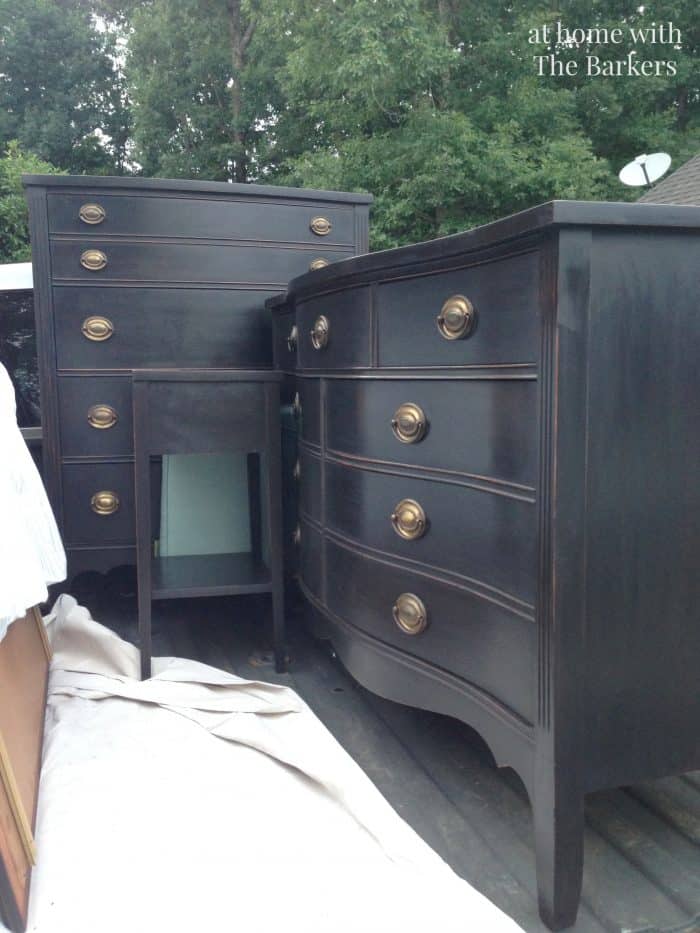 My love for black paint is seen all through out our home from our black bathroom painted walls, to our black painted fireplace tile. If you are looking for the perfect warm black to try, my favorite is Sherwin Williams Black Magic.
Other projects with chalk finish paint