One Room Challenge Week 2 Update
Y'all that was a fast week and it's already time for the one room challenge week 2 update!
Last week when I decided at the very last minute to jump in with Calling It Home for the most fun room makeover challenge I went straight to work. I showed you my inspiration for the shed makeover and gave you an idea of how this space currently looks. It is a great space but in need of more function and lots more prettiness.
Here's a reminder of my inspiration rooms: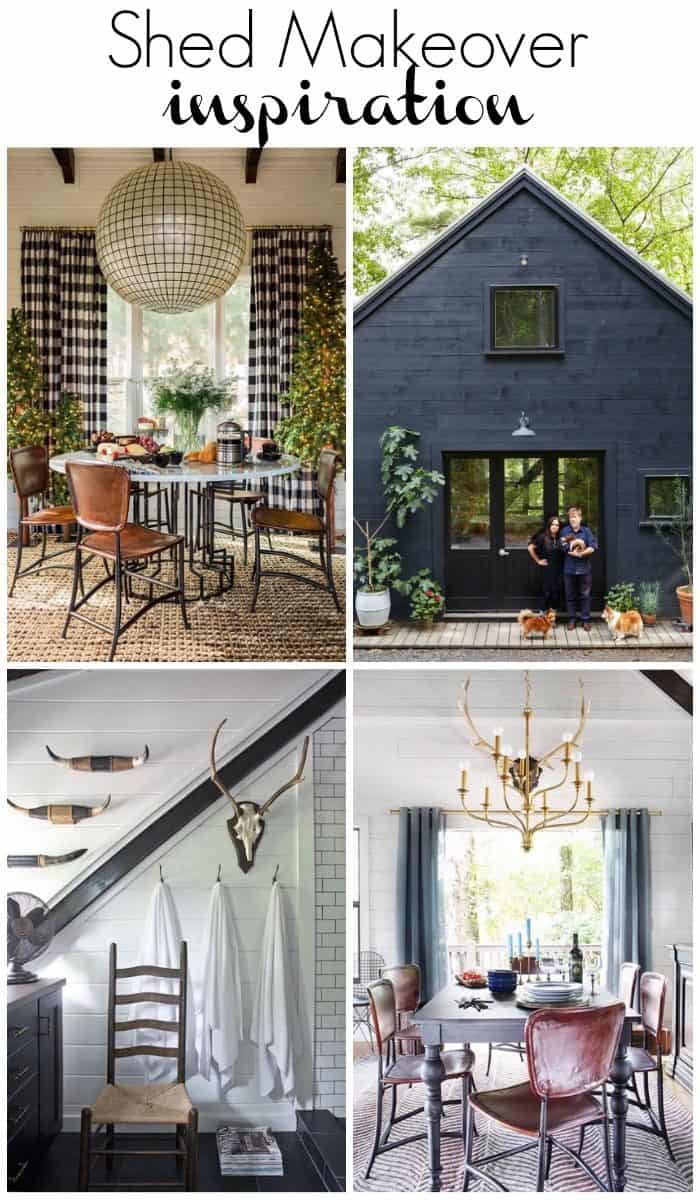 Clockwise photo inspiration Source 1 / Source 2 / Source 3 / Source 4
If you looked at the very first post I ever wrote about clearing out the shed you saw that space was filled with lots of stuff. One of my readers here on the blog asked me what in the world I did with all of that stuff, like the riding mower.
GREAT QUESTION!
That shed was filled with more stuff than we ever needed. Lots of broken items and multiple things that we just didn't need. After reading this book I started working hard around our house to simplify our home and my husband took note and decided he needed to do the same for the shed. I was super excited because I had been mentioning to him for 2 years that I wanted to turn the shed into an entertaining/ living space.
Ok, back to all of the items we kept. Those things were moved to our garage. I plan to organize it all this summer. We did start some of the organizing last summer with the kids things. It felt good to get rid of the things we didn't really need but it will feel better once it all has a neat home. I'll keep you posted on that one! There is a fall One Room Challenge™ so maybe this will be the space for that one!
Now back to the current project, the shed makeover.
The space is empty and my sister helped me spot prime some oil spots on the floor that was left behind from tools. I looked around on the Pinterest for more inspiration and the style I am going for is coming together really well. A cross between southwestern style and farmhouse.
I messaged a company yesterday that I had worked with in the past about some blankets I found on their site that I loved. They were thrilled to partner with me again and are sending me the blankets. They have great products at super reasonable prices. I will give all those details once I have them and see them in person.
Next step is to paint the entire room. I plan to use my sprayer that I used on my table makeover. It should make things go much faster in there.
If you are visiting from the link up party at Calling It Home be sure to leave your email in my subscription box to stay updated.
See all of the SHED makeover progress here: