Furniture Painting Projects
I hope you have all been having a wonderful week!

My husband has taken off work the two the kids are out for break from school! It is so awesome to have us all together, for most days anyway. The kids of course like to spend some time with friends.

I am looking forward to the new year and beginning new projects in our home. Painting furniture and accessories is such a wonderful way to give new life to items that seems dated or old. I hope you will be inspired by 15+ Awesome Furniture Painting Projects You Can Do!

Here are
15+ Furniture Painting Projects
Let's start with one of my painted furniture make overs. I love this piece. It is painted in Annie Sloan Chalk paint, Emperor's Silk. This is a very bold red and I love it. You can find the full post HERE.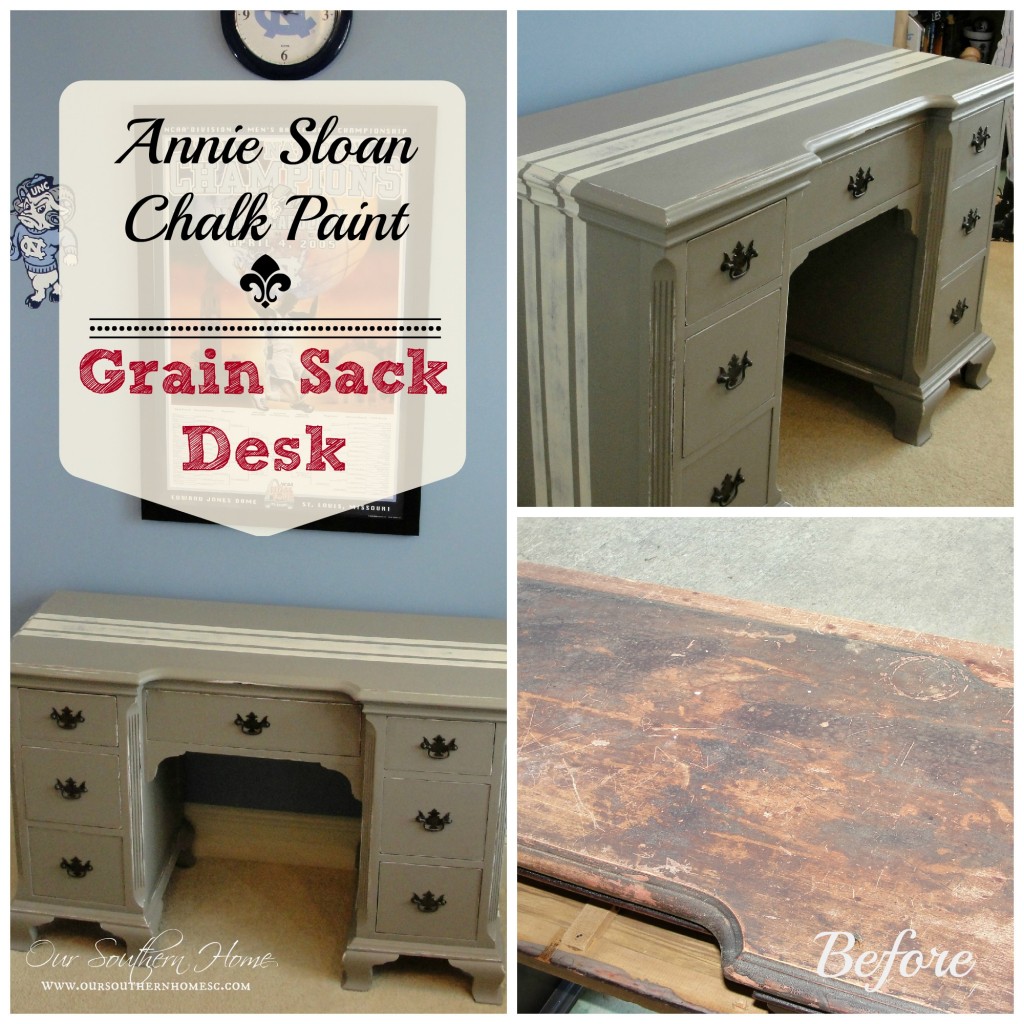 Christy, from Our Southern Home made over an awesome $15 yard sale find her mom gave her. She used Annie Sloan Chalk Paint to revive it for her teen son's room. You can find the complete how-to HERE from Our Southern Home.
I know we are all interested in Dria's post on How To Achieve a Brush Strokes Free Finish from Dio Home Improvements.
Lani from Simply Fresh Vintage has a tip involving White-Out that she used on this dresser! Why didn't I think of it?!
Paint and Mod-Podge rescue this Goodwill table from Jeanette over at Snazzy Little Things.
Yes, you can paint laminate! Megan from Rappsody in Rooms shares the how to! Her entire porch is full of thrifty do it yourself ideas!
Gorgeous redo from Beth over at Farm Fresh Vintage Finds! You won't believe the before! Removing a few lower panels and replacing with bead board really updates this stunner!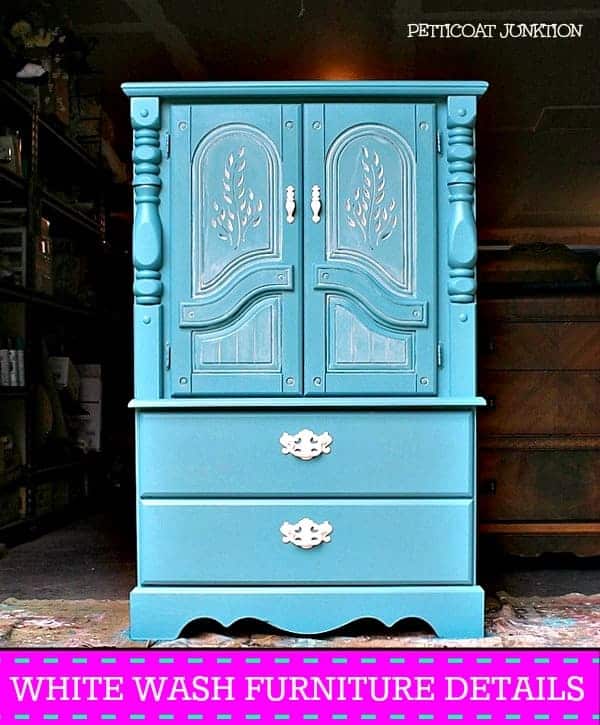 Beautiful piece from Petticoat Junktion. Kathy is fearless in her creativity! She is always generous in sharing her techniques with readers.
Are you sitting down? This dining set was $85! Visit Christy from Confessions of a Serial Do It Yourselfer for the details! The transformation is amazing!
You can even update a piece with just stripes from Just a Girl and Her Blog! Abby adds grain sack stripes to an already painted chest for a quick update! Stripes are hot right now!
Chateau Grey is my absolute favorite Annie Sloan Chalk paint color. Sharon from Mrs. Hines Class painted this old dresser, and it is now used as a media cabinet! Where is the "Love" button?
Check out this whimsical beauty by Amanda from Mommy is Coo Coo. The fabric and color choice are such fun!!! I have a major crush on this chair!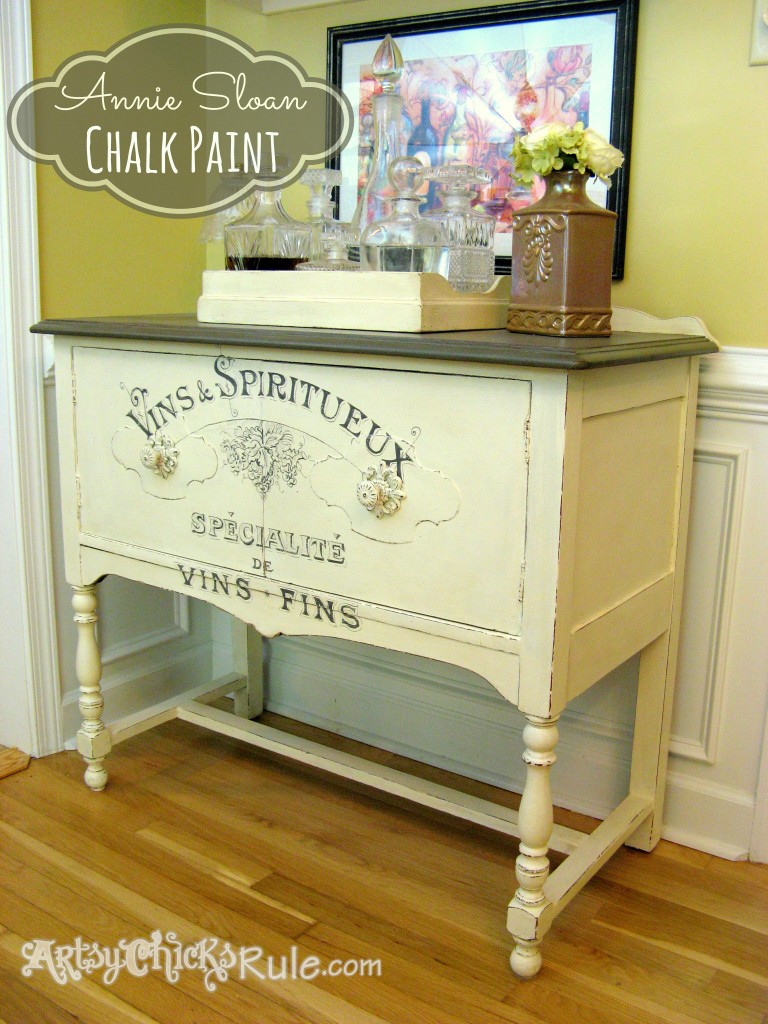 Nancy from Artsy Chicks Rule is such a talented furniture painter and artist. She makes adding topography to furniture look so easy. Guess what…it really is! Visit Nancy for all the details!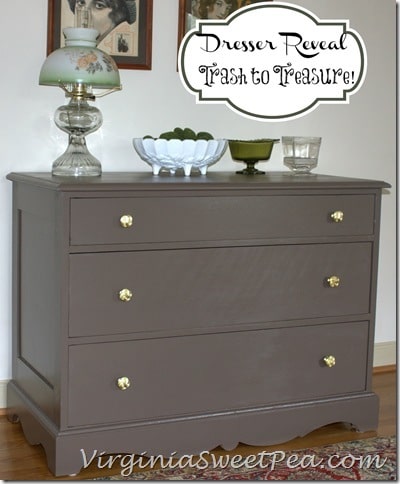 Beautifully painted furniture doesn't have to just be painted in chalky paint brands. This is lovely finished in gloss from Lowe's! Visit Paula from Sweet Pea for the color and details!
Loving this retro table. Jen from Girl in the Garage has awesome tips for painting geometric designs on furniture! She does lots of furniture so be sure to click around on her blog!
This piece by Pamela From My Front Porch To Yours shows that you shouldn't look over a badly damaged piece. This water damaged secretary is painted with not one, but two chalk paint colors. The inside is left stained!
Serena from Thrift Diving has an amazing twofer (is that a real word?) for you! Not only will she share with you the paint project, but shares how to reupholster this chair in detail!
Last, but not least by any means is Julie from Lilacs and Longhorns. She transformed this Craig's List find with Annie Sloan Chalk Paint AND added bun feet. Visit for the how-to.
Now it's your turn! Do you have a piece of furniture around your house that you have been thinking could use an update? If painting furniture is something you have never tried be sure to practice on a piece of scrap wood first.
Be sure to pin these projects for future reference. All I ask is that you click on the link and pin directly from the blog they came from. This will allow you to have the exact post you need when referencing.
Happy Painting,
Sonya