This post was sponsored, and paid for, by SunTrust. All opinions are my own.
The house you see on the blog is the third home Ray and I have purchased since being married. We have lived in a total of seven places from my grandmothers small house after we were married, to a one bedroom apartment before moving to military base housing. We always dreamed of buying our own home but it wasn't until Ray left the Air Force did that become a reality.
As a creative and someone who needs to decorate a house it was hard living in places I couldn't change. I had so many dreams in my head for how I would design all of the rooms in our own home. Ray on the other hand only had the finances on the brain. You see, the thought of purchasing a home can be scary especially if you have debt. Poor choices, student loans, two children in 19 months and poor planning had put us in a financial bind. Our dream of owning a home caused us to start on a better path with our finances in order to have confidence in moving forward with home buying once Ray left the military.
We started making changes to how we were living in order to decrease our debt drastically. For example, while the kids were babies we only had one car for a while. I was a stay at home mom on a military base so it was convenient for me to walk to the store as needed. Ray worked only minutes away and came home for lunch.
In addition, we did things that were free for entertainment. We looked at lots of Air Force fighter jets. No matter where you live, there are many free things to do. It's important when you are trying to reduce debt and/or save money you still find fun things to do. Keep a list around your house so when you start feeling down because there isn't any extra money, you will be prepared with fun ideas. Once we were confident about our finances, we moved forward with purchasing our first home. My 3 tips for any first time home buyer are below. Believe me, it was worth it!
3 Tips for Home Ownership
Decide what is important. Owning a home is something special and will be the biggest purchase you ever make. You will need to get your finances in order. Be very mindful of debt. Do not take on anymore and pay down any and all debt that you can. Look for ways to save money on everyday things. Keep in your mind why you are doing it.
Be prepared for the process. Buying a home is much different than buying anything else you have ever purchased. Read up on the process in order to be prepared for everything. Check out the Home Ownership Hub on onUp.com for helpful articles on everything from pre-approval, the mortgage process to what could go wrong at closing. After doing decorating work with a real estate agent for a few years, one thing I saw over and over was unprepared potential buyers. Reading up on the buying process will give you the confidence you need to proceed.
Dream. Create a place on your phone or Pinterest to save some photos of dream homes. Give yourself reason to do what it takes to get where you would like to be.
I'll never forget the moment we walked into our current home to tour it. It was beautiful and I was already redecorating in my mind. The walls were a slime green color in the laundry room. The very first thing I did was paint that room and the kitchen. These were the two spaces that we would see everyday as we entered our home.
Our laundry room/ garage entry is much more relaxing these days.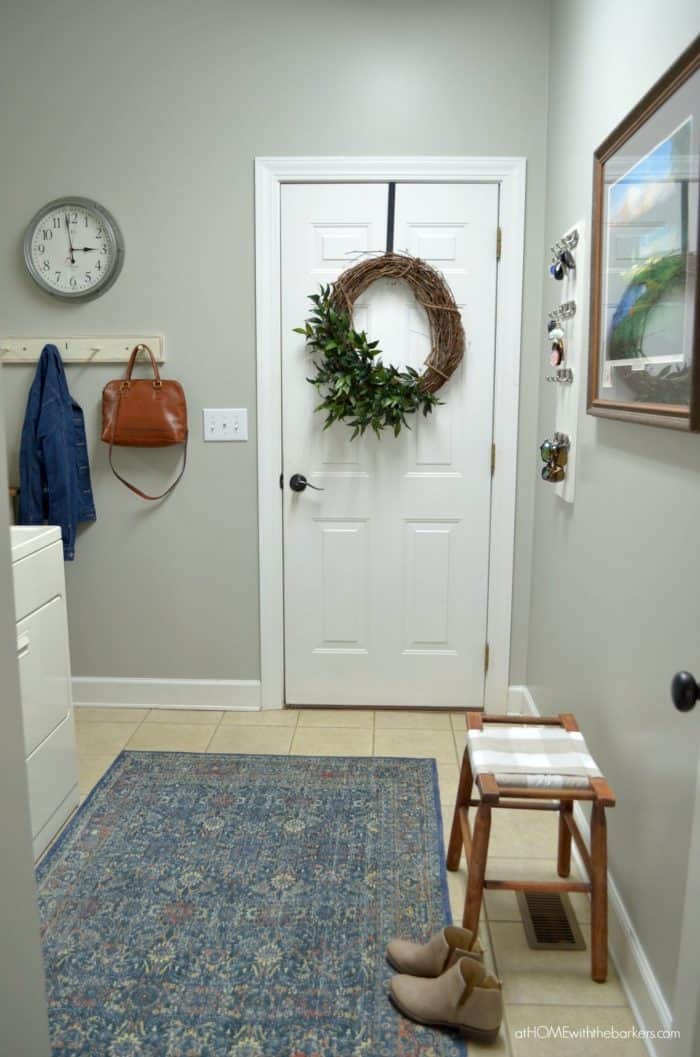 The kitchen has the best views too. One of my favorite DIY projects was the wood plank wall around the window.
Then there is our most recent project of making over our back yard.
I love being a home owner. I get to tackle projects that I enjoy and my family gets to have a wonderful place to call ours. If owning a home is something you have dreamed of, I hope these tips help give you the confidence to go for it. Use the onUp.com Home Ownership Hub to your advantage. There are lots of great articles there for everyone.