Rolling Craft Cart Ikea Rast Hack
While I am working on my master bedroom makeover this month I am also smack in the middle of organizing and decluttering. One of the biggest things that weighs me down is too much stuff! I have a craft room full of items I have not used in years!! YEARS!! Like most people I tend to use the same things over and over.
While the purging continues I needed something for my daughter to use for her crafting. She doesn't craft in the same place all the time so I had an idea to make some thing moveable for her. This little Ikea night stand was the perfect size. So I set out to make a rolling craft cart from an Ikea Rast dresser. Thanks to Belwith Products for sending me the dresser and letting me choose from some awesome Hickory Hardware to use on my makeover.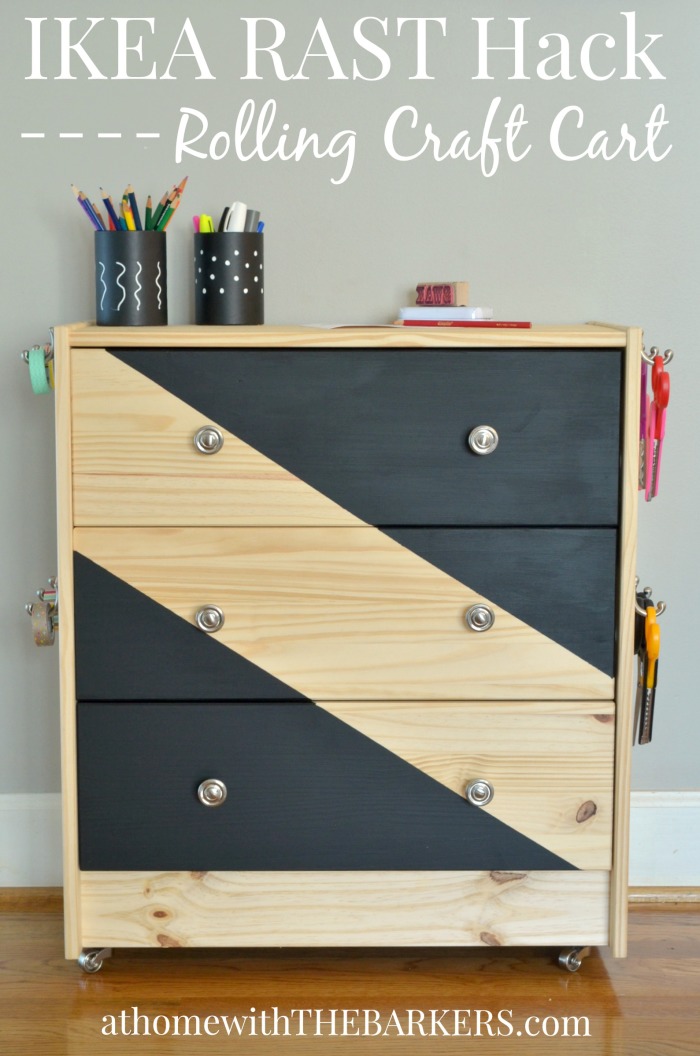 *This post is sponsored by Belwith Products. I was provided the furniture and hardware of my choice.
Rolling Craft Cart Ikea Rast Hack:
You all know how much I love to paint things but lately I have been loving so much natural wood. I decided to add some black paint in a geometric pattern to the front because I love the contrast. Then I sealed the entire piece with DecoArt Soft Varnish.
Plus if I ever need a coffee cart for a party I can use this one no problem. Just fill the drawers with supplies, move the coffee pot to the top and hang mugs from the hooks.
If you haven't ever noticed, I like multi-functional things!
Here is what I started with, the Ikea Rast Dresser before any painting.
By adding some satin nickel metal hooks, drawer pulls, and caster wheels I created a rolling craft cart. I do think I may have gotten wheels too small and may upgrade those to bigger ones but for now it works.
Now the scissors and washi tape are hanging so that can easily be seen and grabbed.
This duck tape storage is so much better. Organizing it in the drawer instead of tossing it in a basket like we had before makes it much easier to see all of the color options.
This is such a versatile piece of furniture that you can get creative with and make it match any decor. Plus you can organize lots of different things in it.
You should know that furniture like this from Ikea comes flat in a box and you have to assemble it. I don't have pictures of mine getting put together because my awesome husband did that one day while I worked on something else.
I would love to have you join my email list. I have lots of new things I am working on and I don't want you to miss any of it!