Salted Caramel Crunch Milkshake
What caught your eye first…salted? caramel? crunch? or was it milkshake?
OH, it was the thought of them all in one place, yea, me too! This Salted Caramel Crunch Milkshake is the perfect summer beverage!
If you are here from Our Southern Home…Welcome, I am so happy to have you!
I don't know what it is about summertime and ice cream that go together so well but it just does. I'm sure it has something to do with the cold refreshing ice cream on a hot summers day.
My choice of ice cream is always a milkshake! I love them! Chick Fil A Vanilla is my choice if I am out and about but if I am home I love creating my own. This milkshake is inspired by a new flavor of ice cream we had while on vacation at the beach a couple of weeks ago.
Supplies for this recipe:
Vanilla Ice Cream, Milk, Caramel Topping, Pretzels, Whipped Cream Topping
I took my favorite vanilla ice cream (Blue Bell Homemade Vanilla) and scooped it into a really tall glass that I have. Then I added milk to it, a few tablespoons will work. I didn't thin it with too much milk at this point because after you add the warm caramel it will melt some more.
Next stir in some warm caramel. This will depend on how strong of a caramel flavor you like. You can never have too much as far as I am concerned 🙂 Time to add your crunch…finely crushed pretzels. Make them small enough so they don't get stuck in the straw.
Now you can pour the milkshake into your serving glass. You can see all of the caramel goodness through the Mason jar.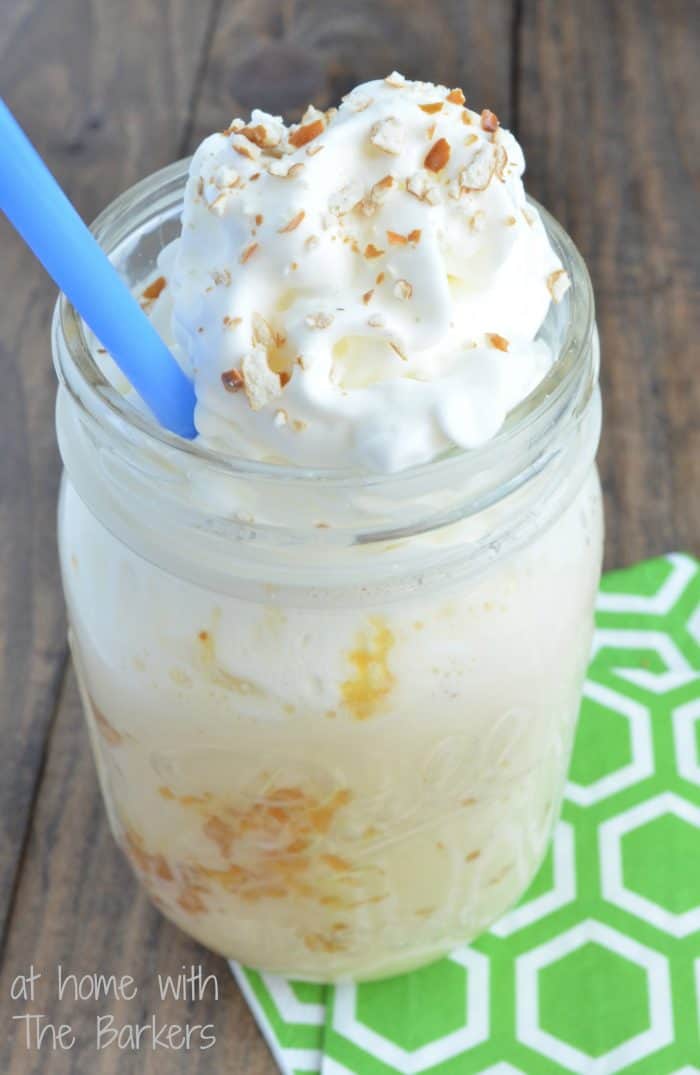 Top it with whipped topping and a sprinkle of pretzels. YUMMY!!!
I think I will be experimenting with more milkshakes…so let's hear it…what are some good things to add?
Be sure to visit the next stop on the beverage tour…Refresh Restyle.
Happy Summer,