Easy Crowd Pleaser Recipe Taco Soup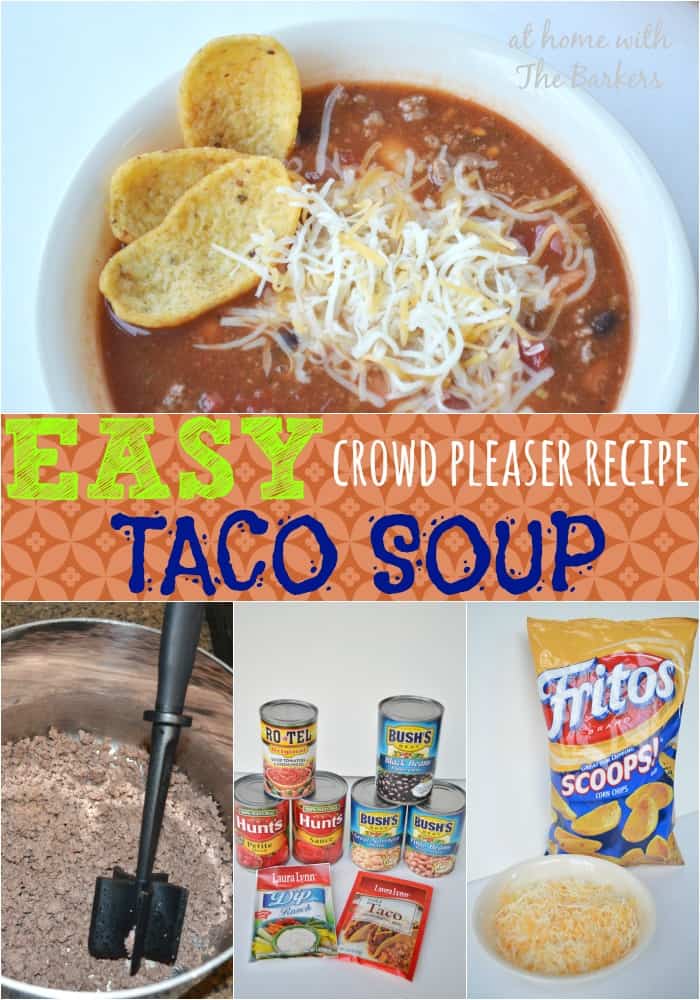 Easy Crowd Pleaser Recipe Taco Soup:
This is my favorite recipe to serve when I am having guest! This easy crowd pleaser recipe Taco Soup is so yummy and everyone LOVES it.
So whether you are hosting a party or not you will want to make this the next time you get together with a group of friends or family. As a person who does not love to cook, I love making this recipe. It allows me to cook everything in one pot…PERFECT! The best part is that it makes a great freezer meal for leftovers.
Soup Ingredients:
1 can of each, Black Beans, Great Northern Beans, Pinto Beans
1 can of Rotel Original (hot or mild if you prefer)
1 can of Tomato Sauce
1 can of Diced Tomatoes
1 packet Ranch Dip Seasoning
1 packet Taco Seasoning
1 pound Ground Sirloin (or meat of choice)
How to Cook:
First brown your ground sirloin. I prefer to use ground sirloin because it has less fat. When you cook it you will not have to drain it, which saves an extra step and less mess. Next just open and add the rest of the ingredients, no draining. Stir together and heat. This will warm nicely on medium heat in only about 20 minutes. If you are making this for a crowd just double all of the ingredients. I will usually double it anyway and freeze the left overs. It is always nice to have a meal ready in the freezer so on a busy day you can always be prepared.
Our favorite part are adding the Fritos Scoops and the cheese. My husband and I do not agree on how to use the scoops! He likes his in the bowl then add the taco soup on top. Not me, I like to use them one by one and actually scoop my soup with my chips. There are other toppings I put out for guest so that everyone can have options.
Optional Soup Toppings:
Sour Cream
Cilantro
Hot Sauce
Diced Green Onion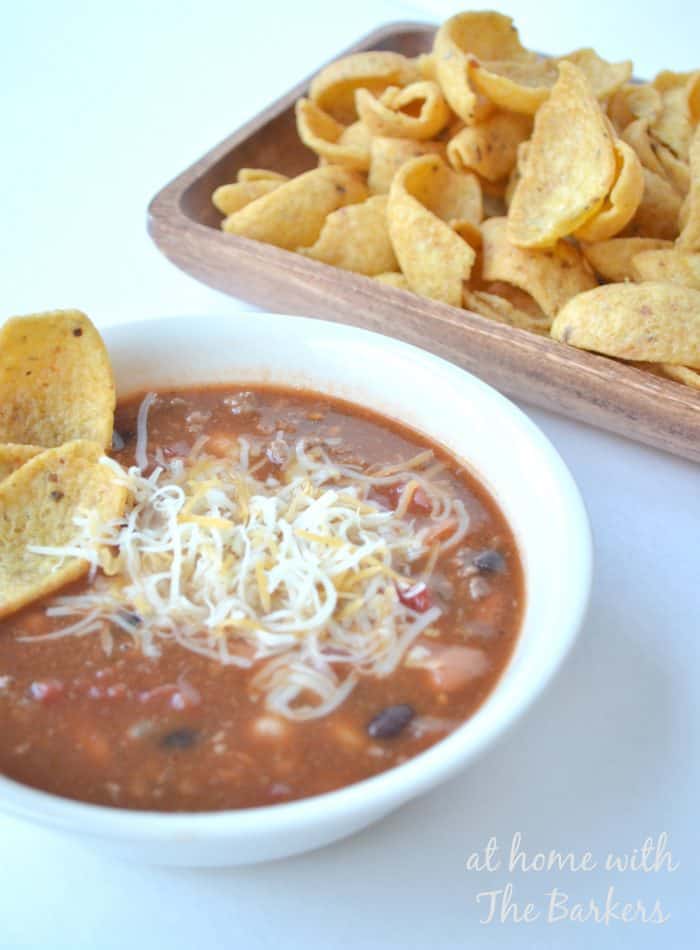 I'd love to hear what toppings you add to your taco soup. Share in the comments.