It's that day of the month where I join some of my blogging friends for our themed painted furniture day and this months theme is "Words and Letters."
I decided a TV Tray Makeover way the perfect project for this theme. I have been wanting to do something to these trays for a long time. I've had them for years and we still use them. Every Sunday night we order pizza and watch TV as a family and these trays come in very handy.
I had thought I was going to add a letter B for our monogram but my husband said I should put the word EAT on there.
I loved it, of course!
The TV Trays started just basic like any tray set you can buy pretty much any where.
The stencils I used are the same one's I used last year to make my holiday signs. I like that they are cheap, easy to use and basic block letters.
I used my Americana Decor Chalky Finish paint that I already had. I didn't want to paint the entire surface of the tray's so I decided to paint just the stand and the stenciled word.
After the paint was dry I distressed with sand paper.
I also thought the the tray could pop up like a small table and I could use it for a snack table.
The kids always come in hungry while I am making dinner so this would be a great way to have something set out that they could just grab.
I would bet that most families have a set of these tray's in there house, do you?
We had the metal one's when I was a kid…remember those?
Now you have a simple project you can complete before the holidays get here.
A fun way to customize a basic item in your house.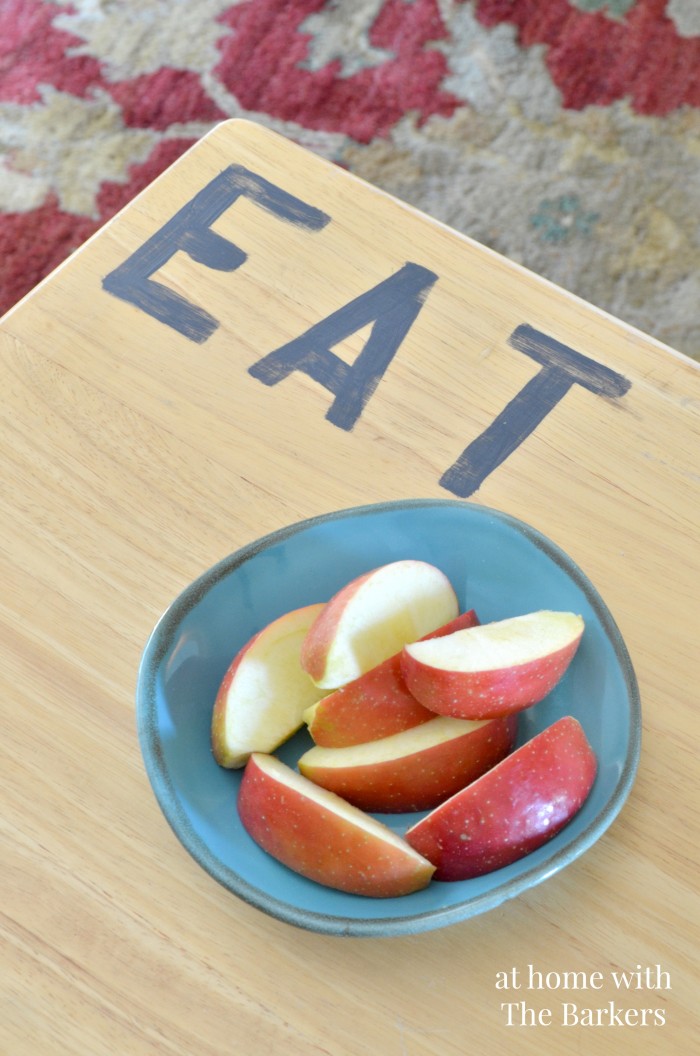 Now be sure to check out what my friends created for their "Words and Letters" project of the month. Click on the links below to see the projects!