31 Days Another Paint Project
Day 8: Another Paint Project
I've had this end table for a "few" months. My sister picked it up at a thrift store for $5 then decided she didn't want it. So, she gave it to me. You can barely see in the picture that she had already sanded the top.
For my 31 Days series I wanted to complete as many projects as I could without spending any money. I already had all of the supplies I would need for this little table. Milk paint has a few steps to mixing but it really is simple. I added the Miss Mustard Seed Bonding Agent because I wanted my paint to stick. I have been trying out different products this year, that's why I have different options. I was able to try all the Miss Mustard Seed products at Haven and I loved them. My next purchase will definitely be her wax.
You first add warm water to milk paint. Then the bonding agent if you are using it. This is what it looks like.
After 2 coats of Milk Paint the surface is covered well.
I distressed then waxed. I wanted you to see what it looks like for the wax to be applied.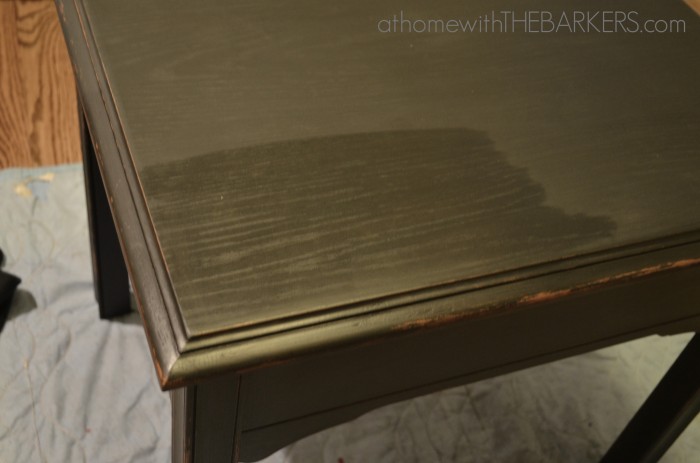 I decided to leave the front drawer unpainted. I did distress it as well and I love the way it turned out.
Don't you love that cute little pear…My sweet friend Lisa gave it to me after I painted her kitchen table.
Painting furniture is my DIY love. That is why I always have unfinished painted projects, it is like therapy for me.
I'm getting so many things done around here it feels GREAT!
Are you doing a 31 day series? What are you working on?
I'd love for you to share. I get as much inspiration from you as you do from me…probably MORE!
Sonya
Find the entire 31 Day Series: Bring this Home to Order here!