Outdoor Decorating Inspiration
If you are a regular reader of my blog you have noticed that I have already started working in my yard.
Hopefully you are following me on Pinterest where you will see all of the fun and awesome things I've been pinning.
I am finding so much outdoor decorating inspiration from so many talented people…
Creativity Galore I tell ya!

Today's post is going to highlight some of my very favorite things I've seen for outdoor decorating. Some of it I would love to just copy as is…some I just feel creative just by looking at it!
Seriously…how awesome is this outdoor sofa from One Krieger Chick? A claw foot tub turned into a sofa…I'm loving this!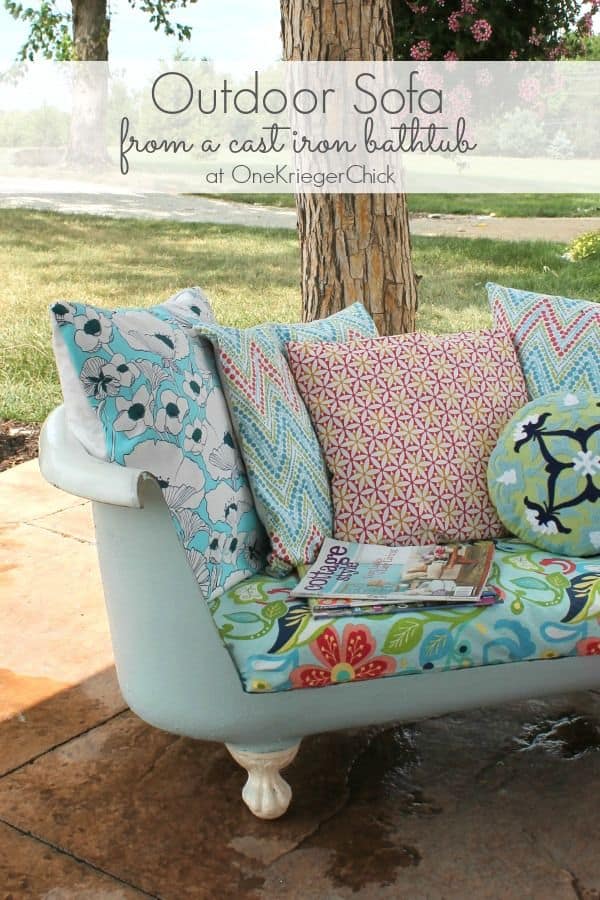 Not only are the views at The Lily Pad Cottage beautiful BUT the tabletop for the fire pit…genius!
Clever table that holds drinks! So accessible for everyone and would make parties so much easier!
Beautiful and creative curb appeal in Charleston, SC. Everything in Charleston is beautiful and it is a great place to tour.
We have so much still to do out in the backyard…paint the shed, clear lots of tree limbs that we cut down, build an outdoor kitchen (fingers and toes crossed that it happens this summer!) Much more I am sure I am forgetting BUT that's ok, all of these projects give me blog material 😉
I hope something I shared today inspires you as well.
If you are looking for more outdoor projects you may like: DIY Monogram Flag, Spring Cleaning Outdoors, S'mores Dessert Bar
Happy Wednesday!