How to test paint samples on a wall
A guide for why, where and how to test paint samples on walls. Learn to choose paint colors for you home with confidence. Important bonus tips at the bottom you don't want to miss.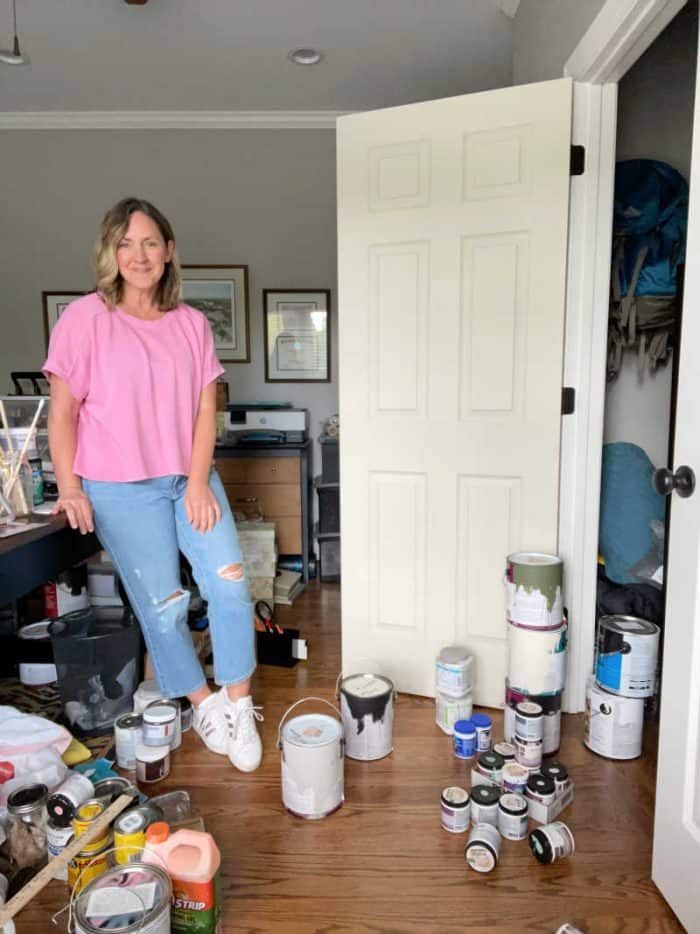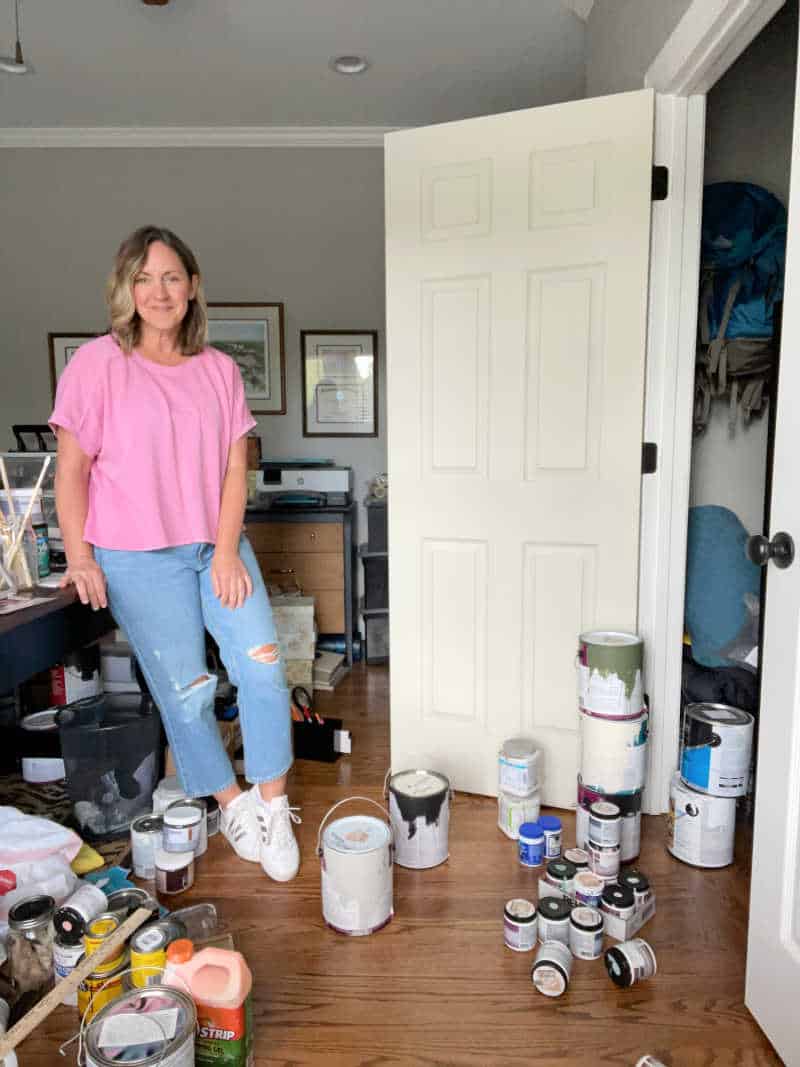 This post may contain affiliate links. See full disclosure for further details.
When Ray and I were first married, we were fresh out of college, in debt and living in my grandmothers home. She had remarried and agreed to let us live there. She gave us freedom to update whatever we wanted.
The very first thing I did was paint. I started by adding a feather duster technique of three layers on our bedroom walls. I painted because it was the cheapest way I knew to get started.
That's why I love sharing all I have learned over the past 27 years of painting.
Over the years I learned how to paint and how to choose the right paint colors.
How to test paint samples
Why swatch paint samples on walls
Swatching paint samples allows you to see the color in your home. Light changes paint colors. The amount of natural light, the time of day, floor and carpet colors all have a play in how a paint color will look in your home. Even from room to room.
When sampling a paint you're looking for how the paint color changes and/or shows undertones throughout a 24 hour period. You want to love the paint the same during the day as you do at night.
You sample paint so that you don't waste money and time on the wrong color. I can't tell you home many times I was certain I had found the right color only to sample it on a wall and realize it was not going to work.
Where to add the paint samples
I swatch directly on the wall. I do this for two reasons.
I'm ready to paint and will be covering it up. Once I'm at the choosing paint color stage I am moving on to painting within the next week. I would recommend this only if you plan to paint very soon. Nothing worse than looking at paint samples all over a wall for months on end.
Sample paint colors directly on the wall helps you see how it will look in your actual home.
If you are in the planning stages but won't get to the project for a little while, you can paint the color samples on poster board for an idea. Be sure to paint enough coats of even coverage. This will allow you to narrow down your options. Then when ready to paint you can sample those on the wall to be certain.
There are some brands that sell big paint swatches you can order and stick to the wall. I have never done this. I'm a bit skeptical and here's why. When you have paint mixed at your local store, depending on who is mixing the paint it can be slightly different. Sometimes unnoticeable and others times a definite difference.
Our living room makeover paint samples to get the best cozy color.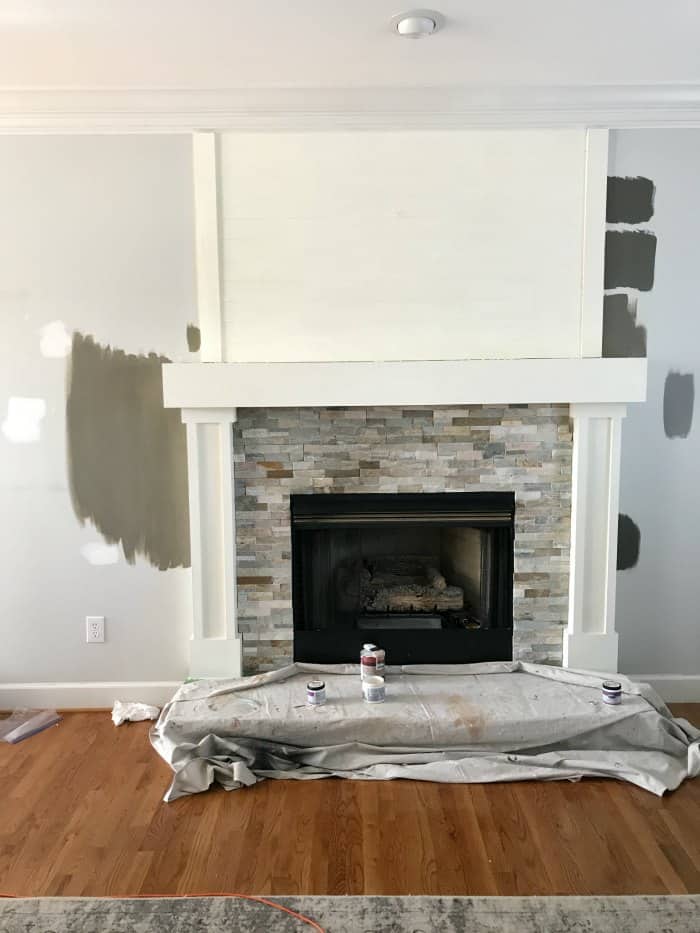 Swatching on both sides of my mantel is very important in our house. The right side looks much darker than the left. So I need to be sure to like the color in both areas.
Look closely at the light gray. See the difference from left to right. It looks more blue on the right of the mantel. Everywhere else in the room it looked a nice light gray.
How to paint the samples
Paint a large enough sample to see the true color. Be sure to use 2 coats if necessary so the current color isn't showing through.
Important to note! The current wall color can give the appearance that your new samples aren't the correct color. It may benefit you more by sampling your paint color on poster board leaving a white area between the sample color and the wall.
Paint the swatches on different walls. Use a brush or a roller. I usually use a brush because I can dip directly into the sample can. Just don't leave any drips or thick lines.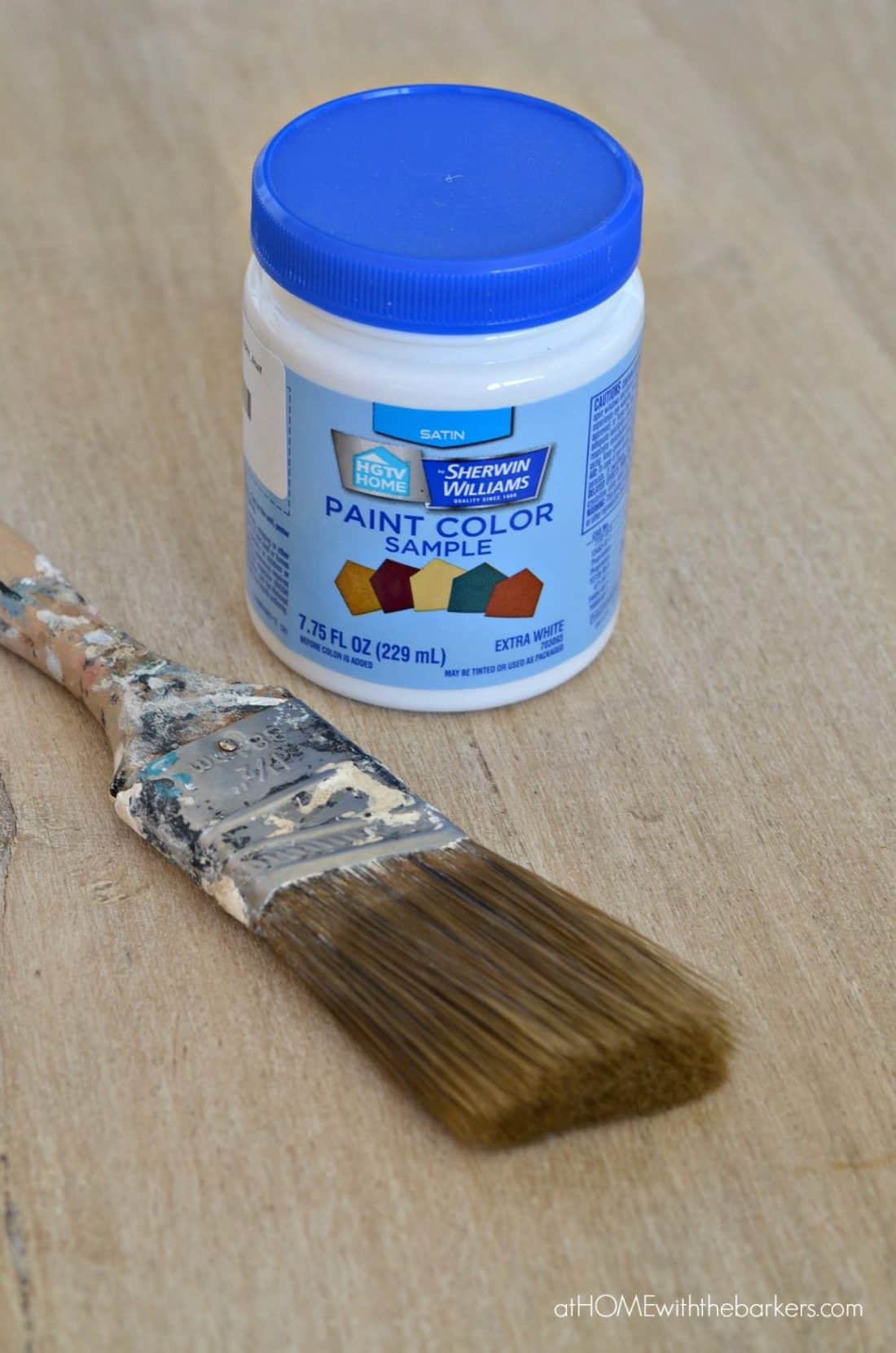 When we did our last living room makeover I had swatches everywhere. The living room is open to the foyer and a long hall. In order to paint one space I had to paint all of that. Sampling in all of the important areas was a must.
I believe learning to DIY paint a room in your own home is the best skill to have. How to test paint samples is the start of that beautiful room makeover.
Important bonus tips
Get paint mixed for samples from the same place you plan to buy the paint.
Prime over samples before you paint.
The power of paint
Add this photo below to Pinterest to save for later and share with others. Thank you to those who share.