I have learned so much since I first started blogging 2 and half years ago and how to style a photograph has to be one of the more fun parts about it. There are some bloggers out there who can style a photo like a magazine, I do find beauty in that but I find beauty also in making things functional for my family.
I thought showing you the kitchen table styling I did when we participated in the one room challenge would give you a great idea of how I work.
When I take photos for the blog there are times when I have to move things to look better in a shot but 95% of the time what you see in my photograph is what you would see when you walk into my home. Ok, except the dirty laundry or the dishes, I tend to leave that part out all together, lol.
Although I said above that I do love more useful spaces not only picture worthy spaces, I still find good inspiration by looking through magazines for some ideas. You can try Pinterest but I have found that a real life magazine is still my go to.
I gather everything I think I might use for the photo and put it on the table. It is good to consider the space you are styling when buying anything extra for the space. I don't usually buy things unless that will be put to good use around my house. I don't have a storage room of items to pull from so when I do have to buy I put good thought into it. (Ignore my tuna sandwich in the front, bloggers work through lunch)
Kitchen table styling or anywhere in the kitchen, always use real food and flowers. When I am buying food to add in for my photography styling I consider my family and what they will like. I think they deserve special treats for putting up with my decorating shenanigans! Plus it looks good on the table and taste good later!
After you have all you think would work for the table styling, group items into looks or styles. I ended up having two different groups when I was photographing my kitchen table for the one room challenge kitchen makeover.
I brought in my favorite faux lemon topiaries that move all around my house. Then added in pastries from Sam's, dishes I bought at a yard sale years ago, and a stripe bowl that was $5.99 at Ross.
The second look was what I actually used in my kitchen makeover photos but I loved them both equally.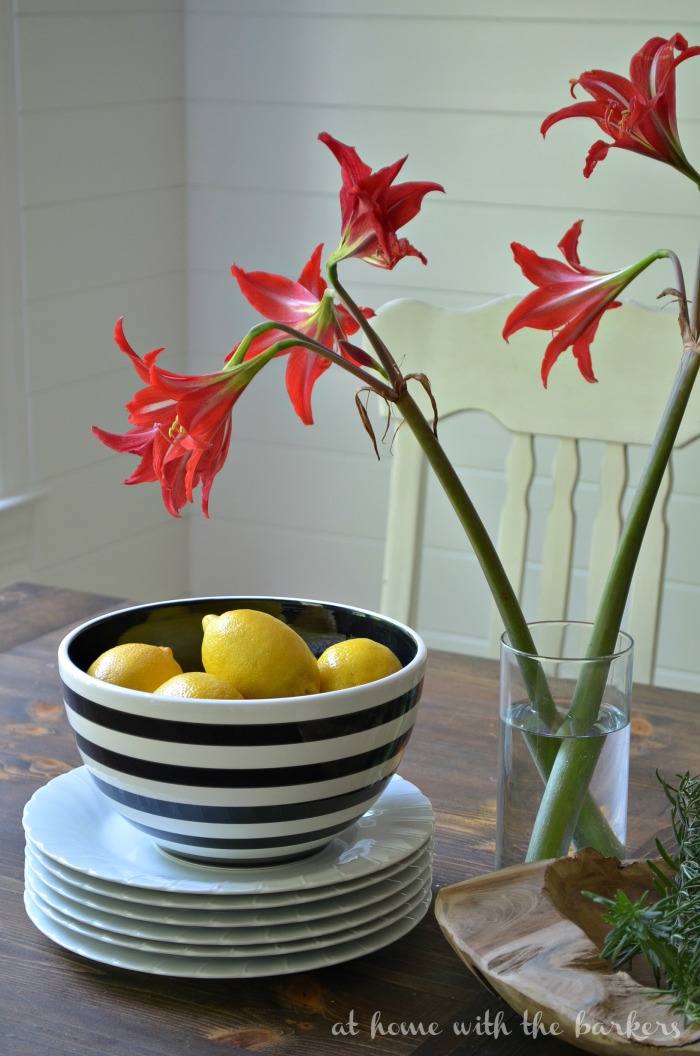 The flowers I cut from my sisters. I also had fresh rosemary from my back yard. Free decorating items are the best and they are useful. The lemons and rosemary I use for cooking.
Even if you aren't taking photos of your table for blogging purposes I challenge you to style the table anyway. I love to do it for my family because they always love the special treats. Plus, it really does look pretty.