Simple Summer decor touches for a traditional dining room.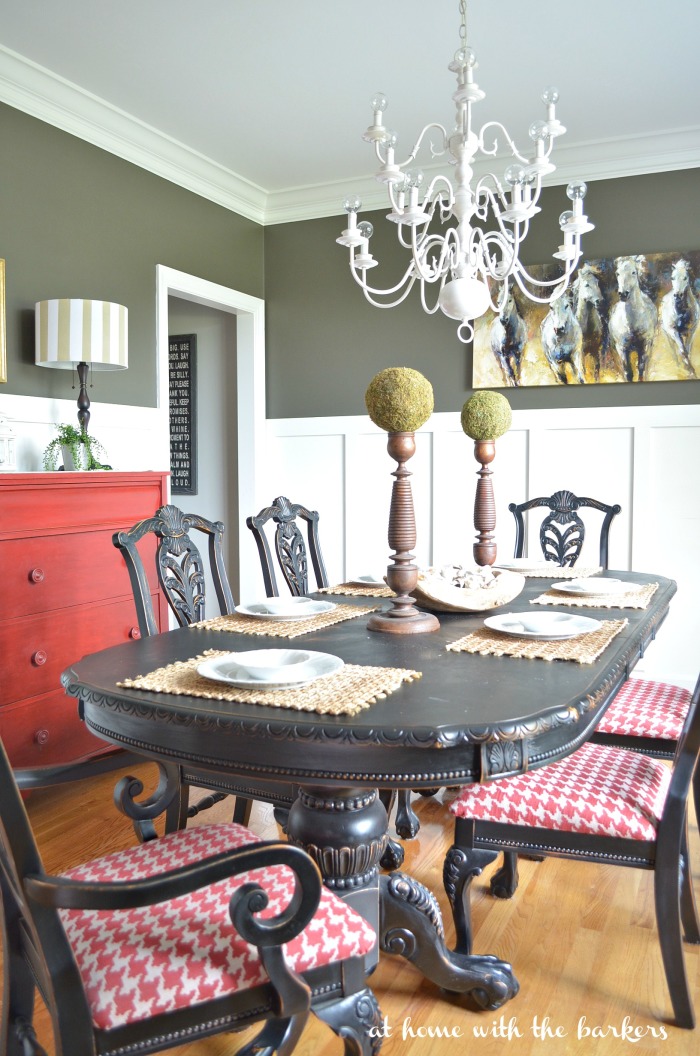 I'm not someone who decorates a room, loves it, then leaves it for years. I have this need to change things around, way too often for my husbands liking. There are times when I wonder if it's just because I like experimenting with my decor or is it because I haven't found exactly what I am looking for in my design. I will seriously "finish" decorating a room then within a week have new ideas for it.
Tell me, is that normal? Is that the creative me or the I can't find my style me?
For instance, my dining room summer decor has me all kinds loopy. I love it, most of the time.
You see this room has a story, a story hidden in at least 5 coats of paint. Last Summer while I was away for a few days my husband surprised me by adding the board and batten to the walls. I had mentioned it to him about a month prior of my idea about it but he took the ball and ran with it. It was a great surprise!
At the time I thought I would step out of my comfort zone with a blue wall color. Gorgeous color really and my family loved it but I just couldn't leave it alone. I'm not afraid of color but I tend to like bold neutrals so I recently repainted it in Enduring Bronze. The same color I used on my master bedroom accent wall earlier this year. Pretty color that tends to look a grayish olive.
I am considering changing the red (Annie Sloan Chalk Paint Emperors Silk) from the furniture piece. Any suggestions? I will be leaving the red houndstooth fabric on the chairs but the window treatment fabric has lots of colors. Or should I just take it back to the wood? Leave me a comment if you have any great suggestions.
Oh yea…the dining room summer decor…that wooden bowl from Ross is filled with shells I've collected. I also thought that adding the natural touches was a good contrast with the black. Just a touch of summer but just a enough. See more about the chandelier ideas I've created.