Happy Friday my sweet friends!
Summer is in full swing in the south and let me just say IT IS HOT! Like super duper you can barely stand it outside hot! We have an awesome project that we are working on (more about that later) that is involving lots of time in the heat. We are taking it easy and being smart about it BUT seriously working our way through what we started after I read this BOOK.
Don't worry though there are plenty of indoor projects that can be accomplished in the cool air. My painted coffee table is the perfect example. Over the past year, less than that really, this coffee table has been painted three times.
The first time it looked like this but I thought it was too white and too distressed.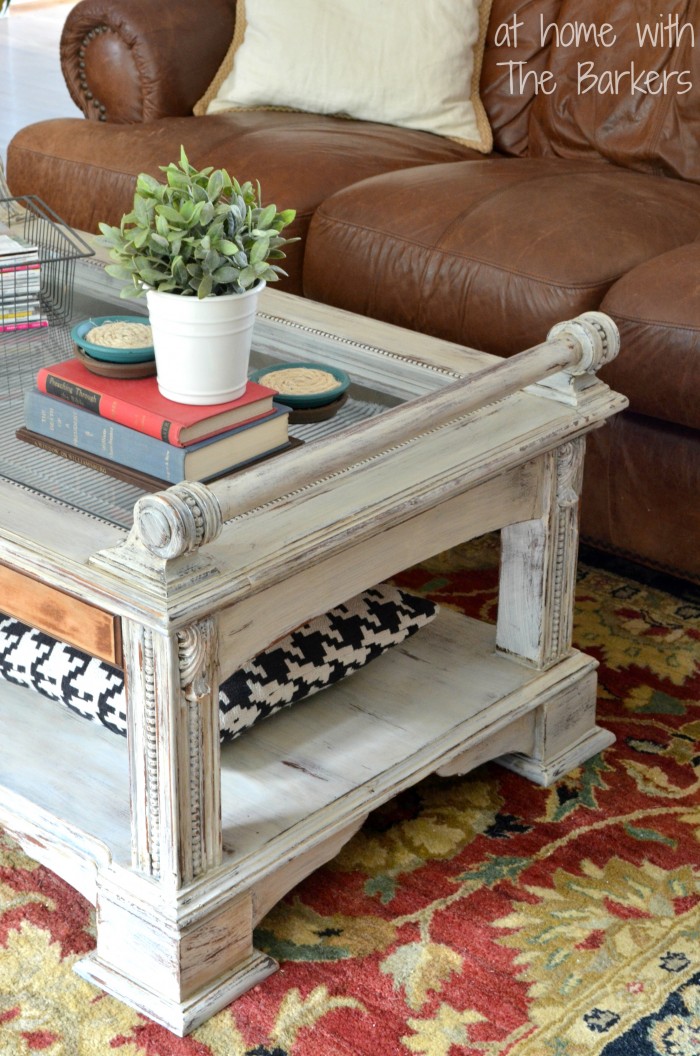 The second time it was pink…Annie Sloan Scandanavian Pink to be exact.
Gorgeous color and I love it on my night stands in my master bedroom but not so much in the living room. I tried it out with my new rug.
The third time I decided to go back with a lighter color but not so white and less distressing. I picked Annie Sloan Old Ochre and I like it a lot.
I have been much more into neutrals lately but I am mixing and matching some fabrics to sew a few pillows. Those pillows there on the couch look a little sad and lonely.
I've been going with less color around the house and I am really loving it. I painted the big mirror behind the sofa first then I painted the arrow lighter that is hanging in this room.
You can see the story behind that decor item HERE but here is what it looks like now.
This is the view if you were sitting on the couch. You can see into our kitchen that had a recent makeover. I want those wood plank walls in every room…don't tell my hubby though, he may just leave me 🙂
Truth be told I really want a new coffee table but not really sure what style. I found some inspiration but I'm still undecided. For now I thought painting the one I had was the wisest thing since I already had all of this paint at home. In all three colors, I didn't spend any money.
SO tell me, do you have a piece you have painted many times? Can you remember what has the most colors on it?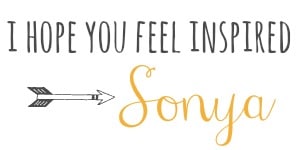 Linking to: Just a girl and her blog