How to Style a Farmhouse Tray
How to style a farmhouse tray for beauty and function for your home decor. The practical uses are a great way to minimize visual clutter.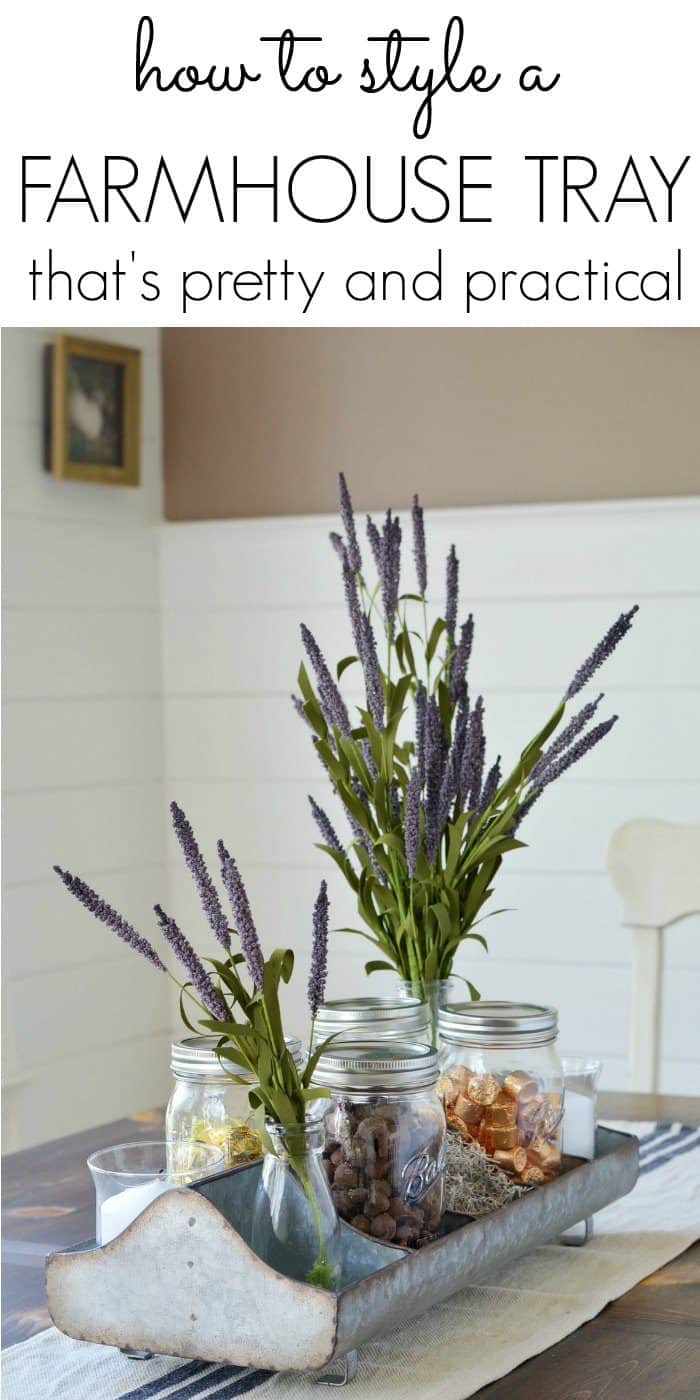 This post may contain affiliate links. See our disclosure for full details.
One thing I love is keeping things neatly gathered together. Using a decorative tray is the perfect way to gather a grouping of pretty and practical items to freshen up decor.
My style is really more modern rustic traditional (really hard to pin point) than farmhouse but this tray gives the farmhouse vibe. Whether your style is farmhouse or not, these tray styling tips will still work.
I honestly prefer to describe my style as pretty, cozy and tidy. Take a look around our home tour to see for yourself.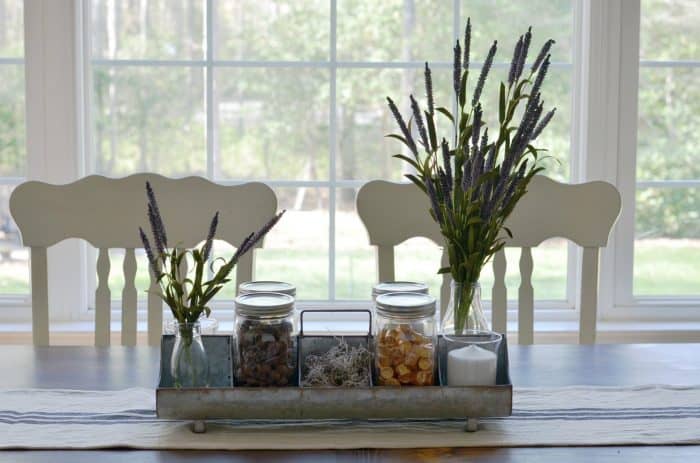 How to Style a Farmhouse Tray
I love pretty home decor but I love it even more when there is some practicality to it. My mind raced with ideas for this tray. I wanted to add a welcome touch to our kitchen table. The glass jars allow for adding height for visual design but truly let you to add more items than the shorter compartment space holds.
My main goal with all of my decorating is finding ways to mix pretty with practical.
Farmhouse Tray Styling Supplies
Galvanized Metal Tray with Handle (I've had this one for years from Hobby Lobby, similar styles linked below)
Candy Treats (consider colors here too)
More Galvanized Tray options

When styling the tray for your home keep in mind symmetry and balance. I find it best to work from the tallest item to the smallest one.
The faux lavender stems will be the tallest for this display. However, I didn't want two identical sets of florals on each side. I opted to vary the heights of the florals. The taller one I bent the stems of the florals to give the arrangement varying heights. The shorter one was created by cutting the stems with wire cutters. This gives the display balance.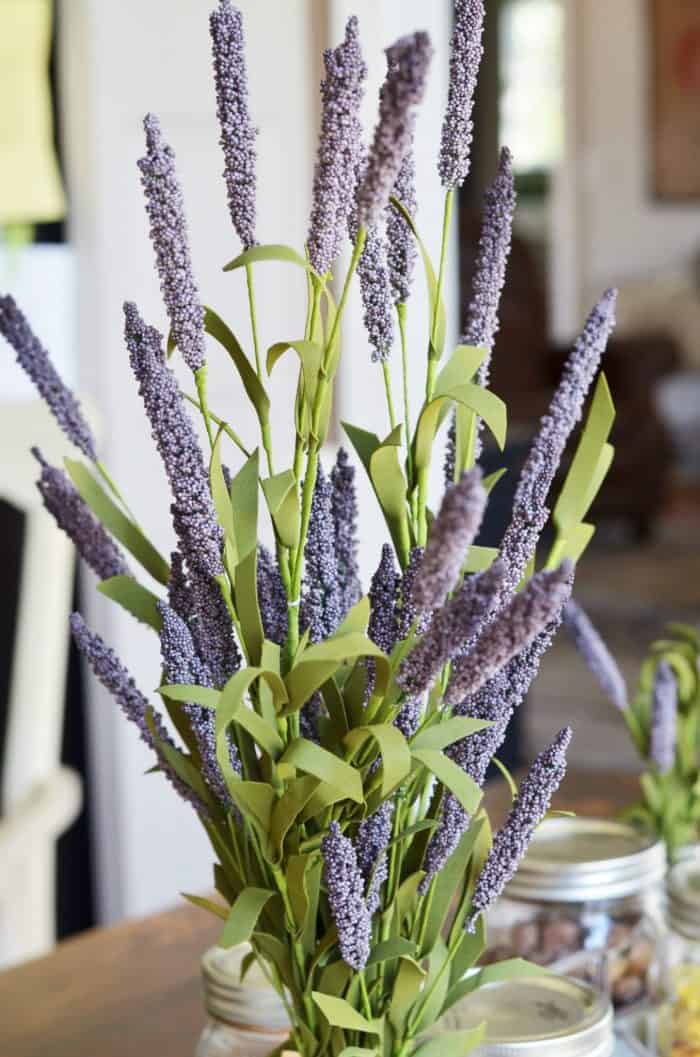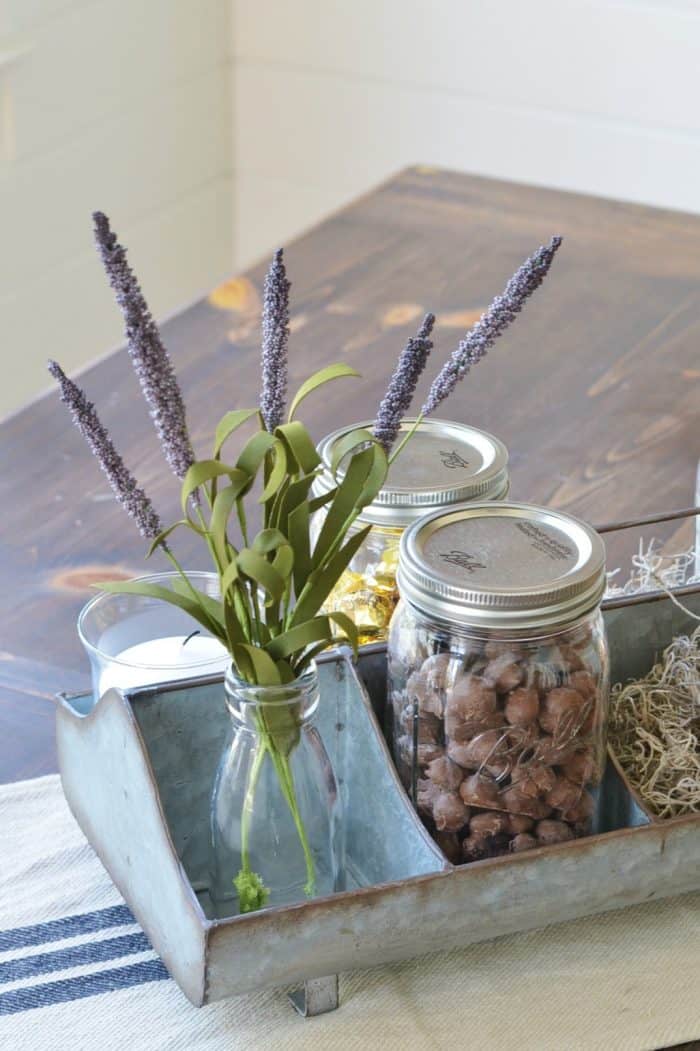 Table Runners

Ball jars were added next. I wanted to use an equal amount of mason jars for complete symmetry. Candy and treats was then added to my jars. This is the practical part of my tray. Making sure that I make it pretty and keep the family happy is a win win. Home decor with function.
Keep in mind the color of the treats too. Chocolates, nuts and wrappers can keep a nice neutral color scheme. If you didn't want to have to worry about the treat colors you could always paint the jars white or a color to match your current decor. Easy DIY project.
This can work with any holiday too by changing out the colors.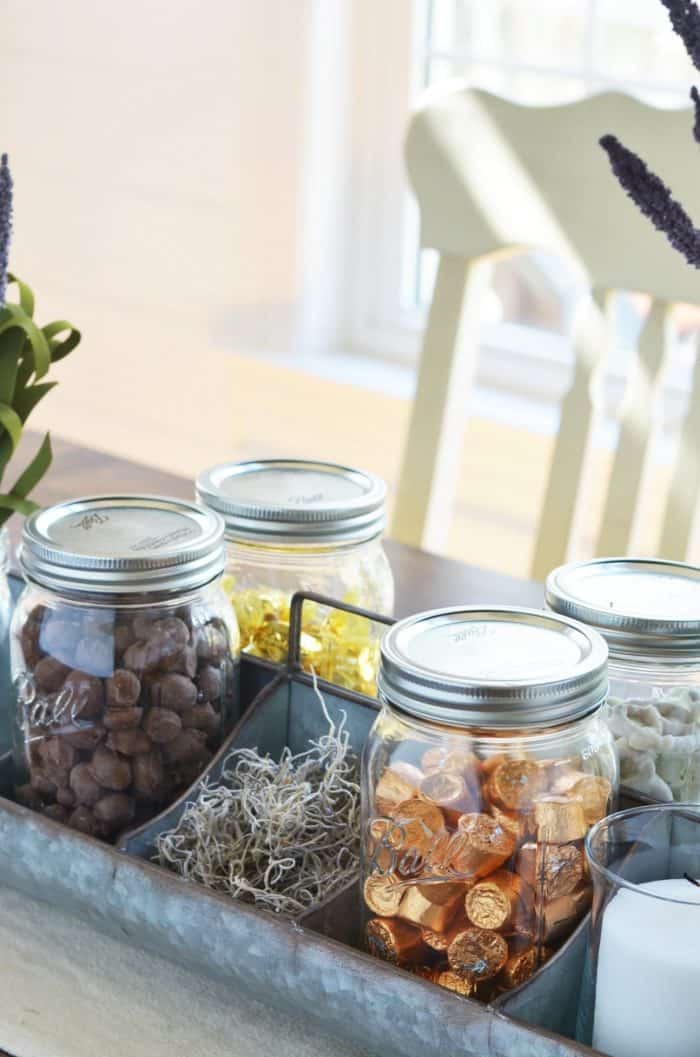 The last step for styling the farmhouse tray is the small items or filler. This is where I placed the candles and natural Spanish moss. Often you have to move things around to find a good balance.
Think of things your family could use here. Maybe make it totally functional and add your sale and pepper shakers.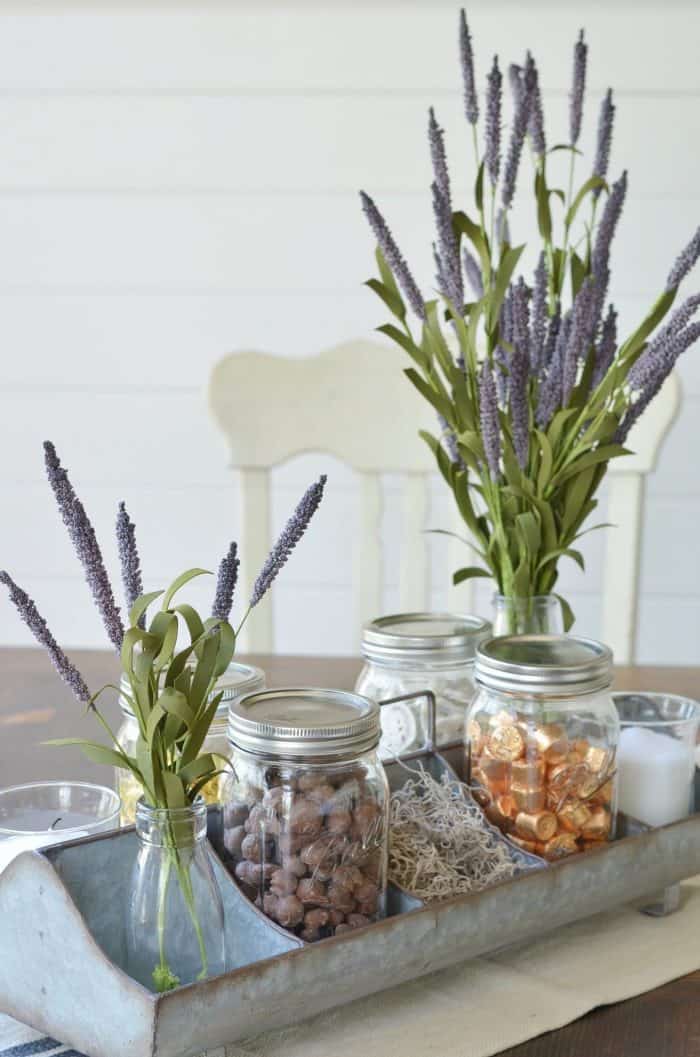 Farmhouse Tray Styling Recap
Tips for styling a farmhouse tray that will be pretty in your home decor as well as practical. Real tips and advice that you can use today.
Spend money on home decor items that can be used in more than one place.
Use items that vary in height and have different textures for interest.
Add pieces to your home decor, like the mason jars with treats, to give a pretty display practical use.