I love my farmhouse table makeover! We bought this table almost 9 years ago so it has lots of wear and tear.
BUT honestly that's the best part.
I wanted to do a makeover on it but not really hide any of the "memories" that are carved into it. The top stain was almost the same color as my floor so I was wanting to darken it. I knew the table had a factory finish on it and sanding would be needed. The weather here in South Carolina this week was so warm I took the opportunity to get busy!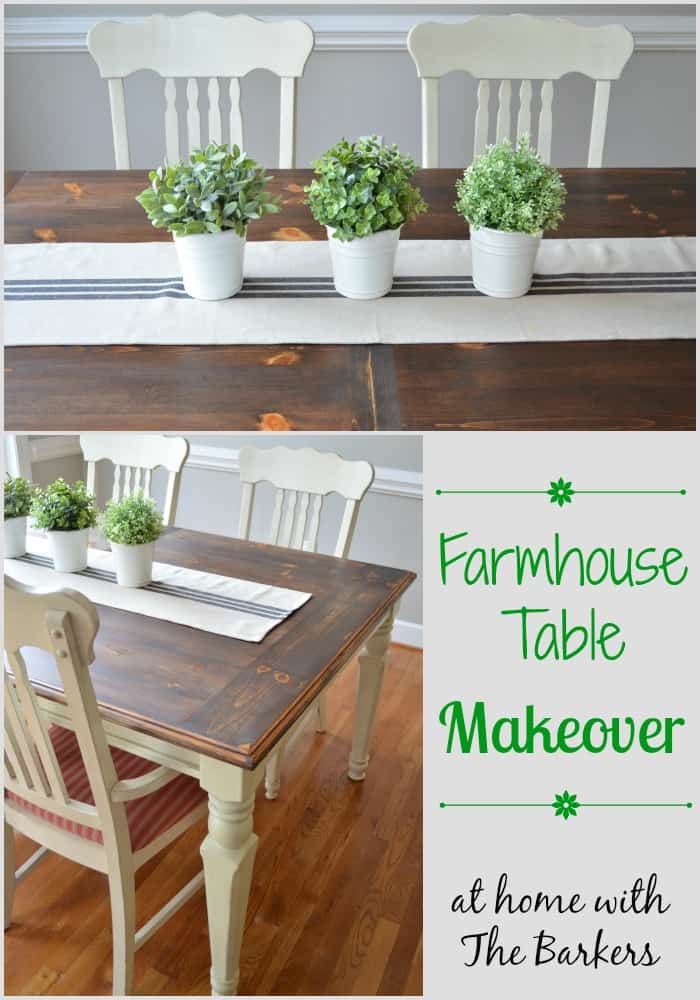 First thing I had to do was sand. I used a 60 grit sand paper on my Ryobi Sander because I needed to get to the bare wood. I did a second sanding with 150 grit. I did sand some around the edges of the table but wanted to leave some of the original finish. This will allow the stain to go on differently in places, which was the look I wanted. I wanted the more rustic and worn look as if the table had been that way for a long time. This part is the hardest part of the furniture staining process but a good work out.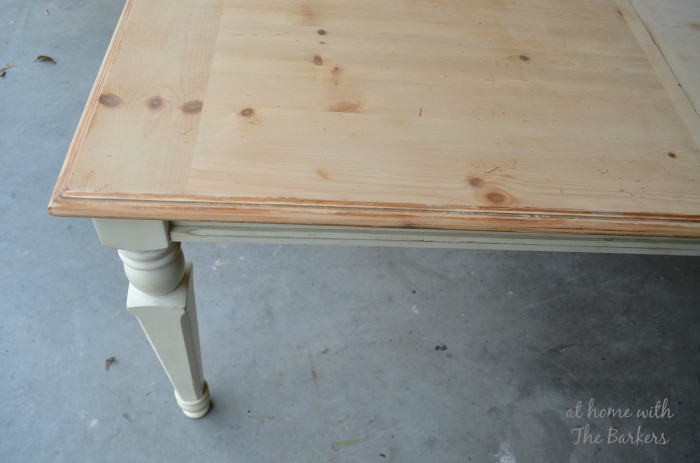 Next comes the stain. I used Minwax dark walnut. It is a great shade of dark brown that doesn't look red. I use a brush to apply the stain then I go behind that with a rag and rub off the excess. The "wipe on, wipe off" method.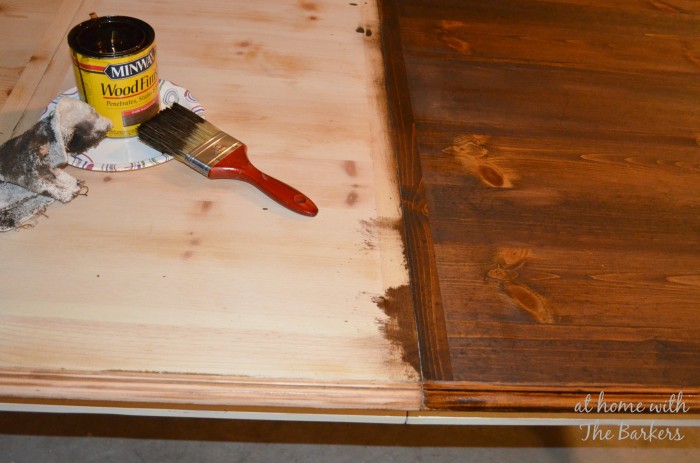 You can see here in the close up how the stain absorbed into the wood and didn't where I left some of the old finish.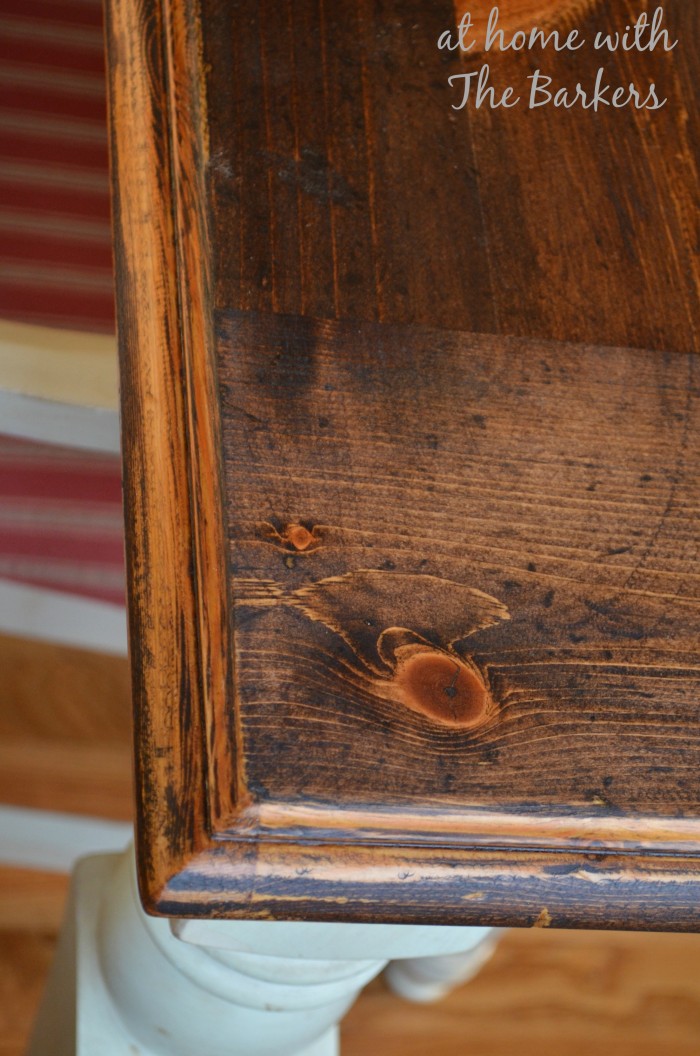 I sealed the top with some Annie Sloan clear wax.
This is a good view of the table to see how the knots look as well as the contrast of the hardwood floor. I think the knots must have been sealed with a shellac before the original stain was applied. This would not allow stain the penetrate the wood. I love this part and I think it gives the farmhouse table a lot of character!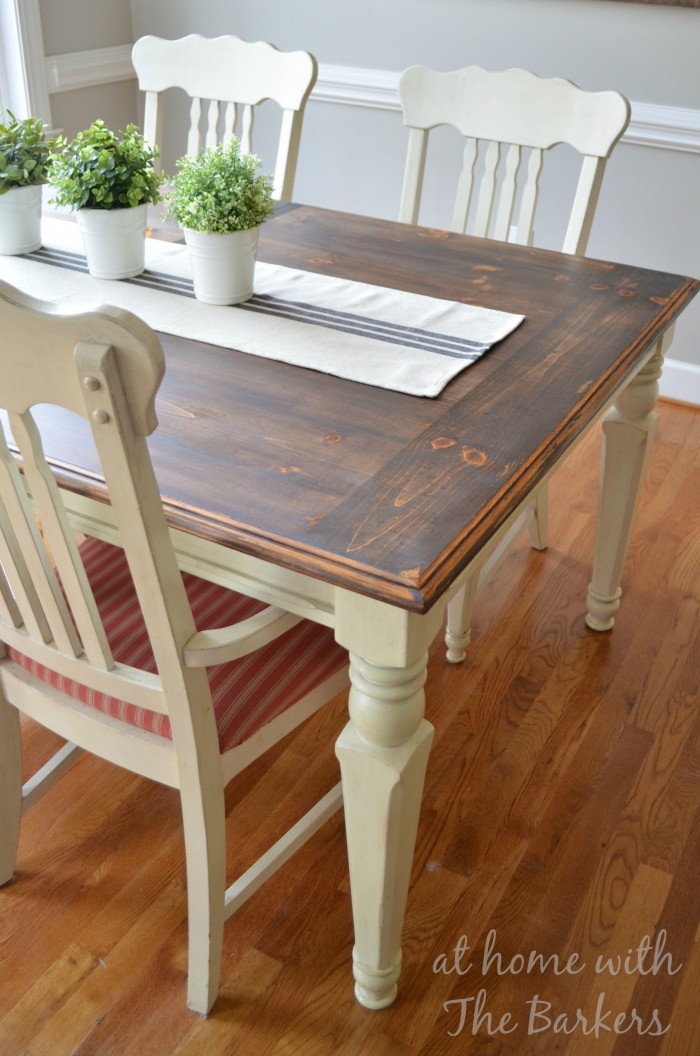 Next I have some great ideas (thanks to a brain storming session with my sister) for the HUGE wall by the table, so stay tuned for that! Go ahead and subscribe by email, if you haven't done that already!
If you love Twitter, Facebook, Instagram or Pinterest I would love to have you follow along there as well! I love sharing behind the scenes pics to my social media pages!
Visit the Kitchen tour to see what has changed!
Have a great weekend my friends,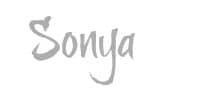 Linking up to: Home Stories A to Z