This year, my very first year as a blogger, has been a good year.
I thought it would be great to look back over my projects to see what my readers loved the most!
So here is my…2013 Year in Review
The most popular and viewed post was my Bring this Home to Order 31 Day Series that I did back in October. I was so happy to see that this was my most viewed page because I will tell ya… it is not an easy task to blog for 31 straight days all while you show all your readers the mess that is within the walls of your home.
This series was filled with organizing, cleaning, planning, painting and projects. Things that had needed to be done for some time.
You can find the entire series by clicking the picture or the series title.
The Under the Bathroom Sink post was the most viewed of the series.
The second most viewed post was my painted kitchen cabinets. I wasn't surprised by this one because so many people have contemplated doing this they just need a little advice on getting it done! Also, it is the post I get the MOST questions and emails about! Thank you!!
Third, you all LOVE to tour around my house! I appreciate that so much and please feel welcome to stop by anytime!
The most viewed room was my Kitchen Tour!
And fourth, you guys really enjoy a good thrift store makeover! I have to admit, this is also my favorite project of the year. This lamp sits in my daughters room and I admire it every time I walk by.
I am really looking forward to lots of building, organizing, sewing and as always, more painting in 2014!
I hope that you stick around and keep commenting! I love to read what you write.
Let's face it, if you guys aren't here to talk to I'd just be talking to this computer screen and that is NO fun at all!
Now, I would love to have you visit some of my blogging friends and check out their 2013 Reviews! Here is the schedule!
Sunday December 29th:
Monday December 30th:
Tuesday December 31st:
CONFESSIONS OF A SERIAL DO-IT-YOURSELFER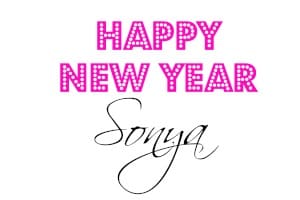 Linking up with: