Dining Room Decorating Styles
These dining room decorating styles through the years will showcase the ever changing decor of our home. What worked, what didn't, and why.
Through the years our dining room has changed many times. As a chronic decorator, this room has given me lots of challenges. Looking at these photos it would be easy to see a real identity crisis in my decorating style.
When I see all of the color now I truly understand WHY I never felt comfortable with these decorating choices. While they are pretty spaces, they are not my true identity.
BUT I feel it is important to share this with you all. Decorating a home takes time. It takes trial and error.
AND while I could see my true decorating style coming together when I painted the walls last October, it was still off just a little.
For now, let's take a walk down dining room lane.
This is the dining room the day we moved in…2007. The previous owner left the window treatments. I kept them for a few years. You can see the fabric on the dining chair is what I had in our last home. I still have this same table but it also goes through it's own transformation.
There was a lighter sage green color on the wall, similar to the chair fabric but I can't find photos.
I went darker here but still trying to keep some of the color.
Then we added the board and batten. This made such a huge difference.
This was when I still thought I needed to keep adding color. Blue!! I realized I do not like blue in our home decor. This color may have only last 6 months.
What I have learned about my decorating style
Cozy to me means dark moody colors.
I enjoy contrast.
Organic textures and colors feel good to me.
I prefer warm undertone colors, no blue.
Less is more. I don't love too many accessories that have no real purpose.
So, back to a moody color on top.
Then, I changed it all again. This next makeover I actually loved. It was such a bright space. It was really pretty decorated for my neutral Christmas home tour.
BUT I had always wanted to paint the board and batten a darker color. I chose Oakmoss from Sherwin Williams. I painted it this color October 2019. While I loved it and felt like it was just not the best flow with the foyer and living room color.
This color made a debut on the blog last year when I shared my Christmas tree branch wall art project.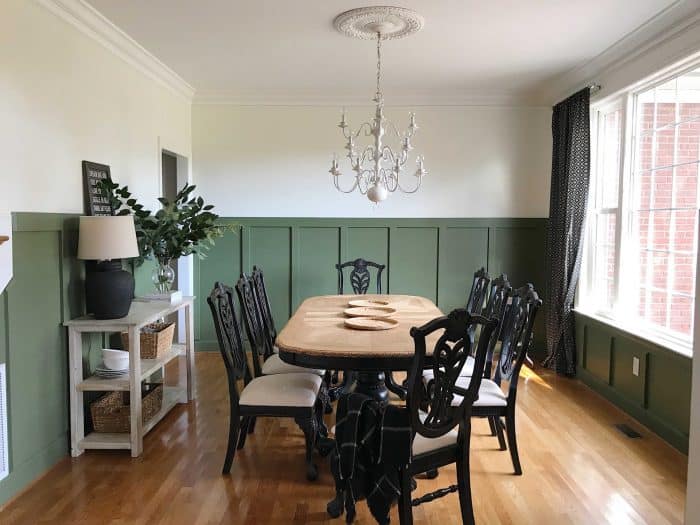 Links to projects for the dining room:
Painting a room is the most budget friendly way to completely change your home. I believe that most people can even do it themselves. However, if you are limited in your abilities to paint, ask around for recommendations. Facebook is a good place for this.
I will be sharing the newest dining room look this week hopefully. I have one project left to complete and I am done. Be sure you are subscribed to my emails so you don't miss the announcement.
IT IS DONE…the newest dining room makeover is HERE.