6 Best Cozy Christmas Living Room Ideas
6 best cozy Christmas living room ideas that will have your family room perfectly ready for the holiday season. Comfortable and casual ways to make the living room decor special all winter long.
For me, the living room is my favorite place to be during the holidays.
It's the room with our family Christmas tree and fireplace. It is where we gather to watch movies and open presents.
This post may contain affiliate links. Please full disclosure policy.
While I'm sharing it's also the room we eat lots of dinners. Ray and I made sitting at the table for dinner a priority when our kids were little. I highly recommend it. Now, we love to grab our TV trays and start one of our shows while we eat
This room gets the most use during the winter.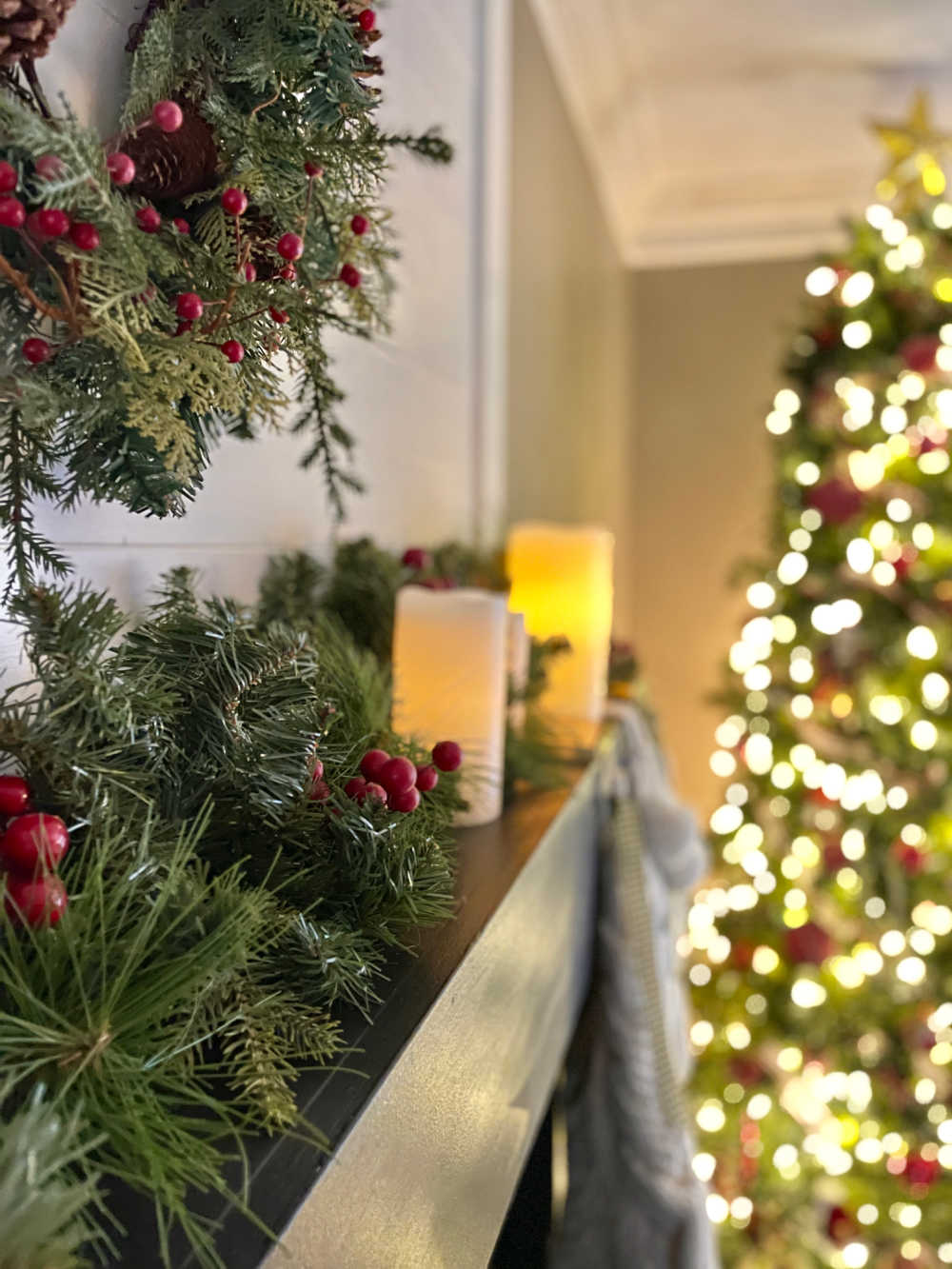 Last year when I painted our fireplace black the cozy factor went up a notch. Don't worry, I'm not saying you need to paint your fireplace for a cozy Christmas in your living room but it can help.
These are my top ways for making our living room extra cozy during Christmas
6 Best Cozy Christmas Living Room Ideas
Lots of blankets
We have many blankets in rotation and there is always that one thick fur blanket or the cozy fleece that everyone likes. When buying blankets look for colors and styles that match the decor. I prefer neutral browns and blacks.
Like most families we also have the blankets that don't match the decor. I just make sure to fold those and put them on the bottom of the big basket.
Throw blankets aren't just for cold nights. I used an extra large cream colored blanket as a tree skirt this year. Actually used different colored throws on all of our trees this year.
Twinkle lights
Of course the Christmas tree lights are the star of the show. The tree at night is the best. The more little lights the better. I don't use real candles but battery operated candles are so great these days. Plus, much safer too.
Buy battery operated twinkle lights and add them anywhere.
Bowls of ornaments
Wrapped in a wreath
Tucked onto a bookshelf
Light up a nativity set
The twinkle lights at night are the coziest of all. Check out our Christmas nights home tours to see more of our home.
Extra throw pillows
Place extra throw pillows all around the room. Pillows thrown on the floor are great too. There tends to be more people lounging around the house for games and puzzles. A cushy round throw pillow to sit on is always nice.
Finding fun throw pillows for any season is a good way to add coziness to a room.
Sentimental Christmas decor
Whether you set a Christmas village, a nativity set or both they always bring a warm peaceful feeling to a room. Ornaments in the tree can be sentimental and still look beautiful in your decor. I talked more about this in my Christmas tree decorating blog post.
I'm really picky about keeping sentimental items. I don't believe in cluttering your home with too much stuff you don't love and can't enjoy. Check out more of about our minimalist lifestyle if you'd like to have help in that area of your life. Creating a cozy home starts with decluttering your home.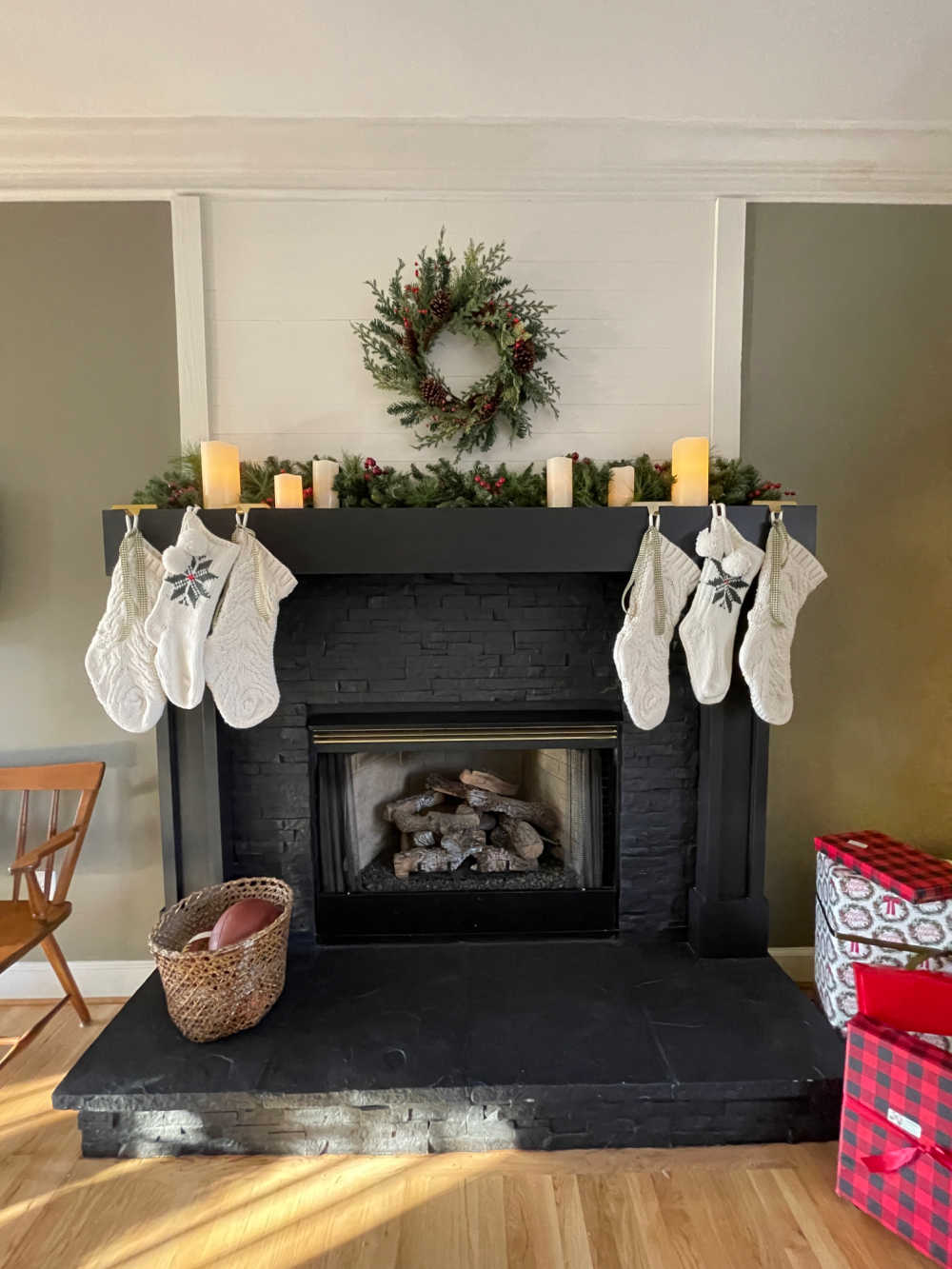 Texture and color
Consider how texture and colors play a roll in how you feel in a room. Especially a room you're bringing in lots of extra decor that isn't normally there.
Use things from nature. I like to add sticks from the yard and small grapevine wreaths on to my Christmas tree. I repeat this by using pinecones in a bowl. The year I created a full neutral Christmas was so cozy.
If too much stuff feels overwhelming to you try this tip. Keep like colors grouped together. This will minimize the visual clutter. This is one of my favorite decorating tricks.
Try decorating your tree with a simple color palette as I did this year with the red.
Color coordinate your gift wrap.
Keep your blankets and throw pillows in one color family.
BUT there are some of you who love more things around. You can still decorate with many items. Use my tips above to group things and reduce the overwhelm.
Decorate with plaids
Plaids are so great but especially at Christmas. Plaid fabric to me is classic and cozy. Don't be afraid to mix plaids as well. A few options for using plaids…
Throw pillows
Gift Wrap
Ribbons for the tree and gifts
I hope these cozy living room decorating tips help you create the coziest living room you've ever had.
Merry Christmas and happy holidays!
My people will abide in a peaceful habitation, in secure dwellings, and in quiet resting places. Isaiah 32:18